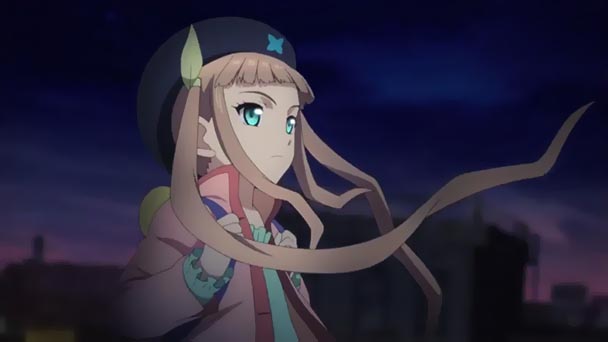 One of the distressing deficiencies of the E3 pressers was the complete lack of Japanese role-playing games. Fortunately, a visit to the Namco-Bandai meeting room helped to cure this shortcoming. After viewing Dragon Ball Xenoverse, which demonstrated developer DIMPS giving the franchise a pleasing next-gen upgrade, and a bit of hands-on time with Naruto Shippuden: Ultimate Ninja Storm Revolution, it was off to see Tales of Xillia 2.
Set a year after its predecessor, Xillia 2 was a decidedly darker game. The game's opening introduces players to Elle Mel Marta, an adorable eight-year old who follows her father's request by traveling to the town of Canaan. On route, the train is highjacked, and when the robbery goes awry, the locomotive subsequently crashes and injures many of its passengers.  Fortuitously, a young man named Ludger Kresnik pulls Elle from immediate danger, but while attempting to escape the accident, the duo passes out, waking up in the care of an unscrupulous doctor. As a representative of the Spirius Corporation, the physician forces Ludger to pay a disproportionate promissory note for medical services. Thus, Xillia 2's campaign centers around the character accepting a variety of undertakings to pay the loan off- which includes core missions which push the plot along, as well as side quests where players do favors for NPCs. The Namco-Bandai reps also explained that Ludger's debt also offers an organic method to lock away impending areas of the city; the character isn't extended an ever-lengthening leash as he gradually pays off his bill.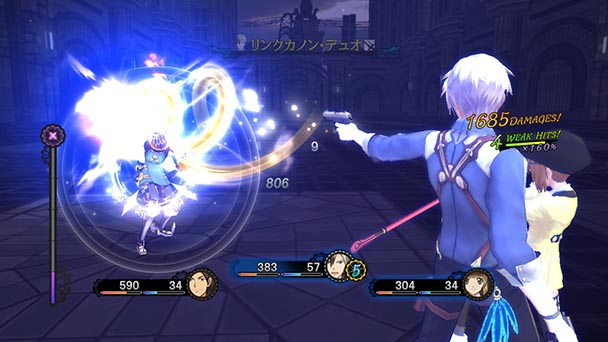 As expected for a Tales title, combat plays a large part in Luger and Elle's quest. While The Dual Raid Linear Motion Battle system (!) doesn't radically change battle mechanics, it does allow characters to change weapons on the fly, switching between three different types of loadouts, which presumably offer a variety of ranges, powers, and elemental abilities. Also on hand was Tales of Hearts R, which brings the respected role-playing franchise to the PS Vita screen. Although, hands-on time was limited, a demonstration revealed that the revision of the 2008 Japanese-only DS title was shaping up to deliver a console experience, albeit in portable form.
One of more immediately striking elements was the inclusion of anime cutscenes, crafted by Production I.G (Jin-Roh: The Wolf Brigade, Attack on Titan). Japanese gamers also received a version of Hearts with CGI cutscenes, but the hand-drawn iteration seemed to offer a better interpretation of the characters. Pleasingly, the localized edition of Hearts R will ship with Japanese language audio and English subtitles, and vows to include two additional characters and well as a comprehensive visual overhaul. Not known is whether the preorder perks, such as the alarm clock and 2D mini-game will be making their way to Western gamers. Tales of Xillia 2 will be available to PlayStation 3 owners on August 22, 2014, while players can expect Hearts 2 to release later amidst the holiday season.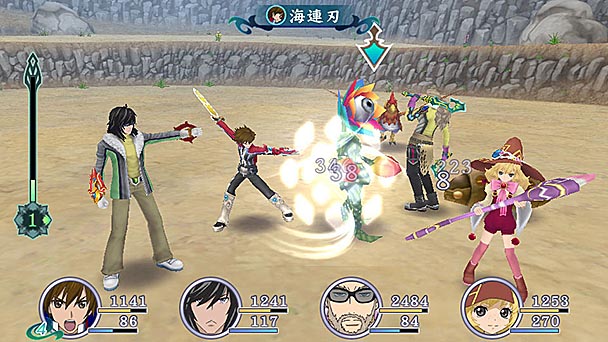 Although publisher Devolver Digital's output has been delightfully quirky, so far their games have originated from U.S. and European sources. With the imminent release of Hatoful Boyfriend, a 2011 dōjinshi release from mangaka Hato Moa, the Austin-based company is spreading their wings, offering what will inevitably be the most atypical game shown at the convention.
While dating sims were disappointedly absent from the show floor, a trip across the street and into an air-conditioned, stainless-steel trailer revealed an entry with a distinctive twist. Instead of wooing the typical troupe of high school students, the protagonist makes decision to determine just which pigeon she should settle down with. While the concept of cross-species courting was a bit difficult to comprehend at first, within a few minutes Hatoful Boyfriend's motivation is clear- it's offering a shrewd skewering of the visual novel genre. From birds dressed as maid café servers to a steady string of pigeon-based puns, it's all superbly surreal and poised to please aficionados of the absurd.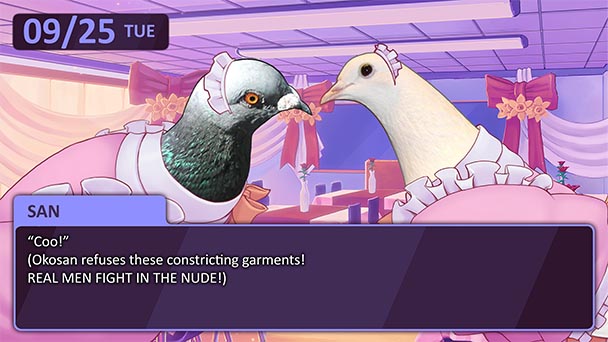 For the demo, our wings were clipped by the absence of menu choices. But, we were assured in the full game, decisions are recorded- thereby introducing replay value as bits and pieces of St. Pigeonation's Institute come to light. Although we were given just a short beak, we're eager to get our talons into this enhancement, which offers amenities like redrawn backdrops and widescreen support.