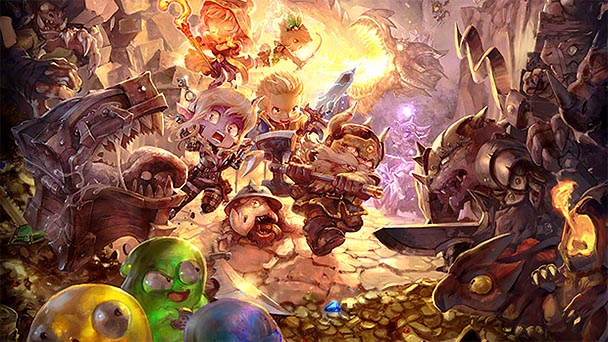 2011's Super Dungeon Explore was an enjoyable board game that adopted the super deformed appearance and tenets of Japanese role-playing games into table-top form. With the recent release of Super Dungeon Tactics Ninja Division and Soda Pop Miniatures' well-liked recreation runs full circle, turning the board game back into electronic entertainment. While the PC title has a number of niggling user interface issues, once you're in the midst of battle, it's fairly easy to overlook these inconveniencies and focus on the satisfaction that stems from a succession of prudently planned maneuvers.
Following a brief prologue which offers a creation myths that bears two contrary realms, players take control of feisty dwarf with a Scottish brogue and a loopy sorceress, as a tide of Kobalds and armored Knuckleheads invade a local village. What follows is a turn-based resistance against the raiders, with players moving each unit before issuing melee and ranged attacks. Mirroring the mechanics of the source material, every turn players roll custom dice, distributing attributes like increased mobility, power, and even de-buffs across their adventuring party.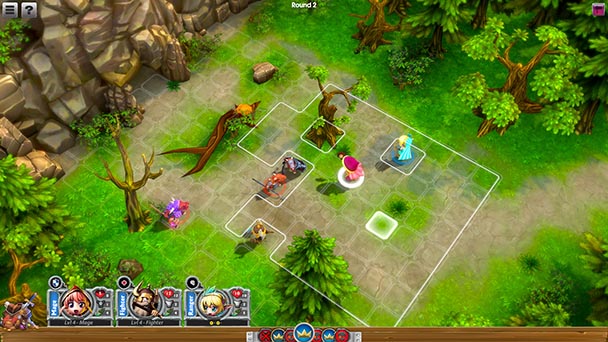 But it's here you'll notice a few annoyances. Trying to play Super Dungeon Tactics with your laptop's touchpad and you won't make it out of the opening tutorial, as the first lesson requires camera movement with a middle mouse button. Even when you connect an input device, there's still several blemishes that can make the title feel like it's still in beta testing. For one, the game's camera has the tendency to re-center after each turn, forcing persistent fine-tuning from players. For another, issuing commands just isn't as seamless as it should be.
While picking up each character and dropping them on a desired grid-space simulates the physical interaction of a board game, for anyone that's played a SRPG like Disgaea or Final Fantasy Tactics, positioning slows the pace of encounters. What's more, there's no way to retract movements once you've transitioned into the attack phase. Another sticking point is the sporadic keyboard press needed to trigger special strikes or interact with objects. Once you form a guild, the process of gathering a party, outfitting them with equipment and sending them off doesn't feel as intuitive as it should be, with each component spread over multiple screens. At least twice, I encounter a bug that wouldn't let me take to the battlefield. Initially, I couldn't tell if I had missed a step in the preparation process or just had stumbled upon a glitch.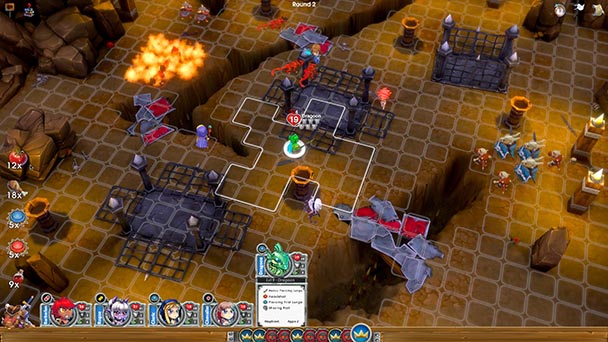 Despite these input-based impairments, the actual exchange of blows makes battles engrossing. Super Dungeon Tactics' statistics are apparent, with player cards on the bottom of screen revealing vitals like hit points, armor rating, and current movement range. Calculations like whether opponents connect are disregarded, allowing for players to focus on elements like movement range and area of effect spellcasting to influence outcomes. Another important factor is 'aggro', where character cultivate enemy attention by the damage they inflict. With a bit of forethought, it's remarkably gratifying to create a decoy early on and then have the rest of your party swoop in to slaughter your absorbed adversaries.
Pleasingly, Dungeon Tactic's missions aren't always about mauling Dark Consul forces. Early assignments have you putting out fires, or saving villagers, which when rescued, become part of your active party.  Occasionally, tasks undertaken after the elimination of threats can feel sluggish given the game's constant movement confirmations and having to enter a radial menu to end the turn. But again, if developer Underbite Games can make some minor tweaks, Tactics could easily catapult into obligatory status for SRPG aficionados seeking breezy battles.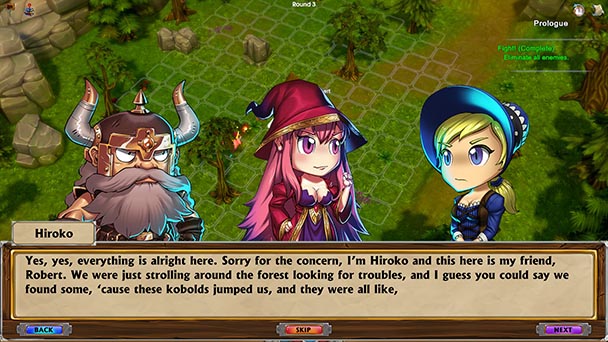 Following role-playing tradition, battles are bookended by interaction between characters and NPCs. While these offer the occasional amusement, such as when the flame-casting sorceress want to put out blazes to clear her good name, mostly they exist to offer an impetus and respite from the game's succession of fights. What's without blame is the title's character art, which seems influenced by Takehito Harada's (Disgaea: Hour of Darkness, Phantom Brave) imaginative and spirited designs. With the resolution cranked up to its 1440p maximum and output set to 'ultra', Super Dungeon Tactics does look impressive, with opulent foliage and interiors and splendid, albeit static shadowing. Sonically, things are a different story, with a rather middling soundtrack looping far too often. Quality voice work can cost a tidy sum, but the investment might allow the game to capitalize on its ambitions of creating a lively, energetic cast of characters.
As it stands, Super Dungeon Tactics certainly shows potential. Miraculously, the journey from console role-playing to board game and back to the electronic medium hasn't damaged playability one bit. In fact, the game's cards and dice based mechanics, as well as loot-centric augmentation feel stimulating. Instead, the title stumbles in its user interface and menu system, where complication is at odds with the straightforward skirmishes.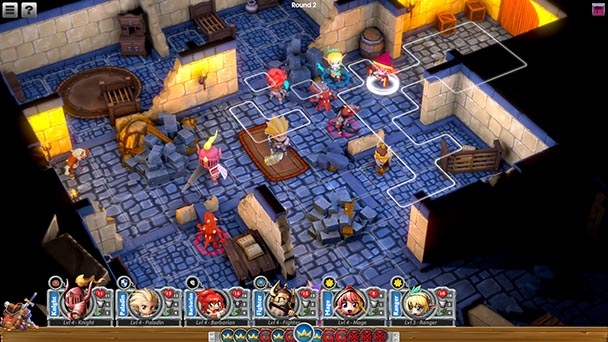 Super Dungeon Tactics was played on PC with review code provided by the publisher.
Super Dungeon Tactics
Platform: 
PC

Developer:
Underbite Games

Publisher:
 Underbite Games

Release date: 
December 14th, 2016

Price: 
$19.99 via 
Steam
, on sale for $17.99 through December 21st
Review Overview
Summary : Super Dungeon Tactics is a promising title that still needs some adjustments. While most of the fundamentals are in place, playability isn't quite where it should be. Our advice would be to keep the title on your watch list and see if Underbite Games can mend a few components.