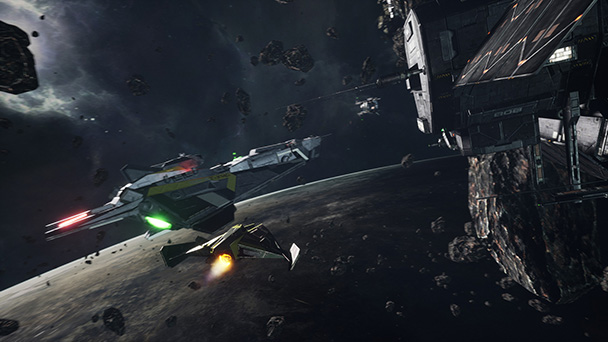 Porting mobile titles to PC regularly results in an abundance of criticism. Regularly, these complaints are warranted, especially when developers deliver sloppy adaptations or fail to eliminate in-app purchases. But intermittently, there's the odd reworking that makes the leap from mobile to monitor adeptly. The Steam release of Subdivision Infinity DX definitely hews closer to the latter.
Head into the game's campaign, and you'll be provided with a plot culled from a multitude of sci-fi movie plotlines. The protagonist, referred to by his callsign, Rebel-1 is sent into a remote location to investigate a distress beacon. When he arrives, all isn't quite normal, with a steady barrage of drone fighters attempts to gun him down. The banter becomes progressively banal across the game's forty-odd missions. But on the upside, Rebel-1 is rather attractive. Seriously, the guy is handsome enough to be in an otome.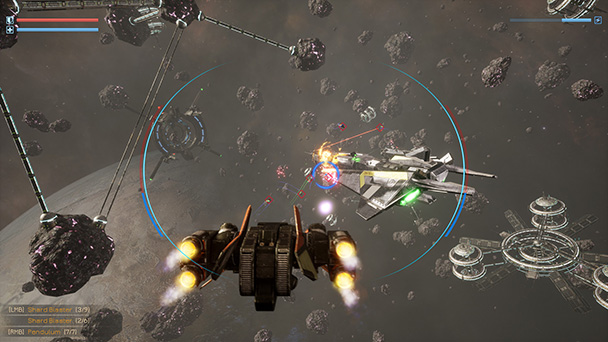 Fire and Forget
But looks mean little when a squadron of rogue AI is trying to whittle away at your regenerating shields. Fortunately, you start the game with enough of an offensive punch to tackle the tenacious threats. While your ship isn't as nimble as the vehicles of most space shooters, the slower pace is beneficial since each of the game's five locals are filled with dangers like asteroids and mines. Perhaps the most advantageous element of your arsenal is the gun's ability to lock onto targets. While veteran space fighters can toggle the assistance off, it's gratifying to not have to always lead your target. Dogfights favor simplicity with HUD indicators signaling the bearing of targets, allowing pilot to extinguish squadrons with ease.
Beyond a basic cannon fittingly called the pixel gun, you'll also have a very limited number of lock-on missiles. While this loadout should be enough to propel you through several seek-and-destroy assignments, regular boss battles will remind you to regularly increase your formidability. Using currency and resources gleaned from eliminating enemies and tackling mining missions, you'll be able to power-up your existing weapons, purchase new ones, and even unlock new ships.
Shunning the Big Empty
Powered by the Unreal Engine, Subdivision Infinity DX's depiction of space is admirable. Overwhelmingly, environments fight the feeling of desolation filling the screen with planets, space stations, and a wealth of debris. Beyond basic fighters, you'll confront larger vessels that protect themselves with powerful artilleries. While subordinate AI is lackluster, clashing with capital ships is more challenging and might make you yearn for mid-level checkpoints.
Undoubtedly, mission variety is an issue, with Infinity not quite living up to its moniker. Typically, assignments task you with taking down waves of basic fighters which buzz around but don't actively pursue you or work together in any kind of discernable manner. While the resource gathering missions aim to offer variation, pesky enemies are present here, too. As such they feel too much like the core assignments. Although the challenge level elevates once enemy bring fire missiles and drop mines, the title should have sought variety with some scripted defense or escort-style deviations. There are a few divergences to be found, but the rudimentary 'hold your position while data is downloaded' digressions aren't that engaging.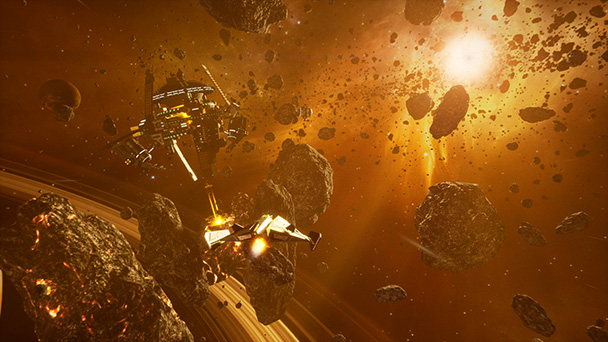 Satisfying Visual Delivery
Beyond accessible space skirmishes, Subdivision Infinity DX's best trait is the game's visual delivery. Like any respectable space shooter, explosions are well done, with blooms of searing shrapnel illuminating the environment. Larger vessels occasionally have ducts that your can fly through, providing a nice sense of scale or tactically, a bit of cover. Sonically, the game employs some pleasing synth melodies, with sparse arrangements in your hanger while combat brings bassy, syncopated rhythms. One puzzling choice is the sound effect used when reloaded your projectile weapons, which recalls the clamor of a new magazine in a M-1 Garand.
Given Subdivision Infinity's reasonable fifteen-dollar purchase price, those seeking a straightforward space shooter could do much worse. It might lack the open-endedness of something like Freelancer or Rebel Galaxy, with ambitions are much more modest. Sometimes careening through space, obliterating any opposition that arises, is all we want from a game. And Infinity does that rather nicely.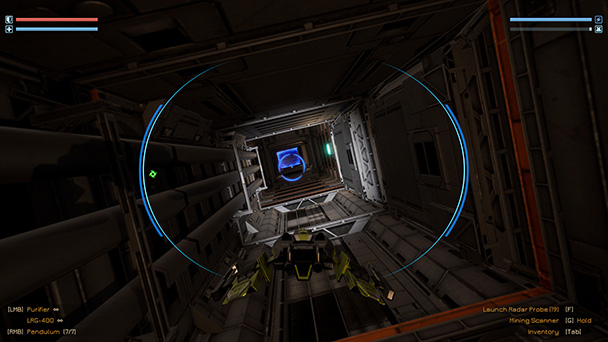 Subdivision Infinity DX was played on PC with review code provided by the publisher. 
Review Overview
Summary : Smuggling routes and and diplomacy be damned, Subdivision Infinity DX sends a succession of angry foes after your lone pilot. Killing them is contenting in this competent mobile port.