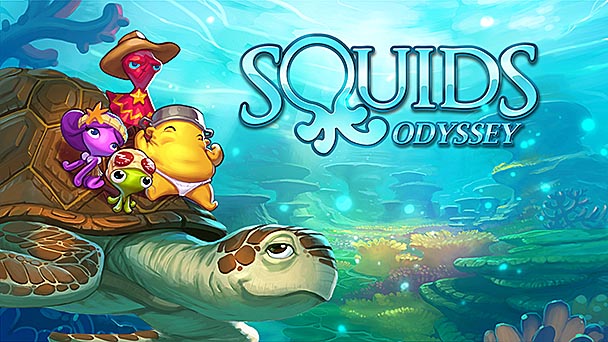 The idea of fusing Angry Bird's mechanics with a light role-playing structure might seem a bit underwhelming. After all, dozens of developers have tried to augment Rovio Entertainment's gameplay with limited success. Knowing that, it's understandable that players might overlook the recent eShop release of SQUIDS Odyssey, since screenshots and video seem to exhibit little more than a simple fusion of proven principals. Yet, once gamers begin catapulting these cephalopodic heroes around, it's likely that they'll become beguiled by how the game's components congeal in a synergistic manner. Save for a disheartening difficulty in the game's later levels and a few interface blemishes, SQUIDS is a thoroughly enjoyable indie offering, extending an experience which shouldn't be overlooked by Wii U owners.
Following the download of the 434 megabyte game, players are ushered into a menu system which divulges the game's mobile origins. Combining the campaigns of iPhone/Android titles SQUIDS and SQUIDS Wild West, with a new chapter and several tweaks, Odyssey's user interfacedirects players toward three different components. The "Base" option transports gamers to the Squid's main headquarters, where participants construct their team of subaquatic soldiers from a roster of personalities.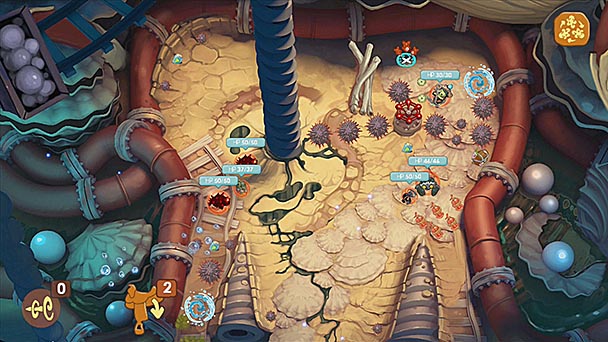 In the Shop, players use pearls- the game's currency, to unlock additional squids, stat-boosting helmets, and single-use sundries. Mercifully, there are no in-app purchases to be found, with Odyssey's $14.99 MSRP offsetting the allurement of additional expenditures. Instead, leveling up your tentacled toughies draws from a finite collection of pearls, but there are a liberal number of these treasures scattered on the periphery of each level. Likewise, the accomplishment of elective duties- like keeping your entire team alive or completing a stage under a specified number of turns, bestows additional bonuses.
Platform Comparison
Given the mobile origins of the
SQUIDS
series, it's not surprising that developer The Game Bakers did a proficient job of porting the game from the Wii U to the 3DS. Although the portable version can't quite offer the visual fidelity of its console brethren, the game's vibrant backdrops and charming sprite-based characters remain much of their subaquatic appeal. In fact, the only real letdown with the 3DS's graphical output is the tendency to replicate the same cinematic elements across the system's dual screens.
Control wise, players can utilize either the 3DS' touch screen or the Circle Pad to launch their squadron of squids. Both control schemes offer a suitable amount of precision to succeed against enemies across the game's 90+ stages. For Nintendo loyalists in Europe, purchasing the portable version also unlocks the Wii U iteration, representing the company's inaugural cross-buy promotion. Regretfully, stateside players aren't given the same deal, with Nintendo of America maintaining their infrastructure can't support this type of arrangement for the $14.99 title.
While not having to shell out additional currency is agreeable
, SQUIDS Odyssey
's interface isn't quite as congenial. Beyond a scant amount of tutelage and direction, selecting squids for your team is a bit cumbersome, as is the requirement to 'transfer' a stat bonus after equipping an advantageous item. Much like the Wii U's own system interface, the menu doesn't feel quite as responsive as it should- with stylus taps and button presses taking a fraction of a second to register.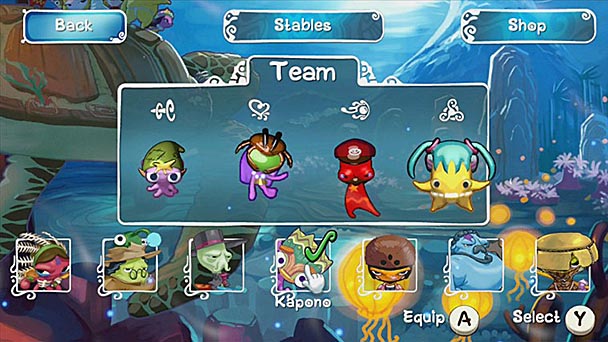 Fortunately, these small issues disappear once players venture into the game's abundant assortment of 90+ stages. Here players use the title's turn based system to launch their squids colliding into foes, and if possible, sending these opponents careening into other enemies or even right off the edge of a level. Propelling protagonists involves pulling their tentacles, with the direction, speed, and distance of your squid determined by the angle and amount of draw. Pleasingly, players can use either the stylus or the Gamepad's stick to accomplish this, with accuracy and ease roughly comparable across both methods.
Nicely, there's a good amount of nuance built into the combat system. Squids can be launched multiple times, with each opportunity allowing for players to propel them far and fast, or a bit softer. Naturally, a lighter pull allows for more precision, which comes in handy when trying to collect the offensive and defensive power-ups which dot each level. Since the amount of damage inflicted on enemies depends of the force of the impact, players might be tempted to thwack their creature. Make a solid strike with an opponent, and it's possible to send other foes bouncing around like billiards, racking up bonus damage. But using too much force just might also send your own squid sliding into treacherous territory where they'll be injured by a spiky sea urchin or, worst case scenario- right out of the oceanic arena.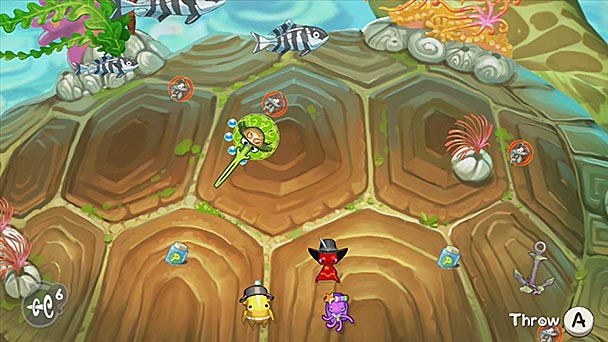 Beyond smacking into adversaries, SQUIDS Odyssey also has four different classes of squids, each with a natural ability. Scouts are ideal for ideal for triggering story elements, as they can reach far-flung areas with their supplemental boosting. Troopers are best for crowd control, with a powerful stomp which can damage a number of nearby foes, while shooters have the ability to target specific enemies with a bubble bullet. Arguably the most indispensable part of the team is the healer, who can restore health with any friendly she bumps into. While levels may favor a particular type of team, typically players are given the freedom to construct a squad comprised of their favorite types of squids.
Visually, SQUIDS Odyssey flaunts vibrant well-drawn sprites and backdrops, which help to convey the distinct personalities of each cephalopod. In between battle stages, attractive, but static, artwork helps to articulate the game's story- which is consistently lighthearted and thankfully noncompulsory. Odyssey can be played either on the television or on the Gamepad- both techniques prove functional with one small caveat: players cannot stabilize the level of zoom during play. While perusing the entire map is possible pre-shot (which each combatant displaying a health indictors), once your squid is about to launched, the game defaults to tautened perspective. Musically, the game provides a buoyant soundtrack which helps to communicate the game's cheery vibe.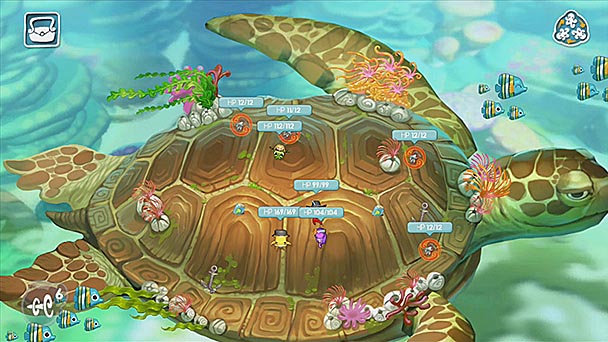 Despite a few quirks in the transition from touchscreen to gamepad, SQUIDS Odyssey is a gratifying title that's capable of engaging players for at least twenty hours. While it's a remarkable addition to the Wii U's library, the game should also make an ideal fit when it returns to portables- in the form of a forthcoming 3DS port.
SQUIDS Odyssey was played on the Wii U and 3DS with review code provided by the publisher.
SQUIDS Odyssey 
Platform: Wii U, 3DS
Developer: The Game Bakers
Publisher: The Game Bakers
Release date: May 22th, 2014 (Wii U), July 3rd (3DS)
Price at release: $14.99 Wii U, $14.99 3DS, Cross-buy (EU only)
Language(s): English
Review Overview
Summary : Even if you've played so much Angry Birds that you're starting to feel sympathy for the villainous swine, SQUIDS Odyssey feels and plays quite different thanks to distinctive mechanics and light role-playing and character cultivating elements.