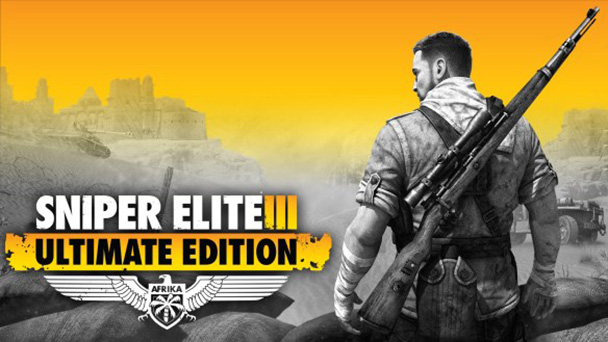 Years ago, the shooter was one of the most visceral and engaging genres around, consistently delivering frantic firefights that often outmatched the best summer blockbusters. But over time, those once-invigorating action sequences began to lose their impact, as thrill ride-type spectacle took priority over delivering deep and gratifying play mechanics, especially in the single-player arena.
Undoubtedly, Oxford-based developer Rebellion became aware of this dilemma, and their Sniper Elite series gradually belly-creeped toward an open-world approach, providing players with the tools to produce viscera-splattering mayhem from the shadowy alcoves of World War II battlefields. The franchise's early efforts flirted with the concept of an expansive sandbox, offering playgrounds where players could engineer and execute their own offensive orders.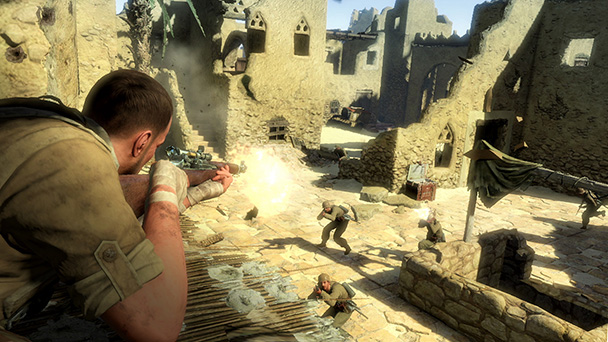 When Sniper Elite 3 was released for the PlayStation 4, Xbox One, and PC, those ambitions were nearly realized. Across the game's single-player campaign, the game delivered near-absolute autonomy, allowing gamers to spend protracted periods reconnoitering each stage, or even to play improvisationally. For those who didn't have the patience to formulate fastidious strategies, the game offered the ability to pick off targets of opportunity. Offering the possibility of stealthy melee-based attacks, the positioning of traps placed along patrol routes, and of course- the long-ranged rifle shot, the player's arsenal is both lethal and varied. Pleasingly, gamers don't even have to eliminate every opponent from the field, opting to thin out enough enlisted grunts to gain a clean shot at a Nazi officer.
The release of Sniper Elite 3 Ultimate Edition on the Switch brings all the action of the base game and subsequent DLC into a tidy package. What's especially amazing is how well it runs. Beyond the rare instance of judder, this feels like a largely uncompromised version of Sniper Elite shrank down for possible portable play. Sure, sniping on either a 6.2 or 5.5 inch screen (Regular and Lite Switch iterations) isn't ideal, especially bright environments. But if you can overlook this constraint, the Ultimate Edition is a great addition to the Switch's action library.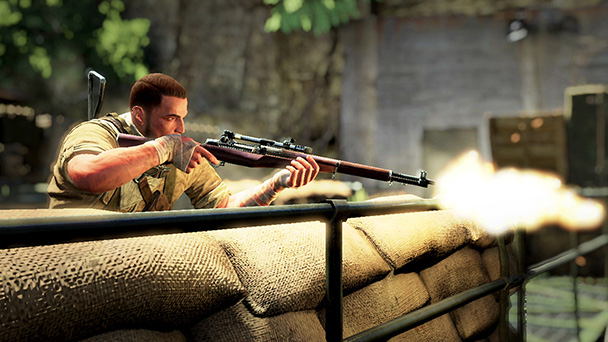 Unsurprisingly, several core elements return from Sniper Elite V2, alongside a number of systems which help to promote the extemporaneous gameplay. For those who elect to play Elite 3 with the game's assists turn on, a tap of the right trigger places the protagonist in Focus Mode, not only slowing down time and zooming in a bit, but projecting a crimson crosshair that calculates distance, wind, and elevation- allowing players to snipe with surgical precision.
Gamers seeking a more challenging test can elect to turn off many of the game's assistive features. Beyond forgoing the aforementioned Focus Mode, elements of the HUD can be sacrificed, pushing Elite toward simulation territory. With the mini-map, awareness indicators, and ability to tag and track foes eliminated- as well as the title's ballistic realism is turned up, stages offer up a consummate challenge- but one that's rarely feels unfair. Commit a grave error and it almost always stems from your own impulsiveness or the inability to adapt to an unexpected situation.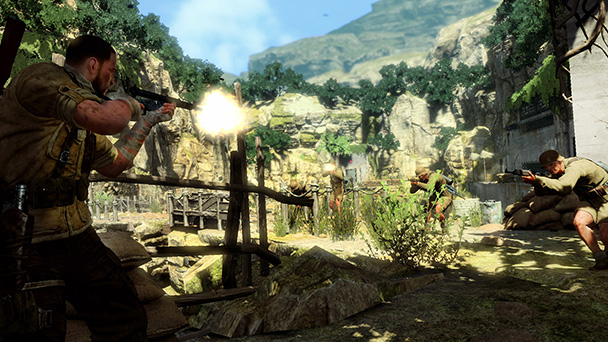 The reward for sending a slug rocketing through a foe's body is Sniper Elite's signature cinematic- a ghoulish X-ray which exhibits every little bit of damage done to an enemy's skeletal and muscular system. While it's an effect that was employed in Elite V2 and is used with high frequency here, the sequence loses little appeal over time, as it calculates the impact a large caliber round has on a soldier's teeth, tibias, or even testicles. For Elite 3, slow motion carnage is also exhibited when the player sends a projectile through a vehicle's fuel tank, propelling lethal shrapnel into nearby adversaries as the camera spins around to capture every glorious moment.
Elite V2 seemingly sent in entire battalions of the Axis infantry after the protagonist when an enemy discovered his position. Sniper Elite 3 employs a more lenient approach, requiring players to reposition after a series of shots divulges your position. Scamper off without being seen and a translucent shadow of the player appears, revealing where foes think you are located, much like Splinter Cell: Conviction's Last Known Position mechanic. Another way to mask your position it to fire when a raucous machine engine is clamoring away. Courteously, Sniper Elite 3 exhibits an on-screen noise indicator, allowing hearing impaired players to utilize the maneuver.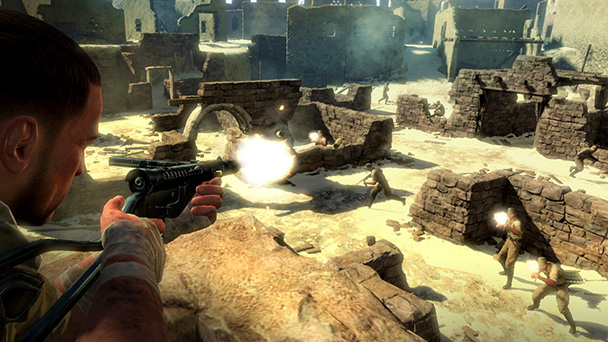 While skulking through the African locales of Elite 3 is typically an engrossing experience, a few flaws are poised to irk players. Most concerning is the game's artificial intelligence. Although the title allows players to adjust the awareness threshold of enemies, on any difficulty setting foes tend to act robotically. From failing to notice nearby fallen comrades, abruptly changing demeanor when an alert expires, or leisurely recognizing a player out of cover, soldiers habitually display a lack of common sense. Sniper Elite's storytelling is a lessor infraction, with lead character Karl Fairburne's battlefield actions functioning as a better expositional element than either his cliché-laden voice-over or stylized cutscenes which mimic Ken Burns techniques without replicating the documentarian's gravitas.
Sniper Elite 3's shift to the infrequently used North African theatre lends the title a distinctive aesthetic. Deserts and lagoons are intersected by patches of rocks and foliage, which not only give players plenty of places to hide but establishes a noteworthy visual style that's highlighted by day/night missions. Make no mistake, this game demonstrates the scalability of Rebellion's Asura engine with only a bit of aliasing and slightly more restrained animations revealing the difference. In fact, the only criticism that can be leveled at the game's graphical delivery is that environments look too clean and tidy, with flora neatly groomed and revealing a bit too much sheen given their desert setting.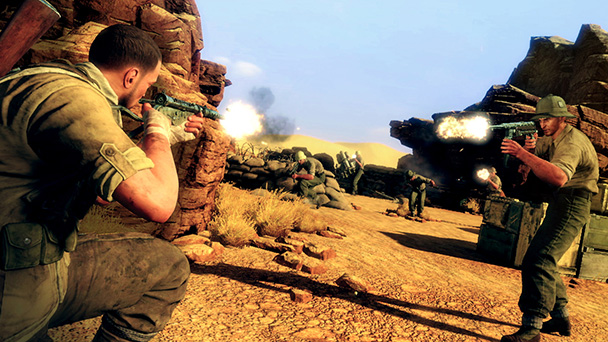 It will take most players about ten to fifteen hours to inch their way through the game's eight main stages and four additional ones. Additional time can be invested in the game's auxiliary modes. The game's multiplayer competitions have been designed to promote long-range warfare, with modes such as "No Cross", where combatants trade far-flung fire across a map divided by two sections. More interesting is the game's asymmetrical Overwatch mode, which offers one of the best cooperative experiences since Call of Duty's Spec Ops missions. Here one player acts as spotter, using binoculars to tag and track foes, while the other player must juggle the elimination of targets and keeping their companion safe from danger.
Abandoning the linear levels and occasionally stilted play of most shooters, Sniper Elite 3 is the long-range focused game you've always wanted to play. Instead of pushing players through narrow hallways filled with distant targets, the title gives gamers an arsenal of gratifying tool and lets them loose to cleave their own bloody path. The big drawback in this otherwise engrossing sniping sandbox is the artificial intelligence of your opponent. Had the third reich been this eccentric in real life, they would have likely occupied padded cells instead of swaths of Europe and North Africa.
Sniper Elite 3 Ultimate Edition was played on the
Switch with review code provided by the publisher.
Review Overview
Summary : Sniper Elite 3 Ultimate Edition for the Switch offers all of the action and content of the 2014 game and its DLC. It's definitely a proficient port, showcasing wide-open battlefields on Nintendo's portable system.