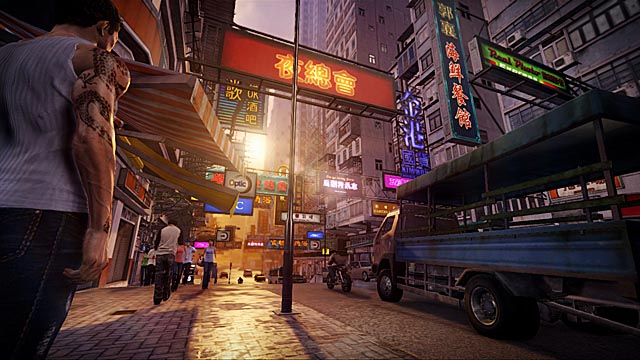 Irrefutably, Sleeping Dogs is a tale of vengeance. On one level, the game's protagonist- undercover officer Wei Shen, retaliates against a multitude of treacherous types, impaling foes on stacks of swordfish and pressing the faces of antagonists into a whirling air-conditioning fans. Alternatively, the title also symbolizes a pleasing payback for United Front Games (ModNation Racers, LittleBigPlanet Karting), whose development duties were terminated by Activision last year. Shrewdly, Square-Enix picked up the publishing rights six months later, recognizing virtue in the Hong Kong-based adventure. Although the title doesn't veer far from sandbox convention, a synergistic mixture of satisfying scraps, taut vehicle handling, and a persistent sensation of narrative tension, make Sleeping Dogs an essential purchase for fans of open-world games.
Considering United Front is comprised of talent culled from prestigious studios such as EA Black Box, Radical Entertainment, Rockstar, and Volition, Sleeping Dogs' adept amalgam of mechanics isn't unexpected. Melee combat invites comparison to Batman: Arkham Asylum's satisfying scraps, allowing players to hammer away at enemies with basic strikes and grapples. Like the Caped Crusader's undertakings, reversals are the key to gaining an advance, with opportunities signaled by the crimson flash of an opponent. Weapons such as tire irons and kitchen knives complement the fundamental hand and foot strikes, typically tasking gamers to disarm a girded opponent before allowing the weapon to be used against any remaining foes.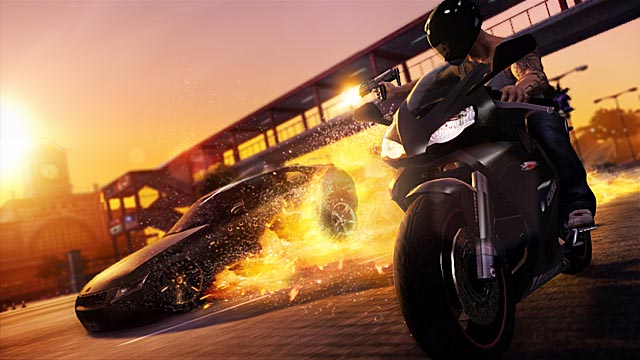 Echoing the scarcity of firearms in Hong Kong, gun battles are perceptively restrained, accounting for less than a quarter of Sleeping Dog's confrontations. While on foot, encounters are cover based, with players sporadically popping up to ventilate villains. Eschewing any semblance of realism, ballistic battles capture the mood of '90s era HK cinema, endowing gamers with a hearty amount of auto-aim as well as the ability to slow down time. Even wilder are the vehicular combat sections, where Shen peppers cars and motorcycles with a steady stream of fire, until they explode, ejecting burning occupants through the air. Recalling Rico's aptitude in Just Cause, the protagonist even has the ability to propel himself from a moving vehicle, soaring to re-commandeer a car of his choice. Once behind the wheel, Sleeping Dog's driving model is to be commended, offering a compelling blend of engine power and adhesive traction as well as the ability to ram enemy cars into inoperative heaps of flaming metal.
Yet, not all of Sleeping Dogs' mechanics are as proficient. The title's attempt at embedding parkour elements into its on-foot chases comes across as half-hearted, since the run and circumnavigate commands are mapped to a single button. Although the green arrows offered up by the game's heads-up display are unobtrusive, they often don't indicate the most direct route, which can be a pain during street racing missions. The title's greatest offense might be its obligatory side-quests, which offer sandbox standbys like the escort mission, delivery duty, and the clandestine stalking of suspects. During these assignments, Sleeping Dogs loses momentum, goading players back to the main plotline. However, given the game's diametric morality- with both law enforcement loyalties and triad allegiances pulling at the protagonist, performing unremarkable tasks does improve a quotient known as face, which determines how NPC's regard Shen.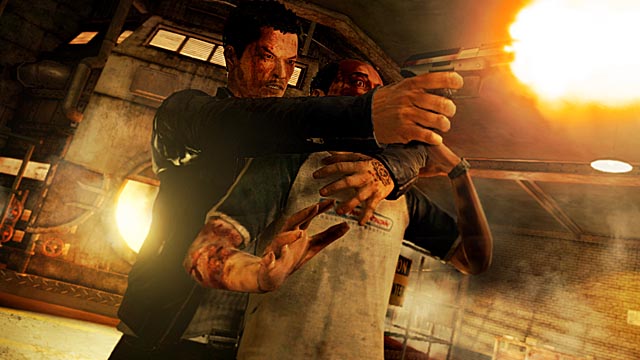 This tension between the police force and the gang known as the Sun On Yee, is what separates Sleeping Dogs from its open-world peers. Unrepentantly borrowing from the undercover cop genre, the title rarely misses an opportunity to ratchet up the tension during campaign cutscenes. From the threat of the mob discovering Wei Shen's motives for infiltrating the gang to the fight over fidelities between cops and criminals, Dogs' storyline remains taut. A succession of succinct scenes offers proficient characterization, voiced by a collection of notables like Will Yun Lee, Lucy Liu, Tom Wilkinson, and Parry Shen. Although the lip synching reveals the occasional flub, the dialog offers a convincing mix of Cantonese and English. Other than some of the title's character models being a bit too shiny, the game exhibits a stirring rendition of Hong Kong, with everything from radiant marketplaces, opulent temples and grimy back alleys rendered across four distinct zones.
Although Sleeping Dogs does little to challenge the open-world template upheld by series such as Grand Theft Auto, Saints Row, and Just Cause, the game's individual systems and meticulously realized context ensure that the title is worthy of a player's attention. With proficient combat and driving as well as an absorbing plotline, becoming beguiled by Dogs is an inevitability for devotees of sandbox games.  Whereas the character of Wei Shen struggles with redemption, it's a certainty for the team at United Front.