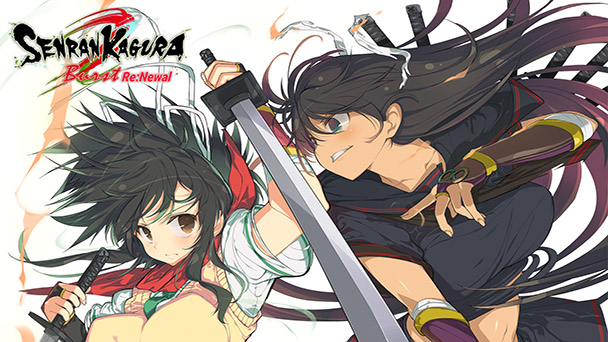 The game industry's fondness for reiteration is well-known and frequently criticized. But recently, publishers have doubled down, creating remakes of remakes. With two degrees of separation, these works often demonstrate a healthy amount of divergence from their source material, incorporating contemporary artistry and attitudes. Such is the case with the PlayStation 4 and PC release of Senran Kagura Burst Re:Newal, the latest entry in Tamsoft's prolific property.
The franchise's inaugural outing, Senran Kagura: Shōjo-tachi no Shinei released in Japan in 2011. The next year, the side-scrolling beat-em'-up was given a supplemented release. Soon after, the game had a stateside debut. In addition to chapters centering on the heroics of five female shinobi, Senran Kagura Burst also attached an additional campaign. This complementary storyline told the tale of The Crimson Girls, a rival academy opposed to the principles of the Hanzō Academy. With Senran Kagura Burst Re:Newal, the twin storylines are intact, but the two-dimensional fights has shifted into the same three-dimensional perspective of Senran Kagura: Estival Versus. Bizarrely, the conflict over morality has spilled over into the real world.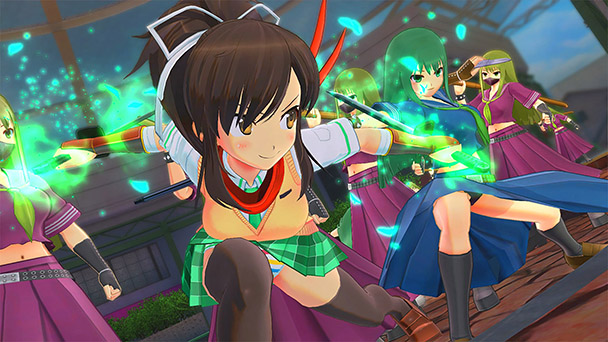 I Will Show You a Dance Cloaked in Shadow
Select either the 'Ultimate Shadows' or 'Burst' plotlines and you'll might discover a motif that's a bit surprising in either of the forty-plus episode campaigns. Here, Re:Newal makes a case for moral relativism. While Hanzō Academy's shinobi are frequently referred to as "good" and the Hebijo Clandestine Girls' Academy as "evil", the game goes on to challenge these simplicities, and reveal conflict rooted in ideology. Here, tradition is contrasted against modernization, the interests of corporations are juxtaposed against corporations, with little of the dichotomic moralizing that often present in Western media.
Ironically, similar tensions surrounded the stateside PlayStation 4 release of the game. Notably, Sony asked XSEED to remove the game's Intimacy Mode, a recurring franchise component where disembodied cartoon hands interact with and can even caress the game's models. Although present in the Japanese and PC releases of Re:Newal, it's an instance of a platform holder bowdlerizing a game, a practice that grew extinct by the early 2000s. Given the series impish charms, where enemies lose pieces of their attire when attacked and leads flaunt their bras and panties freely, its exclusion is baffling. If you care about content removal and are thinking about picking up Re:Newal, you're advised to purchase the unedited PC version. Send Sony a message by boycotting the PS4 version if you must, but don't inadvertently punish XSEED, who has always championed the series.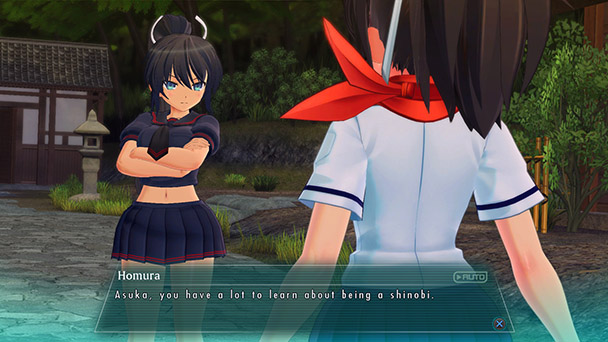 I Sacrifice Myself to the Will of the Dance…
Whether you opt to start with Ultimate Shadows or Burst, both campaigns commence with a tutorial which explains the same fundamentals of combat. Despite expertise in different types of weapons, each character has an arsenal of basic strikes, making the eliminating of subordinates as easygoing as battlefield skirmishes in the Dynasty Warriors series. But unlike the Koei-Tecmo titles, combat is much a bit more spirited.
Knock back a foe, and you're able to trigger an Aerial Rave, where you can leap through the air, and pulverize their motionless bodies with a volley of additional strikes. Another option is rooted in the Limit Break, where a character can sacrifice ten percent of the heath for temporary invulnerability and a bombardment which damages nearby crowds. Every strike gradually fills your Ninja Arts meter, and when you've reserved at least one bar of power, you can opt for a Shinobi Transformation, Senran Kagura's signature henshin.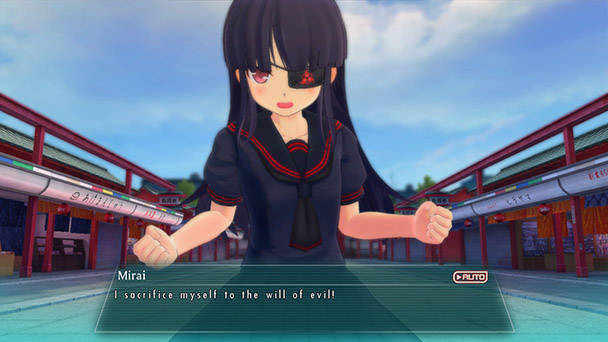 Here, each girl harnesses the power of her shinobi scroll, temporarily changing into a combo-dispensing dynamo that can illuminate the screen with brightly-hued fury. Surprisingly, that's not the pinnacle of Re:Newal's disbursement of punishment. With Burst Mode, players are privy to endless aerial combos, and once your onslaught has ended, you'll unleash an explosion of power that typically strips subordinates down to their skivvies. Lastly, there's Frantic, an intriguing risk/reward option that strips off defensive clothing, but augments your offensive output.
Sink into the Movesets of Sleeping Souls
While environments are recycled from Estival Versus and missions routinely revolve around beating the clothes off every adversary on the stage, combat isn't entirely tedious. Variety is engrained in each character's weapon and fighting styles, so Asuka's speedy wakizashi feel remarkably different than Ikaruga's lengthy Hien sword, Katsuragi's iron boots or even Yagyū's parasol. Additionally, Re:Newal's Ying/Yang component means your playstyle influences the way each character grows. Depending on the way each character fights, you'll earn distinctive new moves and abilities, which helps combat feel fresh. Certainly, the clothes-shredding showdowns with rival shinobi are tense affairs that elevate the level of difficulty.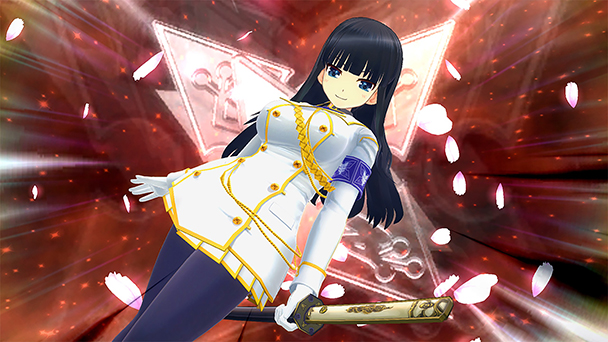 Despite the spectacle on buxom beauties fighting in various stages of undress, Re:Newal doesn't skimp on the exposition. Between episodes you'll be treated to storylines that offer tidbits of backstory on each shinobi. While there's a lot of lighthearted, laugh-out-loud moments, there's also a healthy amount of poignancy to be found, which helps the game's cast transcend archetype. You'll undoubtedly favor some shinobi more than others, but it's almost guaranteed to find a best girl or two.
Visuals as Attractive as Ikaruga
Undoubtedly, Senran Kagura Burst Re:Newal will enchant the eyes of series fans. Running at a solid sixty-frames-per-second, the game's visuals are fluid, vividly colored, and impossibly cute. Sure, environments are intermittently plain, with a soccer field resembling little more than a large texture map. But occasionally, delightful details will shine through. Peer inside the walls of a classroom and you might spy a sketch of a rabbit likely drawn by Hibari. Cycle through the options in the main menu and you'll see an animated rendition of what each girl is doing in their free time (Katsuragi, are you lingering over the panty drawer?)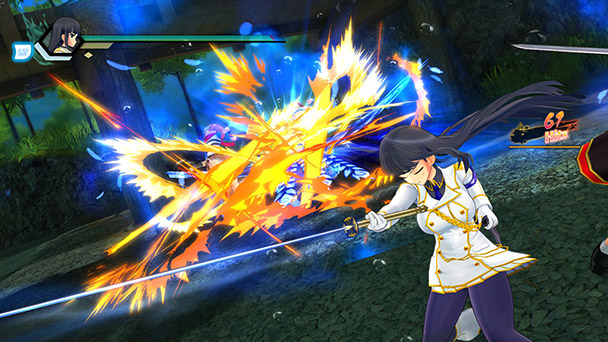 These kinds of details carry over to combat. Enemies signal their attacks with a cool effect that shows their attack trajectory on the ground. When the girls battle, attacks are emphasized with glowing motion trails and when things get heated, the screen becomes awash in vibrant color. But unquestionably the game's biggest charm are the character models which move with energetic animation and rivaling the look of an energized fight scene in a top-tier anime.
To inspire players, Re:Newal provides a steady drip feed of unlockables as you progress through the game's two campaigns. Currency earned by completing missions can be used to purchase an array of attire. And whether you dress up Asuka is a stunning yukata or only a wrap-around shower towel, expanding your Academy's wardrobe can be motivating. Additionally, you'll also unlock images, music, and video and pose the shinobi as you see fit in the game's diorama component. There's no multiplayer or co-operative element here, but those who appreciate the virtue of solo play will certainly find enough content to keep them busy for weeks.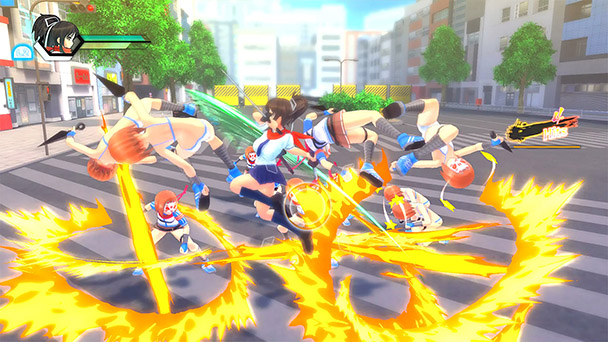 Arriving on the heels of the woefully disappointing Senran Kagura Reflexions, Senran Kagura Burst Re:Newal is a encouraging return to form for these buxom shinobi. With accessible action, impeccable visuals, and some surprisingly affecting storyline, these shinobi are sure to capture hearts as easily as they eliminate enemies. As a re-imagining of Senran Kagura's first game, it's a great inroad to playful property. Just make sure to grab this on PC if you're bothered by Sony's censoring.
Review Overview
Summary : Come for the scantily-clad shinobi but stay for the accessible combat, well-done exposition, and long-lasting succession of collectables. Ideally, Re:Newal won't be remembered as a victim of hypersensitive corporate policy, but as a well-polished remake of the franchise's original title.