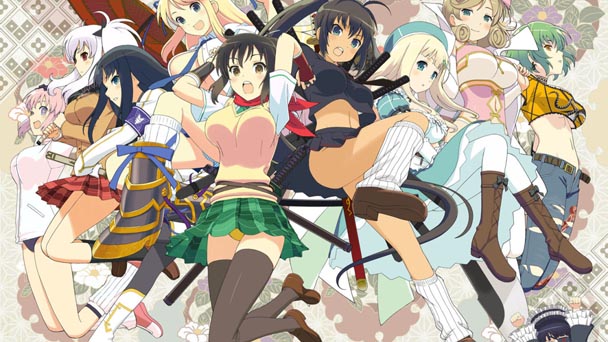 Shinobi during the Sengoku period faced a myriad of threats, ranging from enemy soldiers, attack dogs, and traps. Senran Kagura's kunoichi have braved a remarkably different set of dangers- with losing their clothing being their most prevalent peril. But the potential of fighting in nothing but a bra and panties isn't completely bereft of benefit. Most notably, 2013's Senran Kagura Burst garnered a significant amount of attention for its amorous antics, ending the eShop's fan-service famine.
But the spirited title wasn't without its problems. While the combat was arguably serviceable, Burst often seemed to overwhelm the 3DS's hardware, with chronic framerate issues putting a damper on the risqué revelry. Smartly, the recent release of a sequel, Senran Kagura 2: Deep Crimson remedies most of its predecessor's problems, offering accessible combat and a figurative piñata worth of eye-candy.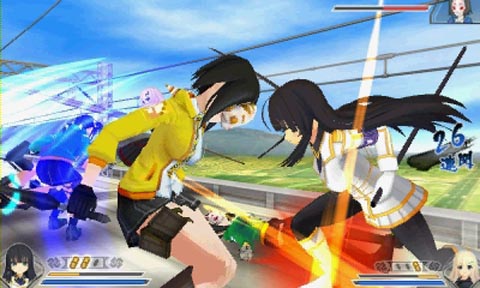 Wisely, Deep Crimson retains the accessibility of its ancestor- assigning two buttons to light and heavy attacks while the abilities to double jump and dash are your primary defensive tools. Typically, this portion of your arsenal summons combos that are sufficient enough to eradicate the subordinate opponents that fill the beginning of each stage.
When mid- and final bosses appear, you'll need to engage the power stored in your Ninja Arts Gauge. This meter is the means to a mid-battle attire change which can restore health and the condition of your clothing. Alternatively, players can release Secret Ninja Arts, devastating series of strikes or even send the protagonist into Frantic Mode, where they forgo apparel for an augmented ability set. Given characters learn new strikes as they gain experience, it's comforting that the 3DS's bottom screen is used to display your commend set.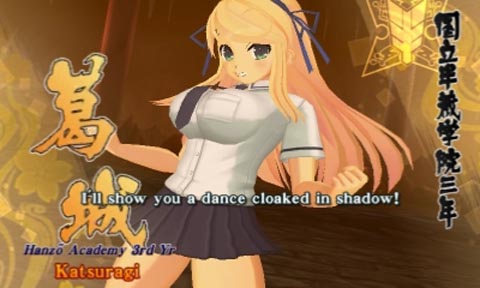 New to Deep Crimson is the inclusion of tag-team battling, with a button press switching control between two characters. Not only does the change escalate the energy of fights, it also forces players to be vigilant, shifting between protagonists to maintain the well-being of each member. Pleasingly, pair battles not only provide some of the game's most ostentatious and overpowering Secret Ninja Arts, but they also provide the prospect for two player pugnaciousness. Supporting both local and online play, Senran Kagura 2 might provide only a bare minimum of matchmaking and communication capabilities, but tackling the campaign with another human draws attention from Deep Crimson's rudimentary enemy AI.
Beyond the main story mode, individuals or duos can also tackle Yōma's Nest, which tasks combatants with making their way through a fourteen-level pyramid, with each row increasing the level of difficulty. Although success endows characters with experience, bestowing new moves and increasing their stats, failure results in little more than a charitable payout. Meanwhile, Special Missions set particular clear conditions like time limits or combative constraints. While extremely challenging, perseverance bequeaths Shinobi Stones which can be used for a sizable stat advantage.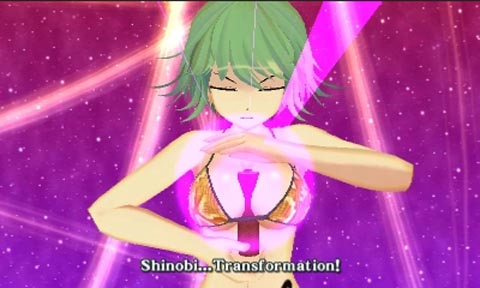 While combat can become mired in repetition, there are a number of elements that help to vitalize battles. Smartly, Senran Kagura forces you to switch protagonists, allowing gamers to experience each girls' arsenal. There's a wealth of diversity between play styles, whether players are controlling the clumsy, electricity-arcing Hibari or the eye-patch donned Yagyū, who strikes with a parasol- and yes, tentacles. Whimsy isn't reserved for the heroines either, with madcap opponents like a prim loligoth who secretly sports a pair of teddy bear pantsu. Part of the enjoyment in Senran Kagura 2 stems from not know what otaku-obsession developer Tamsoft will reference next.
Wisely, the enjoyment isn't just rooted in the polygonal, with dialog with sporadically transcends the source material. Although the two arc plot isn't revolutionary, pitting five students at the Hanzō Academy against a comparable set of longtime rivals at the Hebijo Clandestine Girls' Academy. Gradually, the storyline grows in incredibility, resulting in a success of skirmishes not only between student but also teachers, yōma, and a number of procession of increasingly bizarre monstrosities. What's remarkable is the quality of conversation, with the girls waxing philosophical and exhibiting a respect for their arch-enemies. Just so things don't get too brainy or sentimental, there's also the sporadic boob joke that well help you forget about the persistently awkward in-game camera.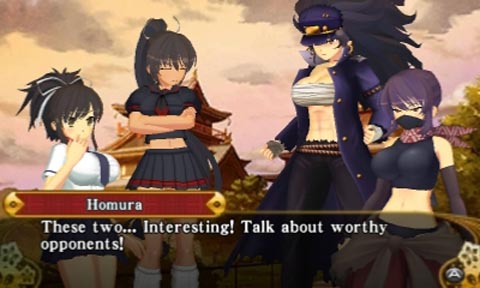 Visually, Deep Crimson is a vast improvement on its predecessor. While framerate drops still happen, they're isolated to either moments of heavy on-screen activity or when the game want to display a high-poly model in the dressing room. Gamers captivated by customization will find a lot to enjoy outside of the combat mission, using unlockable costumes, hairstyles, and accessories to outfit each sexy shinobi. Gratifyingly, beautification sessions aren't for naught. Grab the AR card that came with your portable and you'll be able to pose your favorite kunoichi is the real world. While owners of Nintendo's New 3DS might have a frustrating time extracting photos off their screwed-down system, they can take solace knowing that the C-Stick can be used to position their leering camera.
Although Senran Kagura 2: Deep Crimson is more evolutionary rather than revolutionary, there's a cornucopia of content for players to wade through. So while combat can grow a bit stale at times, there's always another incentive to spur players on, making the title's expedition an enjoyable one. Given the shortage of consummate brawlers on Nintendo's system, Deep Crimson is worth a look, especially if you're an aficionado of frisky fan-service.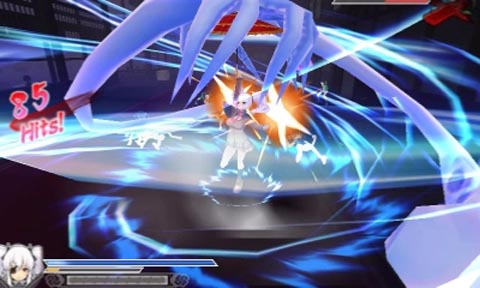 Senran Kagura 2: Deep Crimson was played on the 3DS with review code provided by the publisher.
Senran Kagura 2: Deep Crimson
Platform: 3DS
Developer: Tamsoft
Publisher: XSEED Games (US), Marvelous AQL Europe (EU)
Release date: September 15th, 2015 (US), August 27th (EU)
Price: $39.99 digital, $49.99 "Double D" retail edition
Languages: Japanese voice/English text
ESRB: Mature
Review Overview
Summary : Boisterous and boob-obsessed, Senran Kagura 2: Deep Crimson is another solid entry in the puckish series. If you like your pugnaciousness served with a hearty side of playful perversion, this should be your next 3DS game.