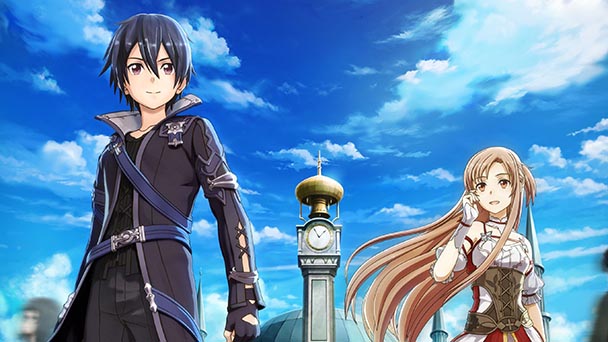 Across the span of eighteen light novels, eight manga adaptations, and twenty-five episodes of anime, Sword Art Online has extended an enthralling exploration of game technology. Set in 2022, the work focuses on a device called a NerveGear- a virtual reality system that interacts with all five senses, creating a wholly immersive environment for users.
But the hardware and software are hardly innocuous. After ten-thousand eager gamers log in to play the virtual reality massively multiplayer online role-playing game (or VRMMORPG), they find the NerveGear's designer, Akihiko Kayaba, seems to have more sinister plans. Not only are players unable to leave the simulated environment, but a complete loss of hit points in the game or tampering with the apparatus instantly kills the player in real life. As such, the only hope for escape is to ascend through a hundred levels of the game, with the designer promising freedom to anyone who succeeds at this herculean task.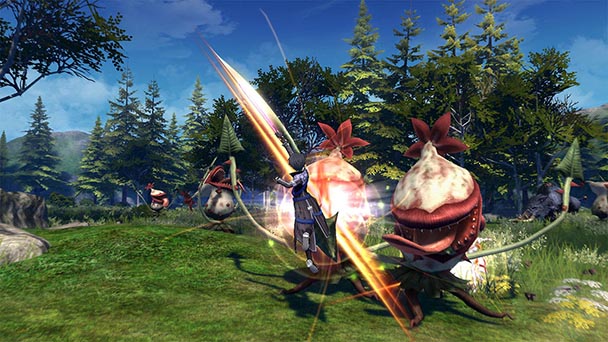 As such, Sword Art Online has used its premise as well as gaming principals to ruminate on the risks and rewards of immersive tech- tracking protagonist Kazuto "Kirito" Kirigaya's journey up Aincrad's succession of floors. From guilds, grinding, and player killing, the properties employed mechanics of role-playing to deliberate on a number of real-like ethical issues. But turning that intelligent trek into interactive form has proven challenging. Not only do the trio of previously-released SAO titles have to adapt the properties' commentaries on virtual reality into a different medium, but developers Aquria and Artdink were tasked with simulating an imagined virtual reality using the power of contemporary hardware. Like Kirito's expedition, it's a preposterous undertaking, but for the most part, previous Sword Art Online games have offered commendable efforts.
That trend continues with the release of Sword Art Online: Hollow Realization for the PlayStation 4 and PS Vita. While frequent conflict lacks the impact of clashes the source material and quests can feel repetitive at times, the game offers a competent recreation of SAO's simulated world, extending an alluring proposition for fans. Sure, creating a game that simulates MMO play without actually accommodating massive numbers of players seems like a fool's errand (surely, .hack veterans will concur), but Realization is a muted triumph, if mainly for the game's ambitious hook of exploring the relationship between AI and humans.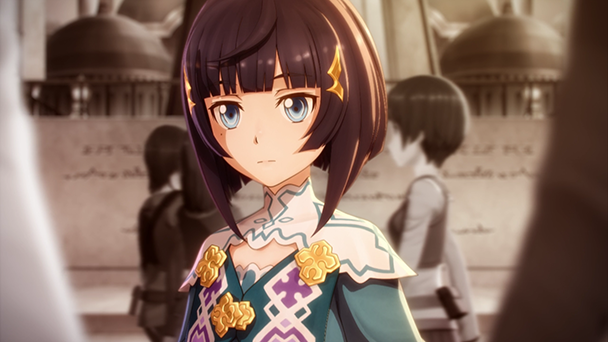 The title's prologue opens three years after the culmination of the first SAO, with Kirito teleporting into a seemingly unexplored area of Ainground, the sprawling landmass of Sword Art Online: Origins. A seemingly secure setting that utilizes the servers of SAO, but with purported safeguards in place, the context isn't as benign as we are told. That's evident when Kirito is ambushed by Philia, a player marked with an orange icon, signaling she's a player killer. But the duo is forced to put their hostilities aside when they are attacked by a high-level Skull Reaper, their survival hinging on collaboration.
Once Kirito is able to teleport back to a hub, the news of the landform and its potential for higher-level resources stirs excitement, initialing an expedition. But plans are unexpectedly suspected when a character literally drops from the sky. What follows is a slight amount of trope players are introduced to Premiere, Hollow Realization's enigmatic NPC character and player companion. While uncovering her backstory proves interesting, it's developer Aquria's aspirations that's truly fascinating, with the character's demeanor being shaped via a collective analysis of players' tweets once they provide access to their timeline. How much influence that has over Premiere won't be known until after the data acquisition wraps up on November 30th, but hopefully the experience proves to be more than just a viral marketing gimmick that ends up selecting from one of several types.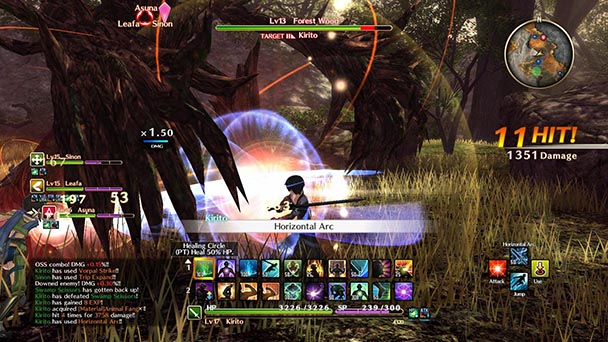 Even if crowd sourcing Premiere's temperament proves to be a ruse, Hollow Realization has a number of other elements to engage players. Undoubtedly, one the game's most conspicuous mechanics is the combat system, which manages to scale between accessible real-time action for a single character to the cautious strategy management when using parties to tackle elevated opponents. At its core, Hollow Realization takes inspiration from Monster Hunter, conveying the illusion that button mashing will produce progress. But like Capcom's cash cow, the practice is only be effective against lower enemies, with the annihilation of tougher foes requiring a more methodical approach of studying for telegraphed attacks and dodging the subsequent strike.
Part of the solution is tackling antagonists who aren't at levels that outmatch you. Another tactic is the vigilant use of face buttons to not only deliver combos when opening emerge, but also to guard, parry, and stun. Precision also comes into play with a damage multiplier and a cringe state- where assaulting after an enemy uses a skill places them at a defensive disadvantage. Once the adventuring parties grows, players are urged to employ skill chains, following up a partner's attack with one of their own for a devastating amount of damage. Although you don't directly control your teammates, you can still issue a number of commands, contributing flexibility in how foes are taken down.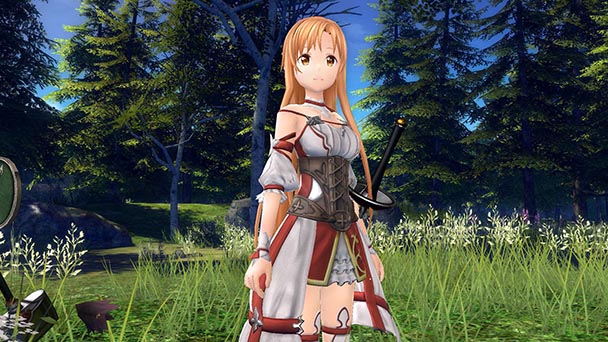 Another factor that influences success on the battlefield in the cultivation of characters. Beyond expressing affinity after battles, players can also examine a character's Mood Matrix back at the Town of Beginnings. Here, meeting certain conditions unlocks additional skills that can be locked in by players. This time out, there are even dates and intimate conversations at certain locations, and if you provide the proper non-verbals you can elevate a partner's feelings for you. While it's all basic dating sim tenets, it's yet another facet that players can find themselves investing time in.
Undoubtedly, augmenting your team's stats and skills is another priority for achievement. At a certain point, an option for multiplayer questing unlocks, but individualists will definitely want to cultivate a team that complement's their play style. Obviously, for those who like to fervently deal out massive amounts of damage quickly, you'll want to nurture a healer with debuff capabilities to keep The Black Swordsman swinging.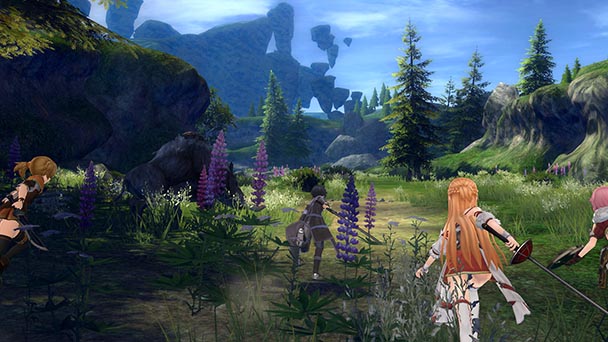 While Hollow Realization allows for a number of offensive tools and play styles, diversity isn't found in other areas. Largely, the majority experience and money-earning errands offered by in- town boards are fetch quests. On the upside, you can tackle simultaneous jobs, but in execution, there are so many homogenous ones, some pursuits seem completed while arbitrarily chasing other goals. Others are ambiguously described, likely sending completionists is search of a FAQ. Likewise, creature variety is another issue, with players hoping to elevate their party tackling the same types of monsters.
As a property, Sword Art Online both celebrates and warns of immersive technologies. The later portion of that message is ill-fitted for adaption into interactive media, making almost any SAO game a reductionist experience. But barring that, Hollow Realization offers an adept interpretation of the other salient aspects of its source material, offering an engaging simulation of an imagined simulation.
Sword Art Online: Hollow Realization was played on
the PlayStation 4 with review code provided by the publisher.
Sword Art Online: Hollow Realization
Platform: PlayStation 4, PS Vita
Developer: Aquria
Publisher: Bandai Namco Entertainment
Release date: November 7th, 2016
Price: $59.99 via PSN (PS4), $39.99 via PSN (PS Vita)
Language(s): Japanese voice, English text
Review Overview
Summary : Save for playing a MMO-Sword Art Online adaptation with a VR headset, Hollow Realization does a competent job of creating the SAO's take on grinding, guilds, and player interaction. If you're not acquainted with the property you'll probably be bemused, but fans will certainly appreciate the effort that went into this adaptation.