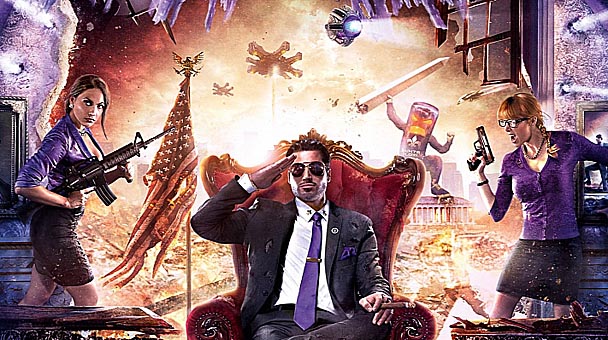 Typically, collector's editions are filled with superfluous items- distressingly fragile figurines, ornamental character skins, and other miscellaneous tchotchke. While Saints Row IV devotees can purchase a hundred dollar 'Super Dangerous Wub Wub' edition which includes obligatory indulgences such as a diminutive dubstep gun and a plastic Johnny Gat memorial statue, what fans truly deserve is a glimpse behind the game's design process. Seemingly, Volition's development meetings centered on the shortcomings of rival franchises- likely poking fun at ambitious intentions gone awry. From Mass Effect's awkward and time-intensive romancing, Grand Theft Auto's obsession with lengthy cross-town driving segments, and Infamous' insistent emo angst, one could envision members of the development cheekily carping on each series.
Although players may never be privy to the meetings, the consequences of these roasts are the irrefutable impetus behind Saints Row IV. Here, courtship has been acerbically abridged down to a single button press, while the inclusion of superhuman capacities renders vehicular transportation obsolete. Naturally, the game's writing- which dishes out a steady stream of pop culture references and occasional impishness, further elevates the proceedings with its meta-game humor. Yet, in stitching together the Saints' bricolage, Volition inevitably makes a few preventable errors of their own. Fortunately, the sum of these blemishes does little to detract from the whimsy of applying overwhelming powers as Haddaway's "What is Love" swells to a jubilant crescendo.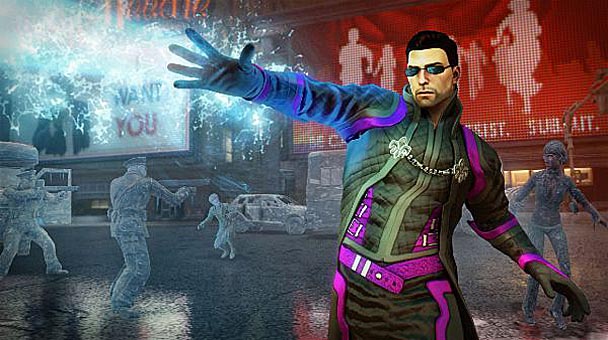 While contemporary action games often favor fitful variety over a coherent trajectory, Saint Row IV's opening hour is unapologetically disjointed. An opening stage which draws inspiration from both Zero Dark Thirty and Call of Duty abruptly shifts to the protagonist's appointment as U.S. President. While gamers might long for a peek into Saint-helmed state policy, tranquility is interrupted when a band of aliens descend on the White House, abducting core staff. Before the title finally settles into an extended stay at a simulated Steelport, players are launched into a sepia-tinged episode which imagines rocket launchers injected into a serene Leave it to Beaver-like milieu. Although more earnest titles would collapse under the spasmodic storyline, Saints Row IV structures the jumble like a blitzkrieg of comedy sketches- maintaining a quick pace by abandoning any transitional elements.
As with previous Saints installments, hours can be poured into the game's character creation suite. Variety is the driving virtue, with players able to craft convincing doppelgangers, fantastical freaks, or even recreations of notable personalities. Beyond basic physical attributes, gamers can spend time picking out gratuitous taunts, like the Epic Sax Man pelvic thrust or Qigong arm swing, as well as choosing from the speech banks available for male or female protagonists. Impeccably, Saints Row: The Third's zombie voice over track has been replaced by veteran voice actor Nolan North, who delivers a deliciously self-aware reading.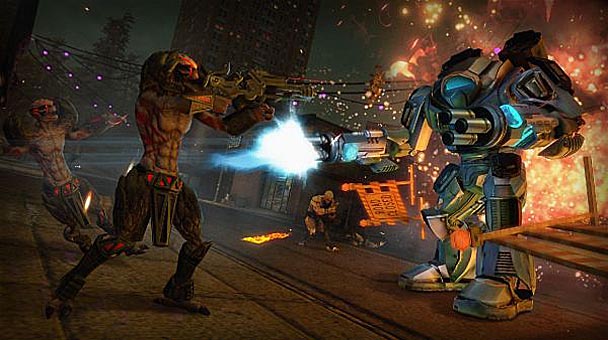 However, the rewards of customization and comedy are no match for polished gameplay. Mercifully, Saints Row IV routinely delivers in this regard, indulging players in obscene amounts of power fantasy. Not long after players step foot in the Steelport simulacra, they'll be collecting scattered data clusters which are the currency used to purchase a catalog of increasingly formidable skills. With the ability to leap over buildings, freeze and scorch enemies, and move objects via telekinesis, Saints Row IV offers a trifecta of wish fulfillment, making players feel like a nigh-unstoppable instrument of ass-kicking. To prohibit players from taking their burgeoning repertoire for granted, periodically missions require old fashioned shooting and driving skills. Perhaps these assignments are the reason why the vehicle customization mods and unlocks from Saints Row III still linger.
Although Saints Row IV's inclusion of superpowers trump the capacity of pedestrian weapons, cool down timers prohibit overuse and direct players to uncover the game's new arms. From the Bouncing Rifle- where players can create clouds of rebounding chaos, to the Black Hole Launcher which expels destructive singularities  that suck in foes, creativity and formidability abound across the game's well-sized arsenal. Revealing too many of the game's exotic devices might spoil the sense of discovery, but here's one clue: there's a new melee weapon called the Violator which draws inspiration from an aquatic appendage occasionally seen in hentai.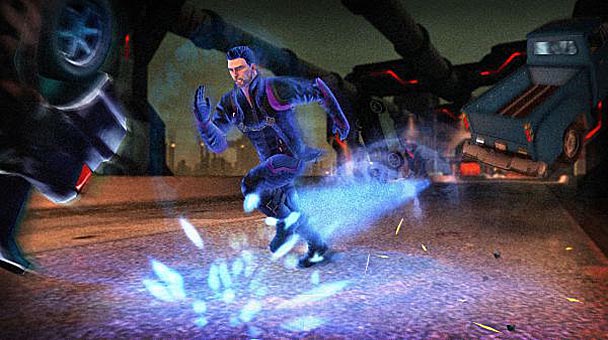 The new weapons are a delight to use and uncover- but it's a shame Saints Row 4 doesn't increase the urgency of combat. Too often the game substitutes aggressive AI with large quantities of enemies, resulting in toothless battles that require neither precision nor strategy. Although higher alert level and player upgrades do lure out more persistent foes, a reliance on the same conventional mission structures can lead to moments of monotony during the fifteen hour main campaign. With the game does throw out new Quests and Activities (Saint's core and ancillary missions), there's a fair amount of replication. Assignments like Gang Operations have been rechristened Flashpoints, but are effectively the same foe flushing challenge. Insurance Fraud returns as well, this time with a screwball physics model that will vault players hundreds of feet in the air.
Justification for the next generation of console hardware can be found in Saints Row IV's visuals. Using the same engine from The Third, the steady torrent of on-screen destruction persistently pushes the game below its target refresh rate of thirty frames per second.  Although an abbreviated draw distance and the use of motion blur help to mask the problems, it's obvious that the title is pushing the PlayStation 3 beyond its limits. Sonically, the title is outstandingly adept, offering a well-engineered sound mix bursting with gunfire, explosions, dialog, and head-nodding soundtracks across seven radio stations. Beyond the simple-player campaign, missions can also be tackled by online, cooperative duos. Happily, these excursions exhibited quick matchmaking and relatively lag-free performance.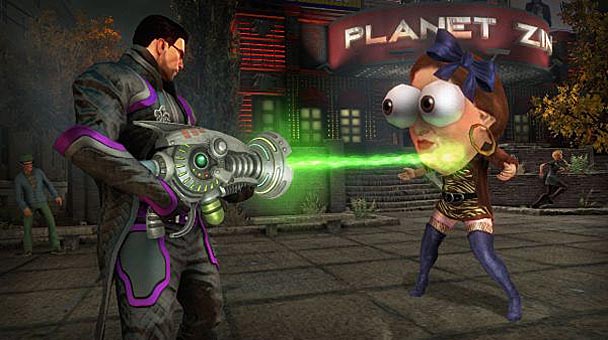 From dildo bats to a feces spraying truck, the Saints Row series has often garnered attention through shock value. With Saints Row IV, it's clear that the team at Volition yearns to be recognized for their design decisions and programing prowess. Copping, cultivating (and occasionally coarsening) mechanics from this generation's notable franchises, a relentless pursuit of fun was the core aspiration of the developers. Although Saints IV doesn't always meet that lofty goal, there's more than enough entertainment on the disk to justify a full-priced purchase.
Review Overview
Summary : The introduction of superpowers into Saints Row IV makes this open world game feel less like GTA and Sleeping Dogs and more like Crackdown and Prototype.