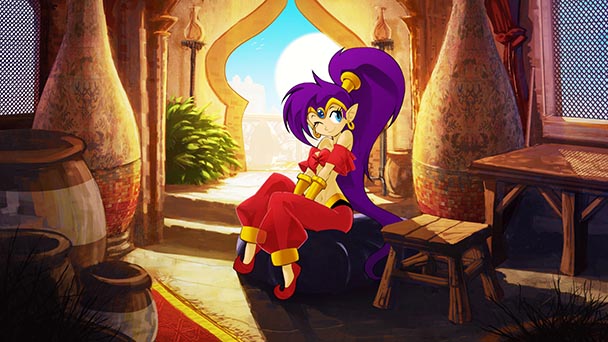 As studio names go, WayForward Technologies has one of the more incongruous monikers in the industry. While the Southern California studio's designator seems to infer an output of bleeding-edge innovation, in reality WayForward's greatest achievement is a collection of retro-inspired, two-dimensional, action platformers. In execution, titles such as Batman: The Brave and the Bold – The Videogame, Mighty Switch Force!, and Aliens Infestation feel like forsaken gems from the sixteen-bit era of gaming. Each title transported us back to a halcyon age where layers of parallax scrolling, sinuous sprite animations, and instinctive controls captivated a generation of gamers.
Arguably, the 2010 DSiWare title, Shantae: Risky's Revenge still stands as the studios' magnum opus. Purported the result of an eight-year development cycle, the title paid palpable homage to the pantheon of platforming classics, integrating mechanics from the early Castlevania and Metroid franchises. But Shantae did more than just ape a number of Japanese masterworks, ushering in a layer of impish charm in lieu of drab seriousness. Although the recently released Director's Cut does a commendable job of transporting the portable title onto the PlayStation 4, and even adds a few enticing extras- a few flaws go unfixed, revealing a niggling inelegance in Shantae's otherwise beguiling shimmy.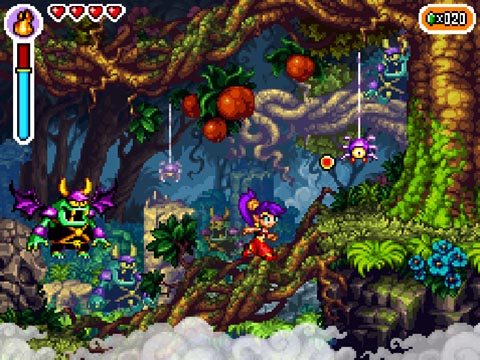 Smartly, the game's storyline is largely elective, giving gamers in need of an impetus a bit of plot to ingest, while those who prefer to get to the platforming merely have to pass a few minutes of front-loaded exposition. This introduction uses text-based conversations to articulate returning villainess Risky Boots' intention to seize three magic seals- which if brought together could spell doom for Shantae's otherwise serene home of Sequin Land. Naturally, it's up to the protagonist to journey through locales like scorching deserts, enchanted forests, and subterranean grottos to put a stop to Boot's malevolent agenda. Largely, the game's dialog is tolerable, occasionally transcending mediocrity when Risky etches on the risqué. Parents will be relieved to know that the allusions never get too racy, dabbling in well-veiled innuendo that's bound to be overlooked by youngsters.
Once players sample Shantae's play mechanics, any shortcomings with the storyline will likely be forgiven. Soon, they'll encounter the character's different forms, where the protagonist transforms into a monkey, elephant, or mermaid. Each of these creatures come with their own set of capabilities, extending distance to your jump or the ability to smash stony obstacles. Like Metroid, these forms also grant admission to previously inaccessible areas, allowing the diminutive simian to slip through a petite ingress or reduce a rocky barrier to rubble.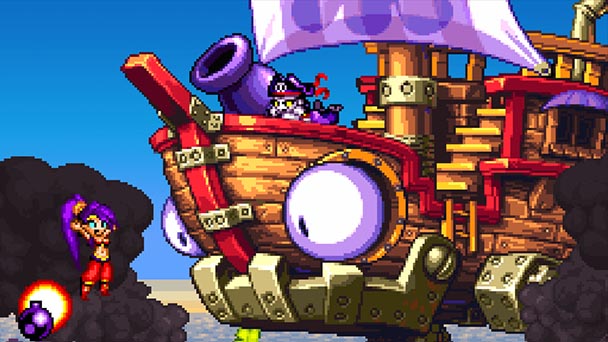 The preferred weapon of the Belmont clan is contextualized as Shantae's mane, which was allegedly inspired by the lashing locks of lead developer Matt Bozon's wife. Much like Castlevania, enemies aren't dispatched in a single stroke, most requiring a few whips until they perish, leaving behind the intermittent bit of currency. And mirroring the Hitoshi Akamatsu-developed title, players also have access to a number of helpful secondary armaments that can be purchased with procured gems. These range from the ability to launch fireballs, a protective pike ball that rotates around players, and even a storm cloud that sporadically send out bolts of injurious lightning.
The majority of Shantae's journey is a textbook example of old-school bliss, as the half-genie shapeshifts, neutralizes foes, and bounding her way across increasingly perilous platforms, all in an effort to ruin Risky's scheme. Before Mutant Mudds employed multi-plane platforming, allowing players to hurdle into the background or foreground at designated spots, Risky's Revenge popularized the mechanic. Here it's used with just enough frequency to keep the mechanical novel throughout Shantae's six hour adventure. Other details have yet to be copied by modern platformers- such as the helpful visual signals which indicate a bottomless gap in the ground.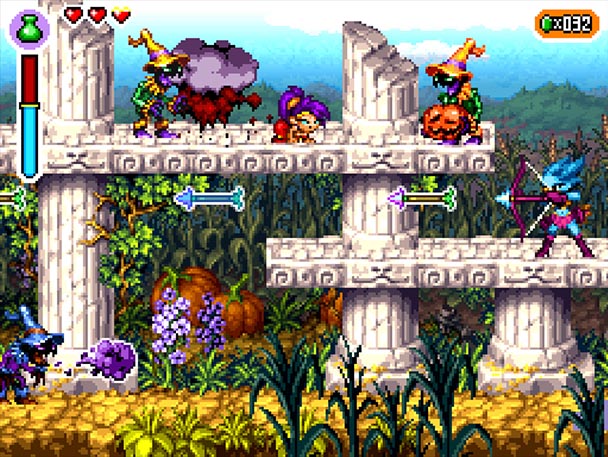 But, some of Risky's Revenge's shortcomings tragically remain. The game's map is much less helpful than in most of Shantae's contemporaries. Not only does it take a few button presses and stick pulls to bring up, but it's woefully ambiguous- displaying general locations in a disorienting isometric form. As such, players can expect a few of their backtracking assignments to instigate tedium, as the title gives little indication of the specific position players are supposed to go. In all, expect a few bouts of frustration unless you have a FAQ ready.
For the PS4 port, WayForward added a few ancillaries to the game. Warp points scattered about remove some of the irritation associated with traveling across the map for a fetch quest. Shantae's new enchanted costume not only brings a bit of fan-service to the game, but offers a nice variation- where players trade some of their defensive capacity for a more formidable magic ability. Both dialog and conversational portraits have been redrawn with high-resolution assets, as well.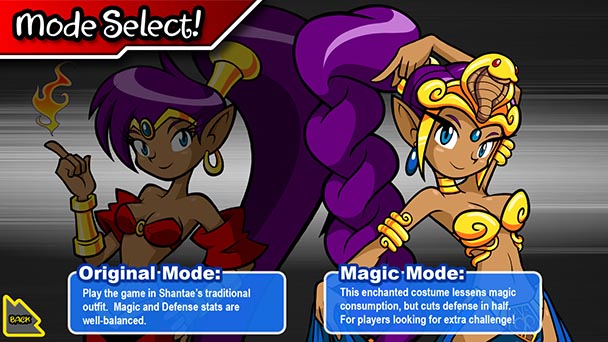 Elsewhere, the conversation varies from sound to sub-standard. Don't expect a high-resolution upgrade or even an option for widescreen support for this port- Revenge's pixel art and aspect ratio remain faithful to the DSi original. Although the initial impression might not be positive, the fluidity and charm of the game's animation soon shines through, as Shantae's lissome wiggle is destined to mesmerize gamers. Likewise, the game's enemies, bosses, and backgrounds are meticulously drawn and move with uncommon gracefulness.
Although Shantae's pilgrimage to the PlayStation 4 isn't faultless, there's plenty of enjoyment to be had. At its core, Risky's Revenge is a throwback to the action/platformers of old, deftly intermingling navigation with confrontation, as players push through each enemy-infested area and trek toward every epic boss battle. It's the type of game that has characterized WayForward output, and more specifically stands as the developer's best effort. Just be sure patience is in suitable supply before you sashay over to the PlayStation Store.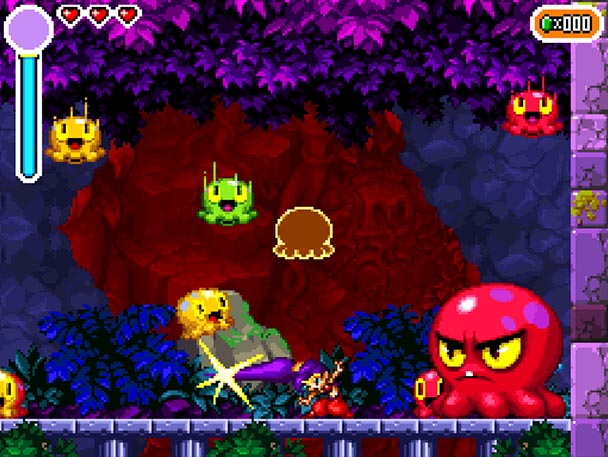 Shantae: Risky's Revenge Director's Cut was played on the PlayStation 4 with code provided by the publisher.
Shantae: Risky's Revenge Director's Cut

Platform: PlayStation 4, (previously released on PC and DS)


Developer:

 WayForward Technologies

Publisher:

 WayForward Technologies

Release date:

 June 23rd, 2015

Price:

 $9.99 via

PlayStation Store

Shantae: Risky's Revenge Director's Cut (PS4) review
Review Overview
Gameplay - 85%
Control - 80%
Aesthetics - 75%
Content - 80%
Accessibility - 75%
79
79%
GOOD
Summary : Although the map system is less than cooperative and there's a few snags in the conversion to the PS4, the Director's Cut of Shantae: Risky's Revenge is the definitive iteration of the half-genie's enjoyable adventure.

User Rating:

4.01 ( 5 votes)