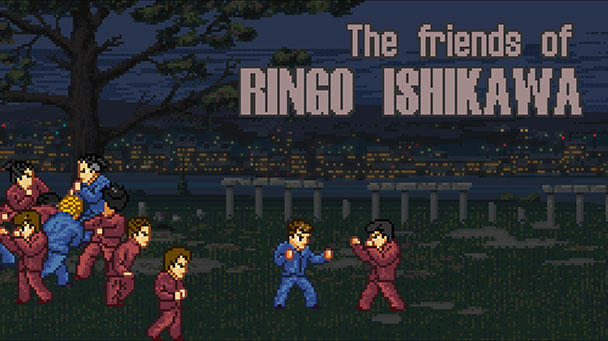 Games habitually incorporate structure. Loot-driven games like Diablo and Borderlands goad us into the incessant search for new gear. Deadlines in the Atelier and Persona games ensure we don't dawdle. And almost any role-playing game offers a succession of main- and side-quests, leaving little uncertainty of how we should be spending our time. Even the most autonomous, open-world game has palpable goals for players to pursue.
Ingeniously, The Friends of Ringo Ishikawa challenges the notion of always knowing what to do. Role-playing as the eponymous senior in high school, uncertainty abounds, mirroring the standpoint of an actual teenager. In Ishikawa's world that are a myriad of activities all vying for your time. Should you go to class in hopes of becoming a productive member of society in the future? Do you opt for a part-time job, so you can purchase things like a console or gold chains? Or do you roam and rumble in the streets with a band of loyal delinquents, shirking the trappings of social conformity.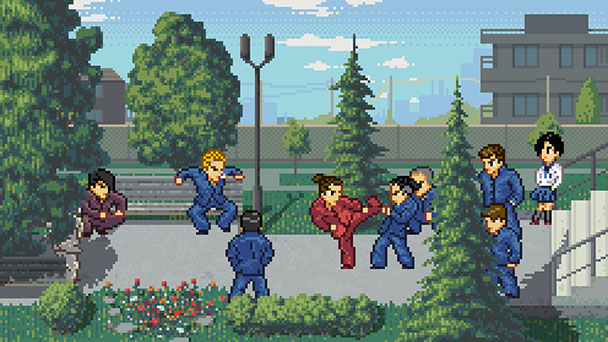 Most games might communicate clear-cut paths for each pursuit. But The Friends of Ringo Ishikawa gets into the head of the protagonist showing the world from his perplexed perspective. If you want to find out where to pick up some extra money, the game doesn't present any glowing icons or even a town map. No, you must navigate your own way in this world. Ishikawa's apathy toward academics is conveyed by not even knowing what time school starts. And the tendency to stare out the window.
After years of being spoon-fed, the independence can be daunting, especially when the title is strategically ambiguous about your progress. But soon, you'll learn to let go of these tendencies, and carve your own path for life. Pleasingly, the game consistently shirks most of the moralizing of your decisions. But that's not to say there aren't repercussions. Miss too many work shifts and you'll find yourself fired. I felt a genuine sense of shame when that happened, meaning the game might function as a kind of Rorschach test for some.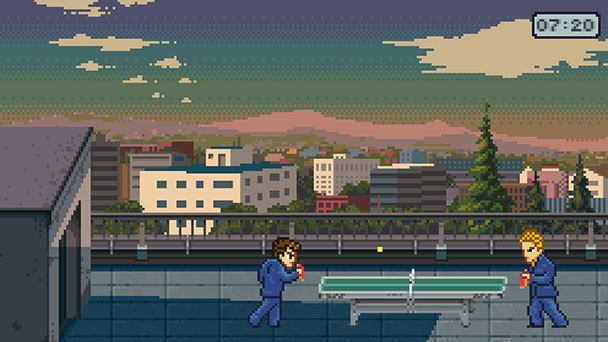 An assortment of mini-games that will challenge for Ishikawa's leisure time. Like Kiryu, it's all too easy to get caught up playing pool or ping-pong, neglecting your nutritional or sleep requirements. Just like the Dragon of Dojima, you will encounter an abundance of street thugs all too eager to put your fighting skills to the test.
Here, Friends of Ringo Ishikawa avoids the cliché of polite turn taking during fisticuffs. No, brawls are often confusing muddles of homogenous sprites, making it all too easy to lose your bearings. Likely, you'll favor strength in numbers bringing your friends into scraps. Or you can play like I did and be a coward that digs the change out of pockets of the unconscious.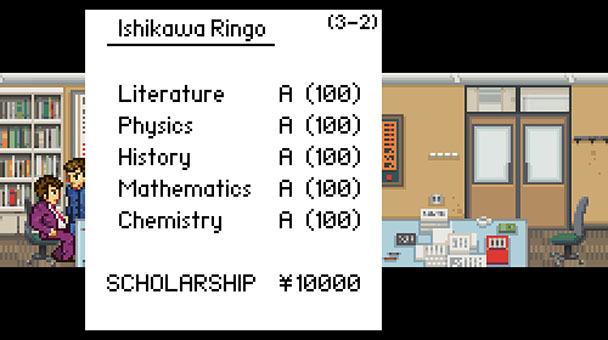 Given the game's open-ended nature, it would be difficult to tell a story that built on the multitude of available experiences. That said, there are the occasional bits of dialog that accurate convey the oft-defeatist attitude of teenagers. In the end, you might be wishing for a few more interactive elements. I was a bit surprised that romance didn't seem to be an option, but I guess that's in the cards for a chain-smoking, persistently slouching banchō.
The Friends of Ringo Ishikawa was played on Switch with review code provided by the publisher. 
Review Overview
Summary : Get past The Friends of Ringo Ishikawa's freeform approach and you'll discover a teenage simulator that surprisingly enthralling and unexpectedly existential.