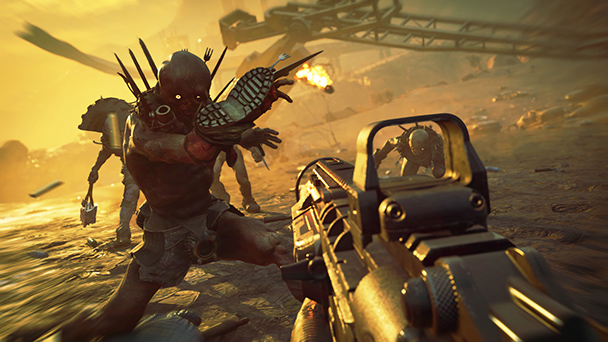 Not long ago, almost every first- and third-person shooter included a single player campaign. That's not the case anymore. Titles like Call of Duty: Black Ops 4, Overwatch, and Rainbow Six Siege have all ditched individual play, opting to focus on multiplayer-based competition. But I suspect there's a constituency of people like me with an aversion to rivalries rooted in K/D ratios and trash talk. I grew up loving single-players campaign for their stories, ostentatious set pieces, and the moments designed to make me feel like an unstoppable killing machine. With multiplayer games, I'm fated for perpetual mediocrity across battlefields stripped of perspective.
Certainly, there are moments when the recent release of Rage 2 resuscitates the capacity for single-player pleasure. As a collaborative effort between Id Software and Avalanche Studios there's evidence of both developers capitalizing on their expertise. Sporadically, shootouts capture the power fantasy found in 2016's Doom. Driving through the open world demonstrates Avalanche's experience with developing sandboxes, rooting action in a vast dystopian wasteland. But there's scant synergy between the two software studios. There's also a worrisome amount of tediousness with some of the game's side-missions.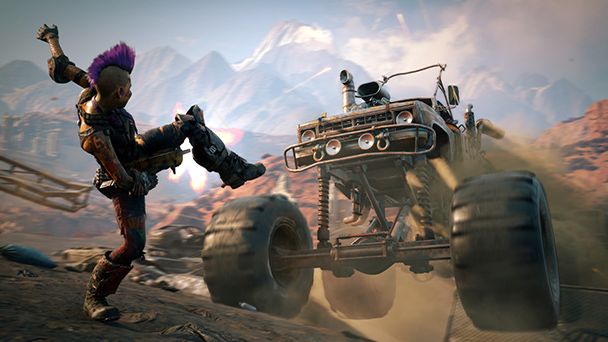 2011's Rage had a storyline that showed promise, even it hewed a bit too close to Fallout's setup. Here, Earth's downfall isn't caused by an atomic bomb, but an asteroid that collides with the planet, turning the surface into a vast wasteland. Knowing disaster is imminent, Arks are built, with the intention of putting people into stasis, then waking them up hundreds of years in the future so they can rebuild the planet. Unfortunately, an authoritarian group known as the Authority hopes to secure their command over the wasteland. Hoping to offset a potential for insurgency, they vie for control of the remaining arks.
With Rage 2, players control a character named Walker. He or she (your gender is selectable at the start of the game) is a Ranger, able to wear armor that can be augmented with Nanotrite. As such, you're motivated to explore Rage 2's wastelands, locating Arks that can provide special power, boosts, and weapons. Unsurprisingly, the Authority has the same interests.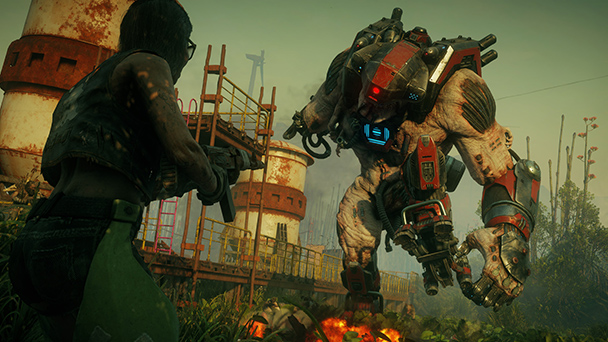 Sadly, there's little charm to be found in the storytelling. The developers obviously tried to defy the gruff-voice stereotype, but the male lead channels suburban wimpiness. Walker's female version is marginally better but delivers a comically melodramatic voice acting when she takes a hit. Either way, you'll be subject to dialog that occasionally glitches, is tonally indecisive, or is just plain redundant. When a character gets his head ripped off by a giant foe, Walker reaffirms the obvious, missing an opportunity for foreshadowing or even a witty punch line.
The game's big bad is a guy named General Cross, who's a blend of Mad Max: Fury Road's Immortan Joe and every film that's employed Nazi imagery to signify villainy. While the writing isn't downright dreadful, you'll probably resent Rage 2's squandered opportunities, especially if you appreciate games with compelling plotlines.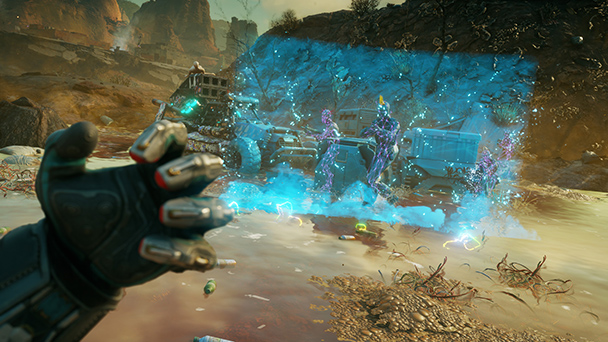 Instead, the game's context is built up through its visuals and architecture. Unsurprisingly, the Rage 2's wastelands recall Avalanche's work on Mad Max, where inhospitable plains are dotted by makeshift shelters. Venturing into Arks are a thrill, with some crafted like outposts complete with lookout stations. Others might send you through the bowels of an old sewer system, with anxiety increasing as you descend through denser packs of foes. A lot of open-world games reiterate settlements, but Rage 2's arks are distinctive. Habitually, they'll incorporate open spaces that are ideal for shootouts, and help disguise their linear nature.
Undoubtedly, firefights are one of the game's best qualities. Weapons feel powerful, with headshots intermittently sending enemy brains to the ground (oddly, they serve as a collectable). Beyond regular upgrades which offer amenities like quicker reloads and large ammo capacities, you also find new arms. Here, the dev teams undoubtedly had some fun, with weapons like the Firestorm revolver, a gun that can remotely detonate rounds at the press of a button. Occasionally, there are weapons that felt like they were cut from the Just Cause series, like the Grav Dart gun which crashed enemies into each other or into objects. In execution, it's often easier and safer to just stick with your basic ballistics.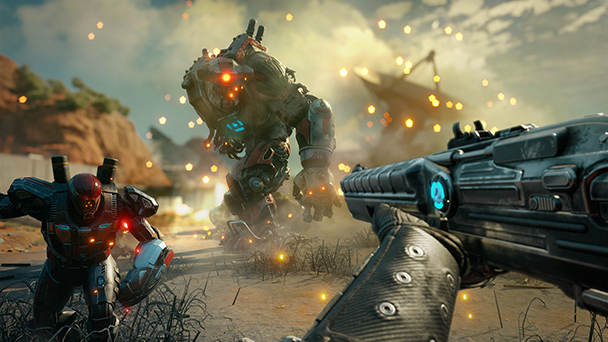 But it's probably all part of a design decision to endow combat with variety. Options are almost always plenty, with explosive barrels littered about, a wealth of guns, and your own Nanotrite superpowers. You'll be able to do things like punch the armor off enemies or slam the ground after a jump, summoning a shockwave that damages foes. And while the game will fight you for control of the reticle, using a vehicle with mounted Gatling guns in a fun way to mow down a crowd of aggressive mutants. Essentially, it's the same sense of autonomy conveyed by games like Crackdown. You've given a large inventory of deadly powers and deciding which one to use consistently feels empowering.
While the fundamentals of firefights are solid, occasionally Rage 2's side-missions can feel antiquated. Fighting Sentries, giant, autonomous towers should have left on the cutting room floor. Aiming at shooting at glowing point of vulnerability, dashing out of the way of powered up shots, and jumping over rings of electrical emissions can feels too much like an early-aughts boss battle. Roading racing NPCs seems lifted from Midnight Club, as you opt to challenge NPCs on procedurally calculated routes. Sure, it provides dividends, but it can be hard to see racing lines and really isn't all the engaging. Completions are encouraged to scour areas for pink-topped storage boxes, but if you've played a recent Assassin's Creed or Far Cry title, you've probably got your fill of Easter egg hunting.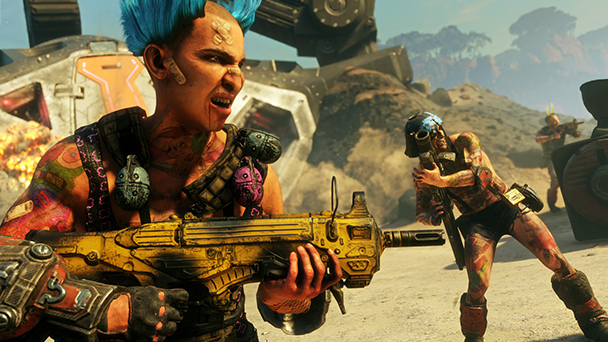 Elsewhere, there are small blemishes that have no business being in a retail build. Using a melee strike to crack open ammo chests is ineffective most of the time, so you'll have to waste ammo to gain ammo. The reticle on your gun-based weapons not only behaves wildly but will sporadically disappear. Another frustration is rooted in having to press a button to pick up some types of ammo. While it's only mildly irritating through most of the game, it can be infuriating during boss battles.
Although much of Rage 2's campaign is stimulating there's also an unhealthy amount of filler. Skip this and you'll complete the game in fifteen hours, while those who tackle the tedium can double that figure. If you're arching for a solid, succinct single-player FPS, then give the game a go. Gunning down goons is incredible enjoyable, and with bright pastels contrasted with desert drabs, visually alluring. But if you're a dogged completionist, approach the title with suspicion. The longer you're in the wasteland, the less appealing it becomes.
Rage 2 was played on PC with review code provided by the publisher
Review Overview
Summary : If Rage 2's artistry could match its technical qualities, it would be an amazing contender. It's a game that's often enjoyable and visually stunning. But it's uninspired storytelling and tedious side missions are definitely detrimental.