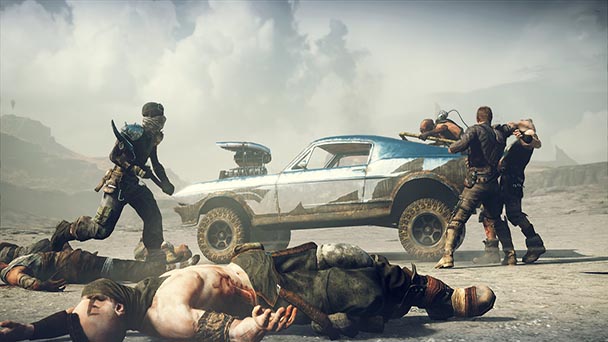 Much like George A. Romero's series of Living Dead films, George Miller's Mad Max films have had an indelible impact on interactive entertainment. Both franchises have spurred entire subgenres of games- with the best efforts adopting a more liberal, rather than direct interpretation of their source material. From Dead Island's skillful blend of crafting and combat to Fallout's detail-driven take on post-apocalyptic survival, each open-world title has flourished by allowing players to cleave out their own adventure rather than funneling players through stages that attempt to ape cinematic sequences. Wisely, that's the direction Avalanche Studios has adopted for Mad Max.
Players will have to overlook a number of the game's liberties. Conspicuously, Mad Max for the PlayStation 4, Xbox One, and PC dilutes the extended vehicular chase sequences of The Road Warrior and Fury Road, sending our reclusive protagonist through a multitude of on-foot segments. Miller's propensity for terse dialog and visual storytelling is undermined by the adaptation; Rockatansky is a little too chatty, while intrigue is demystified by an in-game codex. Although the films have prodded the lead character into the role of reluctant hero, here Max shows an uncharacteristic amount of determination, as he plots a Nobunaga-like territorial grab. But get past this adaption afflictions, and Mad Max delivers some of the most visceral, controller-clenching action in recent memory.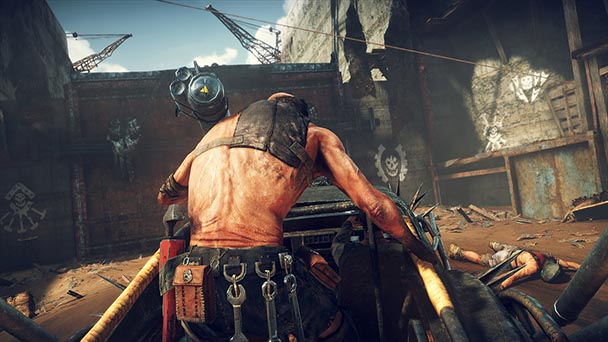 What does feel authentic is the game's narrative, which begins with Max careening through the dusty wasteland, with several marauders in dogged pursuit. After dispatching his foes with point-blank shotgun and sideswipe, he's cornered by Scabrous Scrotus, a character whose villainy is signified by more than mere moniker and a blood bond to Immortan Joe- but also by the menacing, upturned horn affixed to his cod-piece. In keeping with cinematic tradition, Max is captured, stripped, and enchained, while his beloved V8 Interceptor is seized.
With his trademark elusiveness, Rockatansky breaks free and confronts Scrotus on the back of a speeding vehicle. But the clash ends in a stalemate, with the hulking character taking a chainsaw blade to the brain while Max is jettisoned and left destitute in the middle desert along with one of Scrotus' wounded attack dogs. Rescue arrives in the form of Chumbucket, a hunchback who speaks in a mishmash of car mechanic jargon and religious faith. Thinking the protagonist is the Wasteland's messiah, Chumbucket becomes the protagonist's loyal companion. Uniting the duo is the ambition of building the Magnum Opus, a Frankensteined vehicle that can give Max a distinct advantage over adversaries.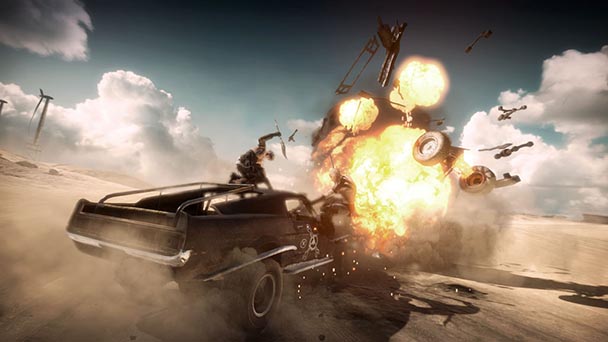 Naturally, the construction of the car becomes the impetus for a succession of fetch quests. While set across an unrestricted landscape, Mad Max favors a more directed approach to its fundamental missions. While this might seem like a shortcoming, seizing control from players, in execution it's a sound decision. With greater control, Avalanche Studios is able to nail the pace of each assignment, allowing the climaxes to erupt in massive brawls, screen-filling explosions, or best of all- a cacophony of vehicular carnage.
Melee combat draws from publisher WB Games' label mates, offering the same type of attack and parry system that propelled Batman: Arkham Asylum and Middle-earth: Shadow of Mordor to popularity. While there's not a lot of depth to Mad Max's adaptation, there is nuance, with elements like weapons and cringe-worthy finishing animations. Tedium is offset by a mysterious character known as Griffa, who acts as a ability merchant, allowing Max to do things like augment his health and ammo supply.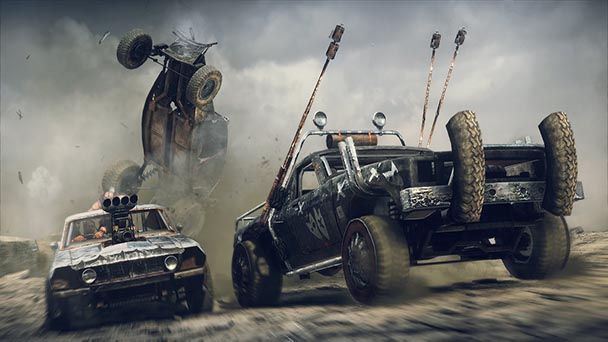 Although given only a scant amount of screen time, Mad Max details the difficulty of corporeal survival in the wasteland. Resources feel scarce, and every time you find maggots, dog food, or enough murky water to fill your canteen, it's a small reason to celebrate. Similarly, fuel is a cherished resource needed by each growling car engine, and like ammunition, its rare enough that every improvised petrol bomb and shot to remove one of Scotus' insignias will instigate a second-guess.
Dexterously, Max feels exposed (yet never weak) when he's outside of the Magnum Opus, a sensation that's produced by proficient AI and careful balancing. But once he steps behind the wheel, he's a peerless killing machine with a gratifying arsenal of maneuvers. Sideswiping, a mechanic cribbed from 2009's Wheelman is the foundation of your offensive measures. Time it right, and you'll send your opponent into a rocky hillside, transforming his car into a ball of flaming gas and metal fragments. Early on, you'll collect enough scrap to add a harpoon, which is undoubtedly the game's piece de resistance. Able to turn conventional tower destruction assignments into physic-based challenges, the weapon is also plays into stronghold assaults.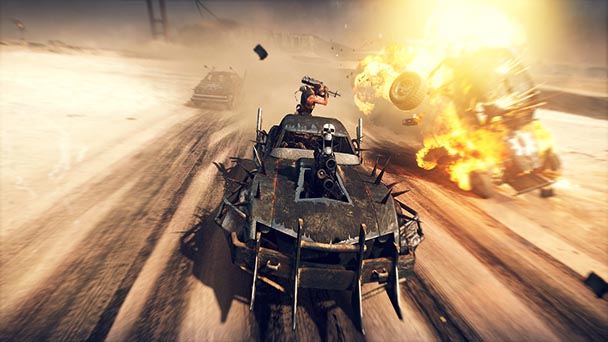 Fortress sieges are a multi-step process, taking Max with reconnaissance, the elimination of security threats, before taking over the area on foot.  The harpoon comes into play by allowing players to pull down sniper towers, or yank at the petrol tanks that fuel defensive flamethrowers. Failure to eliminate the measures in a specified duration or allowing watchful War Boys to pound on a signal drum can impede your plans, inspiring enemies with the knowledge of an invader. Success in these segments earn dividends, with each overtaken fort contributing to your supply of scrap, thereby helping the production of the Magnum Opus. It's just a bit weird that you don't see your donors.
After a number of upgrades, Mad Max begins to channel to resemble its inspiration. Pulling a controller trigger send the game into slow motion, allowing a shotgun to rupture a gas tank- sending the car end over end. The harpoon allows you to pull off tires, doors, and even drivers out of cars, offering a near-perfect imitation of the phenomenal stunt work in Miller's films. Best of all, car combat feel realistic, with just enough slack in the handing to remind players that these aren't stock cars, but monstrosities cobbled together from recovered parts. Although the Magnum Opus will certainly incur damage from thundersticks, mines, jumps, shoves, and even War Boys holding on like ticks, Chumbucket's repairs are only a d-pad press away.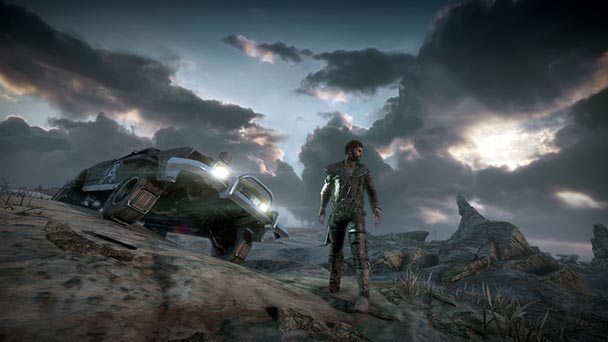 Visually, Mad Max prevails, succumbing only to a few framerate hiccups when the action gets especially heavy. Character models and cars all look culled from Miller's storyboards, while the vibrant coloring of explosions and blood reflecting Fury Road's oversaturation. Most pleasing are some of the game's graphical effects, which endow mission with things like evocative lighting models and formidable sandstorms. Sonically, the title's allows ambient sound effects, growling engines, and bassy explosions to fill most of its playtime, saving its energetic percussive musical score for moments of intense conflict. While the game's the Aussie voice work is proficient, the game's American actors seem out of place.
Unquestionably, Avalanche Studios' expertise in sandbox-style mayhem was decisive in Mad Max's success. Filled with a multitude of moments that transform Miller's vision into immersive play experiences, the title is one of the rare licensed games that that succeeds in its adaption. While Mad Max can't always duplicate the relentless momentum of each film, its car combat proves peerless, extending the tenseness and exhilaration of Fury Road, The Road Warrior, and Thunderdome's final act. For that alone, Max is worth a purchase.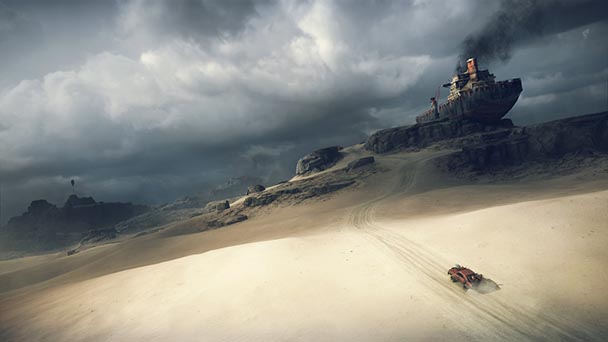 Mad Max was played on the PlayStation 4 with review code provided by the publisher.
Mad Max
Platform:
 PlayStation 4, Xbox One, PC
Developer:
 Avalanche Studios
Publisher:
 Warner Bros. Interactive Entertainment
Release date:
 August 31st
Price:
 $59.99 (PlayStation 4) retail or via PSN download, $59.99 (PC) via
Steam
Review Overview
Summary : Along with Middle-earth: Shadow of Mordor, Mad Max proves that movie tie-in games aren't an interactive wasteland. Given the proper development team and some skillful design decisions, a director's efforts can be converted into the interactive medium.