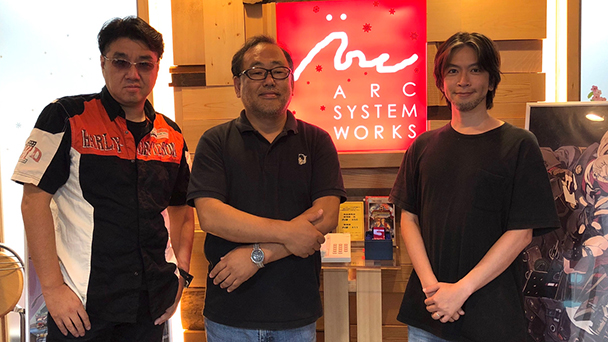 Found in 1988 by Minoru Kidooka, Arc System Works spent the better part of a decade as a contract developer for publishers like SEGA, Sammy, Bandai, and Banpresto. From futuristic racers like Cyber Spin to the side-scrolling beat 'em up action of Bishoujo Senshi Sailor Moon, the Yokohama-based studio enjoyed a measured amount of recognition.
But that changed with the release of 1998's Guilty Gear, a fighter that merged manga-style visual artistry, a technical approach that outstripped Street Fighter II, and searing heavy metal licks that accompanied each intense match. Critical and commercial response was positive, resulting in a succession of sequels. In anticipation of the worldwide release of the latest series entry, Guilty Gear -Strive – we spoke to Arc System Works about the franchise's enduring legacy, how characters are conceptualized and rosters are culled, as well as the difficulty of crafting Strive amidst a pandemic.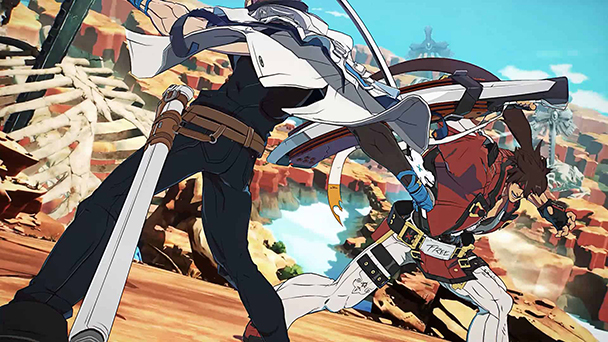 Tech-Gaming: Guilty Gear -Strive– is the series' seventh mainline entry. Looking back on the franchise before Strive, what are some of the team's proudest moments?
Arc System Works: I think our proudest moments are when we are able to hold international tournaments that bring people together from all over the world.
T-G: Striking a balance between accessibility for newcomers without diluting play for die-hard players must be challenging. How do you tackle this conundrum with the development of Strive?
ASW: The most important factor for us was creating a rating system that doesn't match newcomers with veteran players. On top of that, we've redesigned the game from the top down to make its mechanics and moves accessible for new players. For instance, providing short combos that can still deal out decent damage, or making it possible to block midair, even without using Faultless Defense.
But it just wouldn't be Guilty Gear without an array of difficult moves to master. That's why we've implemented hidden uses for certain mechanics and Special Moves that will demand a high level of skill to pull off. And while there are a large number of difficult moves in the game, the skills that players have built up in previous Guilty Gear games will still be applicable this time around, too. Our general concept was to create a challenging game that puts new and experienced players on the same starting line.
T-G: Can you walk us through the progression of a character, from the initial concept all the way to their in-game appearance? (perhaps for a character like Anji)
ASW: First off, our general director Daisuke Ishiwatari creates the base settings and rough designs. Next, we proceed with the 2D illustrations and 3D models, figure out each character's battle concept, and create specification documents for certain actions. Daisuke takes great care to oversee every part of a character's development.
We also make sure to check the game by actually playing it as we go. For example, we don't use any tools to perform motion checks, it's all done in-game while controlling the character. This often leads to finding places that need fixing, which can slow up the pace of development, but we believe it's necessary to create the best game we can. We follow this development cycle for every character, whether they are a brand-new character, or an existing one, like Anji.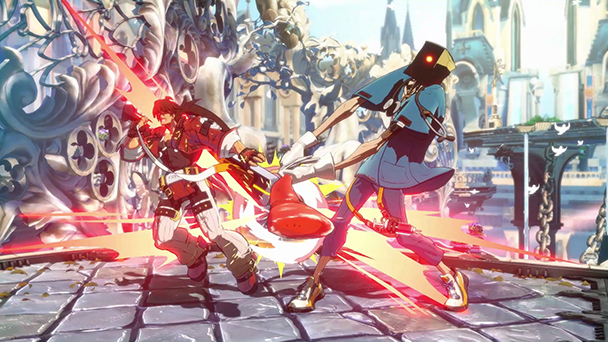 T-G: When creating new characters like Giovanna and Nagoriyuki, what comes first- the backstory or the move-set?
ASW: We generally come up with the backstory first, but more often than not, it's mostly all done at the same time.
T-G: How has the COVID-19 pandemic affected production of Guilty Gear -Strive-?
ASW: Around 70% of the staff at Arc System Works had to move to a work-from-home model.
Working remotely required an even more thorough management system than usual. Our lead staff in the Guilty Gear team are used to working directly with their team and the project, which made this change particularly difficult for them. While this unfortunately meant that we had to cut quite a few elements and modes from the game, we intend to add them all in updates after the game's release, so expect new content in the coming future.
T-G: Strive makes a number of notable changes, with an integration of a Dash, changes to the Gatling system, and elimination of Blitz Shield/Attack, Danger Time mechanics and Dead Angle Attacks. Can you explain the process of creating new mechanics and determining which elements should be removed?
ASW: With Strive, we started development from the ground up, so it was less a matter of what to remove or change, than including what we thought was necessary. So, while it may seem like some old mechanics have returned and others brand new, any similarities are purely a coincidence. It's all just the result of us trying to create the best game we can.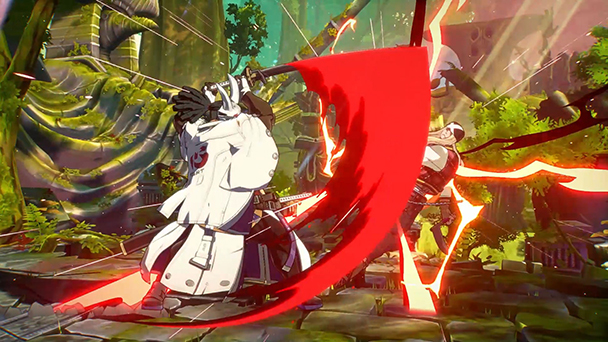 T-G: Rosters must be incredibly tricky to manage. How did you go about eliminating fighters from the Guilty Gear Xrd REV 2 cast?
ASW: Since this isn't a sequel to Guilty Gear Xrd REV 2, we didn't see it as a process of eliminating characters, but instead of building the roster completely from scratch. We started by adding in all of the fighters from the original Guilty Gear, then, after considering the full roster, we made countless adjustments to assure that the game was balanced both visually and in its playability. Leading us to the game we have today.
Of course, the current lineup isn't all satisfactory for our long-term fans; with updates to add fan-favorites and brand-new characters in future updates, we hope to keep the game exciting for a long time to come.
T-G: Strive showcases three-dimensionality once again. But apparently, the engine allows for dynamic camera angles, adding cinematic quality to the fighting. How difficult was implementing this change in rendering style?
ASW:  It was incredibly difficult, and one of the reasons why we needed to make everything from scratch instead of recycling resources from the previous titles. With Guilty Gear Xrd, we focused on models viewed from a regular 2D-fighter perspective, but this looked awkward when we tried to implement multiple camera angles.
However, this time around, our goal from the start of development was to use exciting camerawork to capture the action and make stage entries and other cutscenes seamless with gameplay. This is something that just wasn't possible with our older models.
T-G: Music plays a huge role in the Guilty Gear With, Guilty Gear Xrd -SIGN-, Daisuke Ishiwatari, Norichika Sato, and Shunsuke Takizawa delivered a very technical, driving metal soundtrack that really establishes a pace for play. It's almost impossible to imagine the series with a different style of sound. What was the inspiration for the music in Strive?
ASW: The most notable difference between this game and previous entries in the series is the fact that each characters' theme track includes vocals.Not all of the tracks were included in the beta version of the game, but every character will have their own track in the full version. We have kept the rock/heavy metal theme, but this time around we have tried to capture the essence of each character in their track.
We think the benefit of having vocals is its ability to enable simple communication with other players: singing a part of the song or the catchy hook can create a common ground to start a conversation.
There are many users who get into Guilty Gear for its characters and stories, and we hope to offer another point of interest in the community, through its music.
We also think there are some things that can only be expressed with a human voice, and it's something that has inspired how we went about composing tracks in the game. Strive is going to have the broadest variety of tracks to date, so we all hope that you enjoy it.
Following their growth through the story, the tracks for returning characters will have changed significantly, but they will all still bear some small resemblance to previous theme tracks. People who have heard the old tracks should get a kick out of recognizing an old phrase or having a familiar feeling to its predecessor.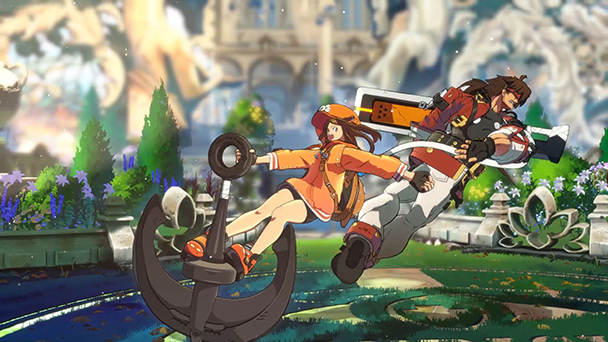 T-G: The fighting genre probably has one of the closest relationships with its audience in the entire industry. How does the team balance their own artistic motivations for -Strive- against the wishes of the fanbase?
ASW: Of course, this varies case to case, but more often than not, there are parts of the game that we have a solid framework of the work, and other parts which we will adapt according to user feedback.
Tech-Gaming would like to thank the teams from Arc System Works and Strangely
Compelling PR for their time and assistance in conducting this interview.