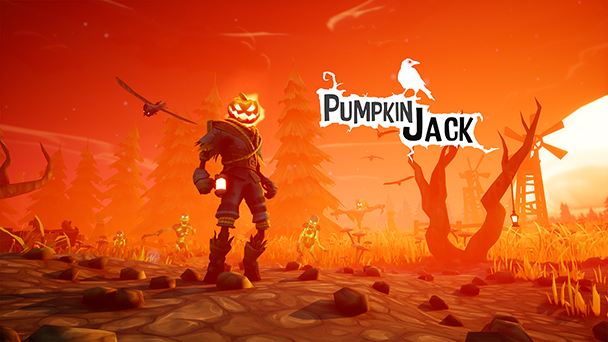 With franchises like MediEvil and Maximo: Ghosts to Glory dormant, Pumpkin Jack is a plucky upstart poised to claim the Halloween-theme action-adventure crown. He doesn't 'squash' the competition but provides a noble inaugural effort.
Pumpkin Jack
Platform:
PC, also on Xbox One, Switch
Developer:
Nicolas Meyssonnier
Publisher:
Headup Games
Release date:
October 23rd, 2020
Price:
$29.99 via digital download, $23.99 launch price through 11/2
Availability:
Steam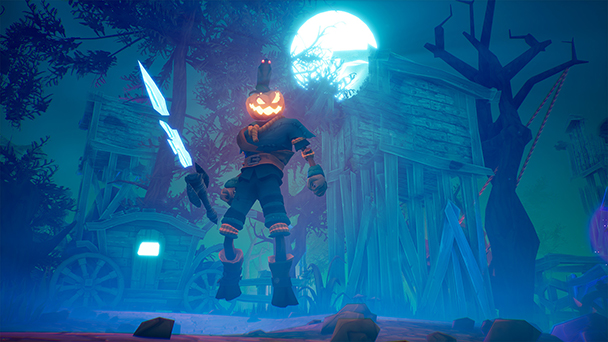 In a perfect world, Naughty Dog would still be making cartoonish titles like Crash Bandicoot and Jak and Daxter rather than dismal slogs like The Last of Us. And that's less of a slight against Joel and Ellie than an endorsement of lighthearted escapism. Engrossing action set against vibrantly-hued backdrops can often feel invigorating and celebratory.
Fortunately, Nicolas Meyssonnier has studied some of the best entries found across the first generations of PlayStation consoles. Referencing everything from MediEvil, Maximo: Ghosts to Glory to The Mark of Kri, Pumpkin Jack is a remarkably studied work. And even if it doesn't surmount any of the aforementioned titles, the game has more than enough playability to delight fans of three-dimensional action-platforming. In fact, Jack's only deficiency is a dearth of challenge.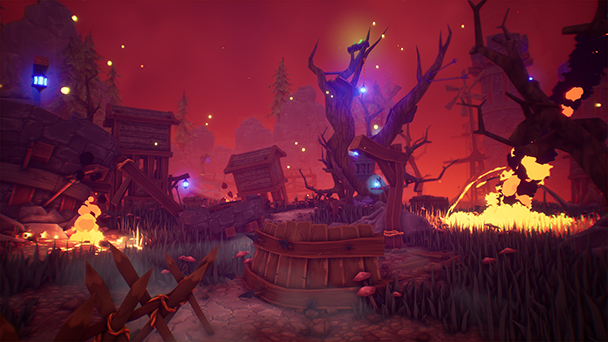 Step Aside, Skellington
Like Capcom's Ghouls 'n Ghosts series, Pumpkin Jack is more playful than gruesome, with visuals that recall the neon colors and soft scares of Disney's Haunted Mansion attractions. The game lets you in control of a well-known trickster, summoned by old Lucifer. He's put into the body of a scarecrow with a perpetually grinning pumpkin head, making Jack a rather iconic protagonist.
You're tasked with taking out a mettlesome wizard who has upset the balance good and evil, creating a world seemingly free of conflict. Taking out the interloper would be an easy task for a scoundrel like Jack, save for six levels of the devil's minions who are seemingly unaware of your assignment. Save for a few sardonic creatures, they'll all be trying to extinguishment the flame that keeps your pumpkin head glowing.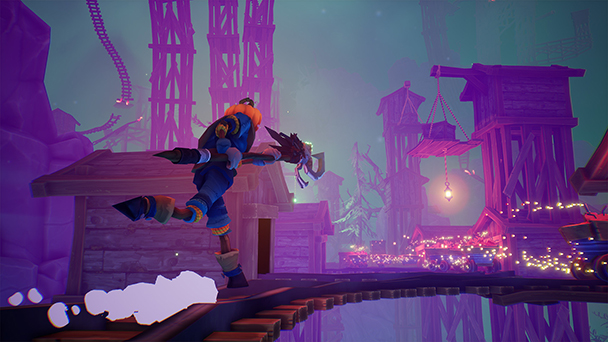 Woefully, Jack isn't quite the troublemaker he's made out to be, as he defends himself against repeated assault. But there are glimpses of his mischievous manner, like when a small barn fire results in a Crash Bandicoot-style dash, complete with a roaring blaze that consumes everything behind you. Fortunately, Jack has an array of tools to deal with his adversaries and is competent with six weapons that include a pitchfork, axe, and a shotgun. But Jack's coolest weapon is the crow who rests on his head. It's ready to peck at enemies when given the command and might make you wish Pumpkin Jack had more paranormal powers.
Jack Be Nimble, Jack Be Quick
Yet, for having wooden limbs, Jack is surprisingly agile. He's got a double jump from the start of the game, can dodge, and is able to pull himself up ledges. Remarkably, he can heal himself by breaking environmental objects, which means death usually only occurs from the game's sporadic one-hit kills. For some, bosses, might be a bit of a pushover, with patterns and weakness that are distinctly telegraphed. When accompanied by frequent checkpointing, there's little to slow the pace of the game's five-hour jaunt.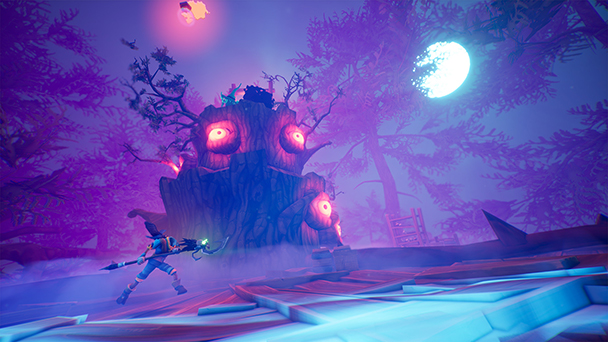 This approach is beneficial as the title demonstrates a bit too much asset recycling across stages. Sure, each new milieu is fun but if the stages weren't linear, it would be easy to become lost amidst the homogenous hallows. Pumpkin Jack also pays tribute to the game of yore with on-rails action sequences. From riding minecarts across dilapidated railings to a horse-run through an eerie bog, there are some short auto-scrolling sections. Jack seems to think better with the burden of his body, so periodically he'll pop his dome off for some light puzzling. These segments contain the traditional level pulls and Simon Says-type replications, offering some short respites from the action in each stage.
Pumpkin Jack is Quite the Looker
Spread across the six levels are two crow skulls. Collecting these permits players to unlock additional skins for Jack, so it's always prudent to explore the game's alcoves. Additionally, there are gramophones scattered across in each stage, which reward players with a short dance. Both are nonessential, but encourage exploration- which is welcome, since there's not a lot of challenge found on Jack's trek.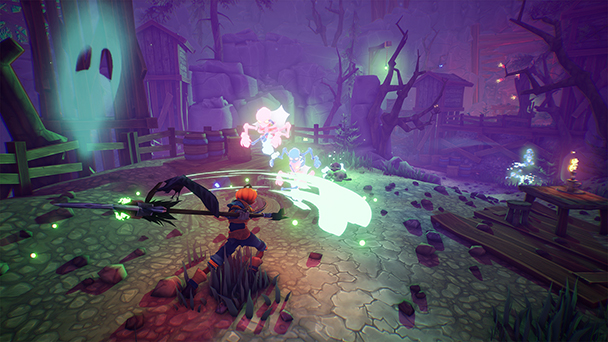 On PC, Pumpkin Jack oozes atmosphere. Rendered with rich palette of blood oranges and brilliant violets, the game casts an ethereal vibe, with a persistent miasma across each stage. While texturing is more cartoonish than detailed, skeletal structures made of wooden planks have a wraith-like appearance, while slender trees stretch overhead menacingly. Pleasingly, the game's final stage diverts from expectations, exhibiting one of the rare surprises in the game. Expectedly, the soundtrack relies on Elfman-esque theremin moans and choral wails, offering spirited melodies that complement the spooky antics.
Conclusion
Pumpkin Jack is light on challenge, with most demises stemming from accidently falls rather than from the attacks of adversaries. But if you're able to look past this issue, Jack's journey is a pleasing five-hour romp. Reminiscent of the cartoonish, three-dimension action platformers of old, modern gamers might be slightly indifferent to the pumpkin protagonist, but retro fans will undoubtedly be charmed by old Jack's ways.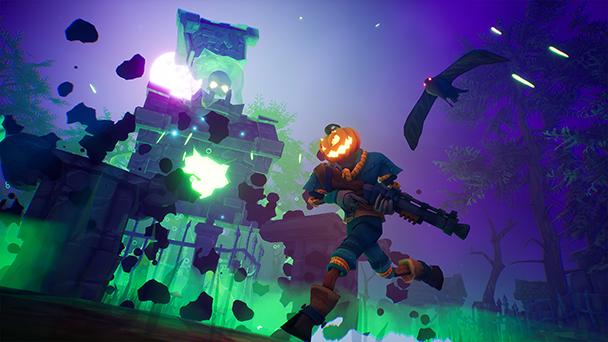 Pumpkin Jack was played on PC with review code provided by the publisher
Review Overview
Summary : From prevailing through fights with a bit of button mashing to an on-rails minecart ride, Pumpkin Jack offers plenty of homage. While the ghoulish gourd's adventure might lack innovation, an ample amount of old-fashioned fun make this one of the better offerings for the spooky season.