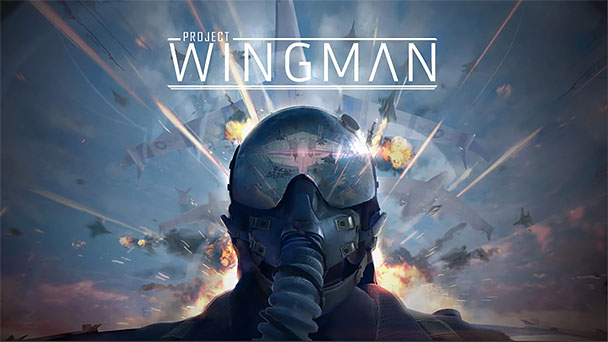 Looking less like an indie game and more like a triple-A blockbuster, Project Wingman delivers all the hardware and heroics you'd expect from a top-class air combat title- at about half the price.
Project Wingman
Platform:
PC
Developer:
Sector D2
Publisher:
Sector D2, Humble Games
Release date:
December 1st, 2020
Availability:
$24.99 via
Steam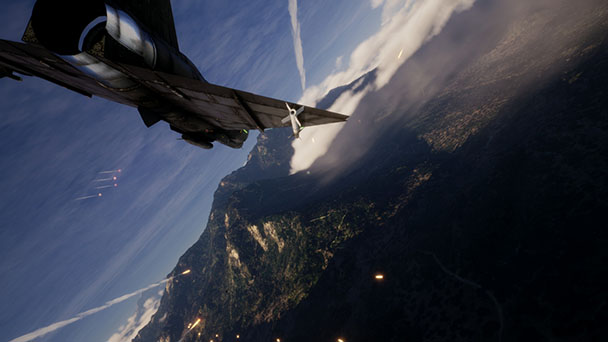 Not long ago, gaming had a multitude of accessible dogfighting titles. Beyond the Ace Combat series, rivals like Tom Clancy's H.A.W.X, JASF: Jane's Advance Strike Fighters, and Air Conflicts: Secret Wars provided players with plenty of jet-powered thrills. But lately, gaming's skies have become increasingly empty, with few rivals attempting to seize Bandai Namco's long-running reign.
Improbably, one of the most prodigious rivals wasn't crafted by a behemoth, corporate financed studio. Instead, the three-person team at Sector D2 are the kind of plucky underdogs that have the capacity to overthrow a confident favorite. As a fan of Ace Combat since the PlayStation One era, I was skeptical a diminutive studio could pull this kind of coup. But twenty-one missions later, it's evident that Project Wingman means business.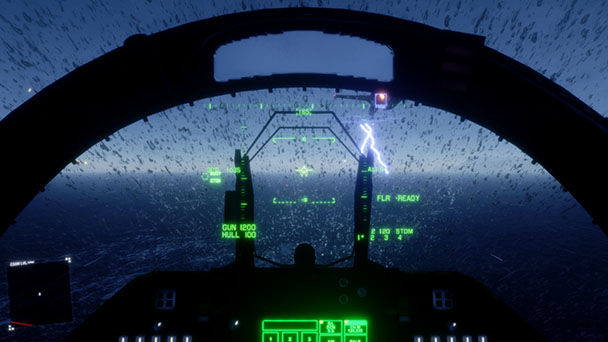 Ahead of the Power Curve
Given the team's diminutive size, you might assume that their aerial combat game was forced to make some sacrifices. But one look at the reflection of a setting sun across an azure ocean might put most fears to rest. Whether you opt for the cockpit view, third-person perspective, or even play Project Wingman with a VR headset, it's a visual equivalent to Ace Combat 7: Skies Unknown.
That means the same kind of voluminous clouds that can cause a moment of disorientation, forcing a momentary reliance of your HUD. Missiles exhibit the same kind of frothy vapor trails and they pursue targets with menacing accuracy. Geography inches toward photorealism whether you are 50 or 50,000 feet high- and when you are low, the sense of speed is there. Meanwhile, weather effects contribute additional visual diversity across the game's colorful locales.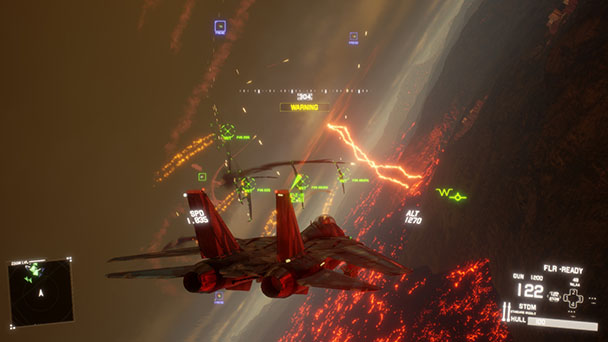 Soaring with Aluminum Clouds
The title might not have the assortment of aircraft that Ace Combat flaunts, so you won't find essential fighters like the A-10 Warthog. But you will find distinction spread across the non-licensed, but unmistakable fleet of copycat fighters. From iconic jets like the F-14 "Tomcat", the MiG-29 "Fulcrum", to the F/A-18E "Super Hornet", you'll get to drop into the cockpits of the some of the world's most exotic military hardware. Sure, the proper names aren't there, but the detail devoted to craft models is impressive.
Pleasingly, each behaves differently, exhibiting divergences in handling, and well as payload capacity. Hook up that HOTAS peripheral and you'll be tightening turning your turning radius and heating up the afterburners when pursuing fast-flying foes. Whichever input method you opt to use, Wingman's jets feel pleasingly nimble, especially when you veer to take refuge from an incoming missile.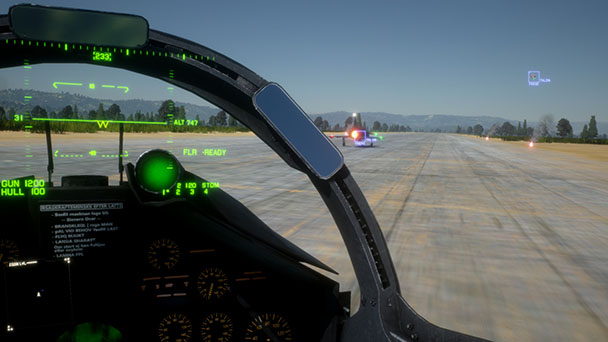 While Project Wingman's visuals convey authenticity, play definitely favors accessibility. While real-world aircraft max out at about a dozen missiles, here you'll carry the firepower of an entire squadron, with jets carrying over a hundred projectiles. The deployment of missiles, guns, and ordinance feels satisfying thanks to fiery explosions that leave shrapnel falling toward the earth. Discovering the right mix of fighter and munitions is also gratifying. Here, you'll spend cash to unlock new craft and weapons and testing new hardware is a delight. I do wish Wingman provided a bit more intel about the upcoming mission, so that I could prepare a proper loadout.
Brainy Bandits and Astute Allies
Across four difficultly settings, enemy AI ranges from ambivalent to cutthroat aggression, allowing for enjoyment across a range of skill levels. While your CPU-controller wingman won't do all the work for you, they'll at least finish off what you have started. All the while, they provide the kind of radio chatter you'd expect from an approachable dogfighter.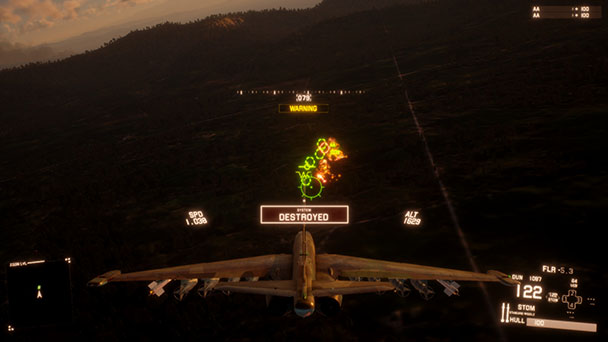 Although some might fault Project Wingman's storytelling, it's not far removed from the genre's expositional approach. Sure, it's a bit clichéd, with players stepping into the role of a courageous pilot with the callsign, "Monarch". He's a mercenary tasked with helping save his country from an imperial force known as the Federation. But the context, with volcanic disaster helping to explain why pilots 400 years into the future are flying 20th and 21st century relics has potential and reveals bit of lore as you advance. Given the game's humble roots, you can expect the kind of modest in-game mission overviews, with voiceovers and brightly hued visuals that attempt to the kind of hardware that only the most elite military members would ever see.
Conclusion
Some might bemoan the lack of any multiplayer component, but given the DCS World's dominance in that domain, it's an understandable sacrifice. Instead, additional longevity in found in Wingman's Conquest mode, which offers an engaging roguelike supplement. Here, you'll soar across busy battlefields filled with group and air-based foes, as your attempt to defeat primary targets. Success imparts a succession of unlockables, ensuring a bit of longevity. While I'd like to see some additional mission types in both Conquest and Story mode, there's a possibility they could arrive, as Wingman is still under active development. Currently, there are some HOTAS and VR setups experiencing some hiccups. It's gratifying to see a developer working diligently to make sure everyone's peripherals work properly.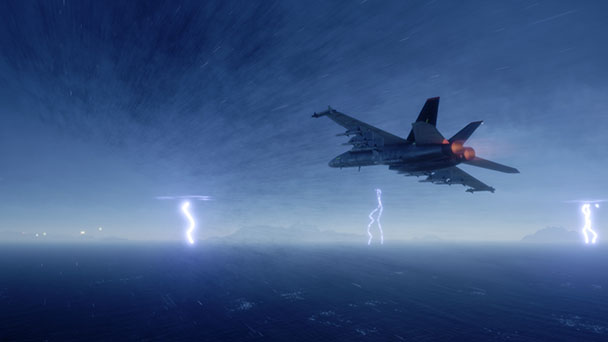 It's this kind of diligence that makes Project Wingman shine. While bugs are a common occurrence for newly launched titles, there's an attentiveness here that's refreshing. Launching at a price that's about half of the conventional MSRP, Wingman delivers an abundance of high-flying enjoyment. Despite a lack of multiplayer, this is a consummate combat game that figurately and literally nails the landing.
Project Wingman was played on PC with review code provided by the publisher. 
Review Overview
Summary : Tired of waiting for the next Ace Combat announcement? Project Wingman is here to make the wait much more bearable and it might just be good enough to make you forget about Bandai Namco's flight franchise.