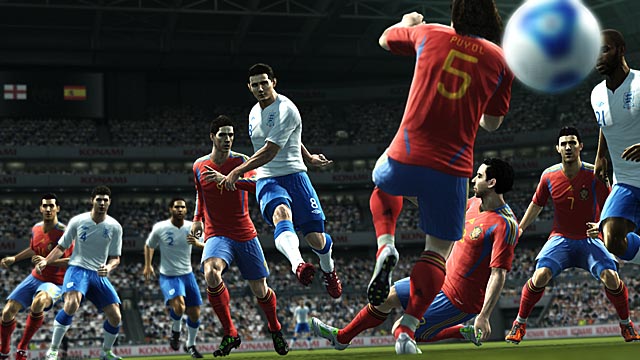 Like any sport, soccer has its share of tales about the unlikely underdog defeating a formidable foe. Few of these anecdotes are as rich as the story of the 1950 FIFA World Cup- where officials were so confident in Brazil's ability to rout Uruguay that gold medals were engraved in anticipation of the prospective win. Despite being down 0-1 at the half, the disadvantaged team rallied, transforming the name of Brazil's stadium into a term used to describe a humiliating victory.
While such a bewildering coup probably won't take place when the sales numbers of Komani's Pro Evolution Soccer 2012 are measured against EA's juggernaut, it's difficult not to root for such a capable underdog. Clearly, Shingo "Seabass" Takatsuka's team has applied a substantial amount of effort across PES's last two franchise entries, with a resolute ambition to dethrone the reigning champions.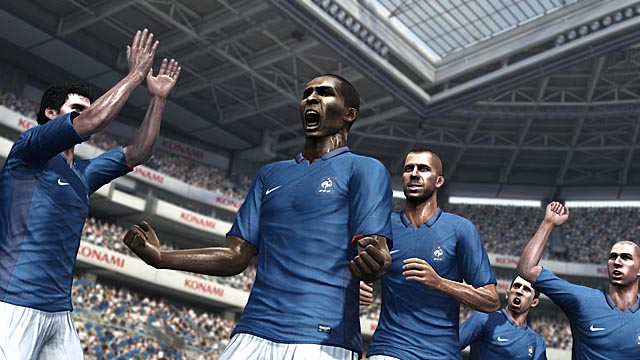 One of the key changes to Pro Evo 2011 was made to the game's passing component, which tasked players with managing the power and direction of their transfers. To accommodate the new nuance, the pace of the game was slowed, removing PES/ISS's typical nimble cadence. With PES 2012, the series speed has been restored, embedding the title with a spirited tempo which dissociates itself from FIFA's more methodical rate. Smartly, the pace has little effect on a gamer's ability to unleash an arsenal of near-divine dribbling skills. As customary for the series, PES permits players to use a combination of stick wrangling and button presses to initiate link feints, backheel passes, stepovers, and a myriad of other maneuvers that could make Ronaldo envious. Easily, the amount of offensive and defensive options rival the complexity of a top-tier 2D fighting game.
For players prepared to put some time into PES 2012's rewarding recesses, the ability to direct off-the-ball teammates can offer a significant advantage. Initiated with a simultaneous click and tug of the right analog stick, gamers can direct a secondary squadmate to bolster their defense or unearth an opening for a subsequent pass. While a certain amount of ambidexterity is required to execute these feats, with a little practice, corner and free kicks are transformed into the type of decisive moments which can alter the momentum of a match. Footie fans with a bit less prowess may select an assisted variation which will send a selected athlete running forward. Fortunately, this new control piece is nearly rendered redundant by PES's improved artificial intelligence. With athletes perceptively scouring the pitch for passing channels, streaking past you toward the net, and exhibiting dexterous defense skills, no longer should players be directing Arsene Wenger-sized tirades toward their televisions.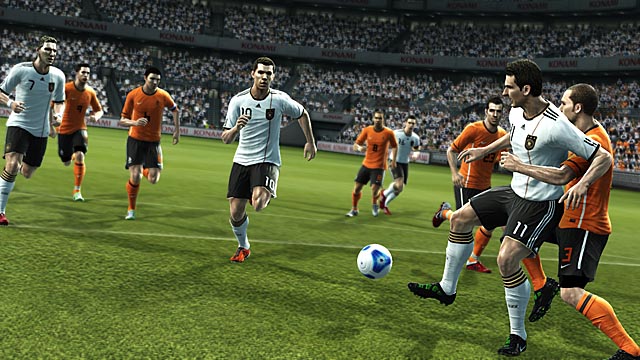 To sustain interest, PES 2012 rewards players with game points following the completion of each match. Currency can be used to purchase an array of unlockables- ranging from additional hairstyles, create-a-player perks, parts to construct custom Castlevania or Gradius-themes stadiums, and even opening the game's new Club Boss component. Focusing on the tests which challenge an owner, this mode complements PES's on-pitch play well, as gamers take over the business operations for team. Forcing proprietors to wrestle with variables such as courting endorsements and maintaining a squad's morale, Club Boss is suitably intricate, compelling owners to focus on both the immediate and long-term goals of their team. For those more fascinated in a micro-level perspective, the returning Become a Legend mode allows gamers to view PES 2012 through the eyes of a prodigious player. From holding press conferences, maintaining an agent, and adhering to a training regimen, success involves improving athleticism as well as courting a fanbase. Regretfully, there's still no option for stepping into the cleats of a goaltender.
Visually, Pro Evo is an unswervingly competent, but lacks the ability to astound gamer. Player models range from pleasing renditions of pros in the UEFA Champions League and Europa Leagues (EA still has a stranglehold on FIFA's athletes) to less famous athletes given a drab rendering. While the game's dribbling animations have been improved from last year's iteration, there are still sporadic motions which lack absolute fluidity.  Generally, PES 2012's replays are consummate with the competition; while camera angles are keener, a chronic blur effect hinders the lucidity of the moment. Returning commentators John Champion and Jim Beglin provide proficient play-by-play and color commentary, succumbing to the woes of repetition before a season has been completed.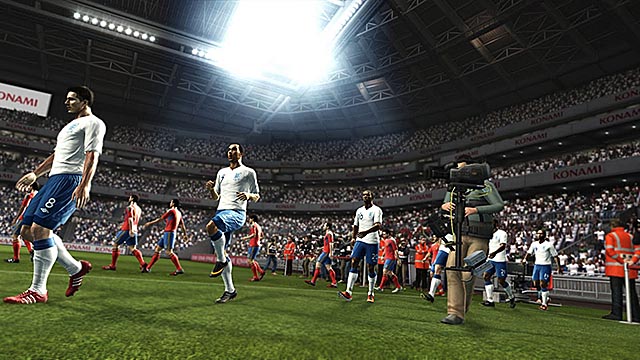 While Pro Evolution Soccer 2012 may lack the spectacle and licensing of its competitor, the title does deliver a fast, fluid rendition of the sport which can be intensely gratifying. Supported by a number of new modes, a bevy of unlockables, and a peerless repertoire of dribbling maneuvers, this year's game averts a trouncing from its dominating rival. If Seabass and company can apply a similar amount of enhancement to next year's iteration, gamers might just witness another of soccer's memorable upsets.