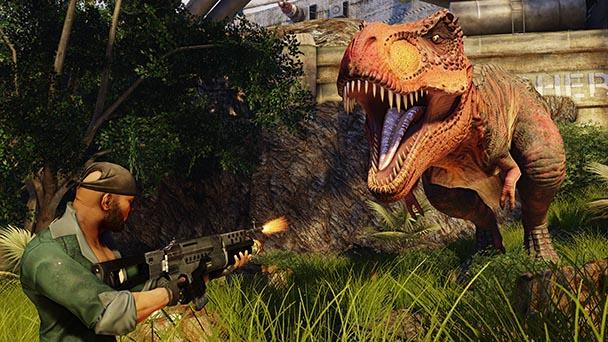 Thematically speaking, dinosaurs hold great gameplay potential. Regardless of whether players are expected to take the role of these primal killers or hunt them down, it's clear this approach has remained largely unexplored since the original Jurassic Park days when dinosaurs were popular. Sadly, the days of Turok, Primal Rage and Dino Crisis are now behind us and anyone looking for an experience starring fossilized reptiles might find some short-term entertainment in Primal Carnage: Extinction, but will likely grow tired soon enough.
Shirking any singleplayer campaign or offline modes in favor of an online twitch arena shooter formula, Primal Carnage: Extinction pits humans against genetically enhanced dinosaurs. Each faction holds five distinct classes to choose from. Humans feature the now standard marine, sniper, pyro archetypes, but also include a shotgun wielding close-range fighter and a trapper unit, whose main skill is to shoot nets thereby incapacitating foes.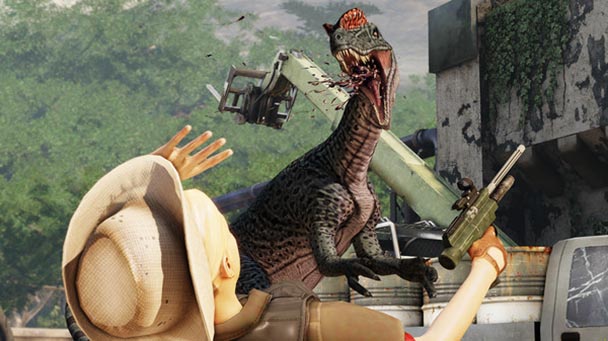 Dinosaurs hold a more varied line-up, players can choose to play as the lounging Novaraptors, whose quick, melee strikes are best suited to quickly take out a lone foe or the Carnotaurus with the ability to charge against groups and remain largely undamaged. Anyone looking for alternate play styles can select the Dilophosaurus for their ranged blinding abilities or soar through the skies as a Pteranodon, who happens to be this game's sole flying unit. Finally, there's the large, nearly unstoppable Tyrannosaurus, whose size and power are unmatched by any other class be it human or dinosaur.
The Tyrannosaurus quickly draws attention to Primal Carnage: Extinction's greatest issue; balancing. While it's true this beast may only be controlled by a limited number of players in any given match, they alone are overpowered to the point of unfairness. A human's only real defense against such a monster is to find structures in which to cower, but maps are mostly comprised of wide areas with only a few buildings to hide in. Moreover, upon death, you are respawned in a random area, making you an easy target for any large dinosaurs who happen to cross your way.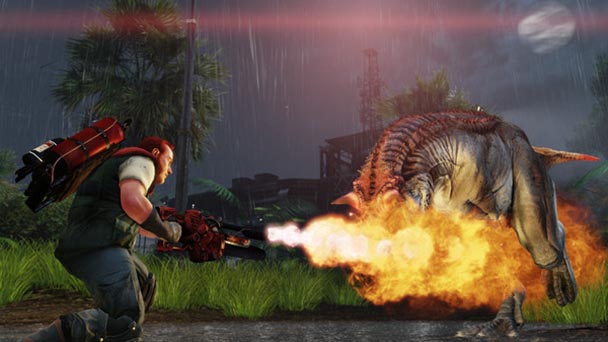 This lack of balance doesn't stop here as the human shotgun wielder is massively underpowered. In fact, humans as a whole have their odds stacked against them, which may make sense thematically, but it's hardly a winning formula for an arena shooter.
Game modes are also surprisingly paltry. Primal Carnage: Extinction just barely exceeds the minimum requirements of what a title in this genre should have in terms of variety. Players may host servers for team deathmatches, capture the objective, a horde-like survival mode and a free-roam game. The latter game mode does open up the door to some interesting variations, namely servers dedicated to roleplay.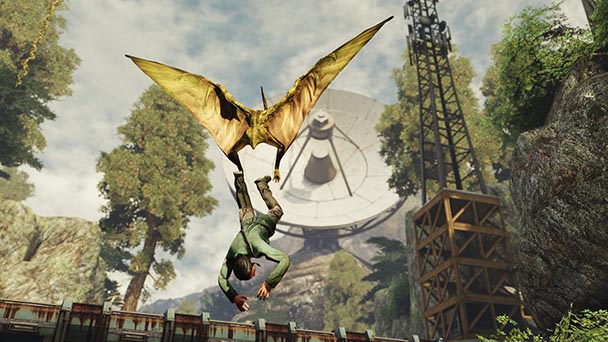 It's not often an arena shooter allows gamers to engage in roleplaying, though the map size, structure and poor character customization will likely hamper the experience somewhat. Should you wish to change the look of your character you will likely be better off purchasing skins from the in-game store using real currency. Oddly enough, even this shop seems fairly vacant of content though some items seem to have no real gameplay purpose other than optional roleplaying enhancers.
Though Primal Carnage: Extinction seems to have sold well, it could not maintain a strong, vibrant community. The number of servers and players is relatively small, capping at about 150 people at any given time and considering maps may hold up to 32 people, you will be hard pressed to find a host map ideal to your tastes.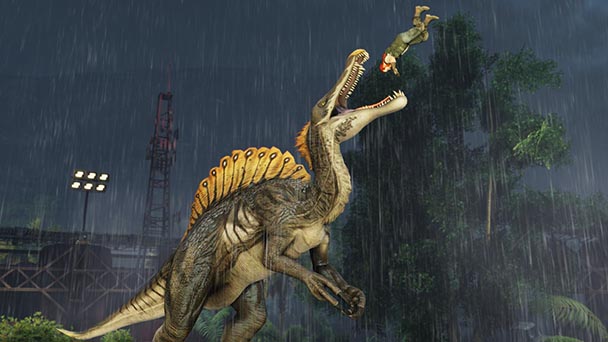 Primal Carnage: Extinction is an interesting experiment in gameplay, balance and theme, but one which ultimately fails to deliver on a compelling, lasting experience. It suffers from limited content, unbalanced factions and little gameplay variation. It will provide some satisfaction in short bursts and it may even offer some unlikely roleplaying enjoyment to a niche audience, but a dwindling userbase looms over the horizon. Luckily, many of these issues can be fixed through updates, and the developers have already proven to be taking criticism into account as they have been slowly but surely addressing such hurdles. We can only hope they will do it before the community seeks its entertainment elsewhere.
Primal Carnage: Extinction was played on the PC with review code provided by the publisher.
Primal Carnage: Extinction
Platform:
PC, Coming soon to PlayStation 4
Developer:
 Circle Five Studios, Pub Games
Publisher:
Circle 5 Studios
Release date:
 April 3rd, 2015
Price: 
$19.99
 Steam
Review Overview
Summary : Primal Carnage: Extinction offers an interesting thematic approach to arena shooters, but balance issues and a lack of gameplay modes are resulting in a dwindling community.