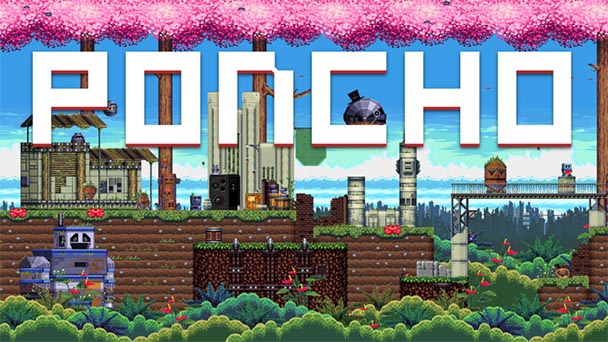 The indie developer boom we've witnessed throughout this last decade revived several genres which were long thought to have been unprofitable or abandoned by larger software houses. Of all game styles to have been favored by this new paradigm, none benefited more than the 2D platformer. Some, seek to instill a healthy dose of fast-paced nostalgia, replicating the twitch controls of its Nintendo and Sega forefathers, while others choose to add their own twist by adding new, unseen gameplay elements. Poncho fits the latter description, by incorporation background and foreground layers into its mechanics, allowing players to switch between them at will.
A major cataclysm has befallen our world, leaving it ruined and devoid of human life. The only survivors are man-made robots who now struggle to find purpose now that they have no masters to serve. In this regard, Poncho offers an interesting philosophical storyline that while not subtle, it shows enough self-restraint not to shove itself when it's not wanted. More importantly, it manages to pose interesting questions and humanize this world's robotic companions without feeling pretentious or ham-fisted, something many indie developers have yet to achieve.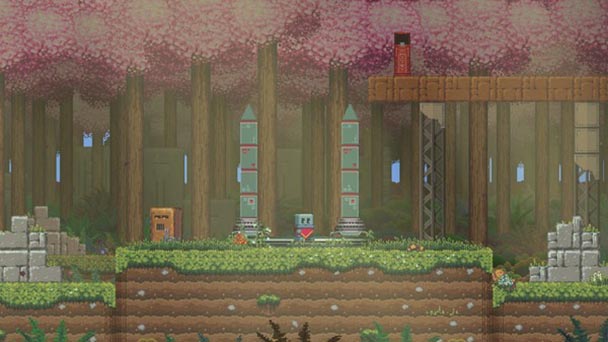 It's in this world that our main character, Poncho, a small poncho-wearing cutesy robot is activated. Here, your objective to traverse between side scrolling areas and discover teleporters to unlock new levels. Stages are populated by other friendly robots, all of which can be spoken to, some may even carry quests or sell you items. More often than not, you'll be going after color-coded keys which can be used to unlock specific gates and hidden paths.
Every location features a plethora of parallax scrolling backgrounds, though what was only used as a neat graphical effect in past 2D games, in Poncho it serves a gameplay purpose. Players can freely shift between background, foreground and middle ground, thereby creating a new way to explore each location. If a jump seems insurmountable, you can simply teleport to the background and perhaps the ground there is easier to traverse.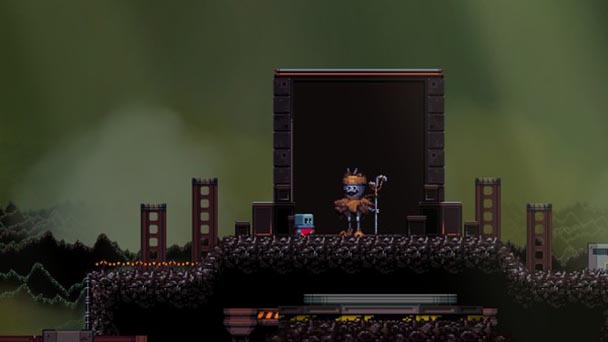 Of course, it's not long before players are required to master this skill as moving platforms don't just gravitate left or right anymore, they can also shift between planes. In fact, some harder to reach locations offer infuriatingly difficult challenges overcome where a single missed jump can force you to repeat everything. Luckily, bottomless pits seem to be your ally as falling onto one resets Poncho onto the last location he jumped from, rather, it's the overly complex platforms with no pits that pose the greater risk as you often need to walk back to the beginning.
Amidst this faux-3D exploration, you are required to re-thread the same ground you've walked before in search of hidden paths, keys and money. The problem here is that much of your progress is often impeded by color-coded gates, forcing our main character to either find a trader or discover a key himself by exploring an alternate path and then backtracking to open a gate. Even worse, you may end up spending keys on optional gates which offer little reward and would have been better spent on a plot-important barrier, but you as a player have no way of discerning which paths follow the main storyline and which don't.
Not only that, but too many keys or red squares used to buy them are hidden behind hidden paths, so it's not uncommon to travel back and forth in search of any missed areas and becoming frustrated by it. Oddly enough, apart from Poncho's special technique, he seems woefully underprepared for his trip, featuring a rather limited moveset that includes little more than walking, jumping and shifting. This is made all the more apparent when we reach areas where his special abilities are blocked. Even more egregious is the fact the game tends to repeat puzzles and jumping challenges too often, establishing needless repetition to a game that already suffer from too much backtracking.
One thing that can't be denied is how beautiful Poncho looks. If you were one to marvel at the parallax scrolling abilities offered by the Sega Genesis or Super Nintendo then rest assured, this indie game puts any 16-bit game to shame when it comes to sheer background depth movement. Its beauty isn't a mere one trick pony though, as background and sprite design, coloring and lighting are superb, ranging from warm and colorful to urban and abandoned.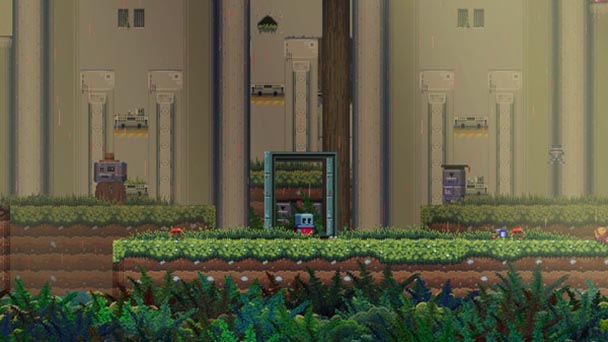 Poncho is a game filled with beautiful ideas, both in narrative and in concept. Shifting between background planes opens a world of possibilities and fully encourages exploration, but it comes with its own grievances as well. An over-abundance of backtracking, secret paths necessary to progress and challenge repetition will mar the experience somewhat. Regardless, anyone willing to look past these will find a mostly non-intrusive philosophically engaging storyline coupled a retro themed, visually stunning experience.
Poncho was played on the PC with review code provided by the publisher.
Poncho
Platform:
 PC
Developer:
Delve Interactive
Publisher:
Rising Star Games
Release date:
 November 3rd, 2015
Price:
 $14.99 via
Steam
Review Overview
Summary : Poncho is a beautiful retro-themed platformer with an engaging story and unique gameplay twist that is sadly marred by an over-abundance of backtracking and questionable level design.