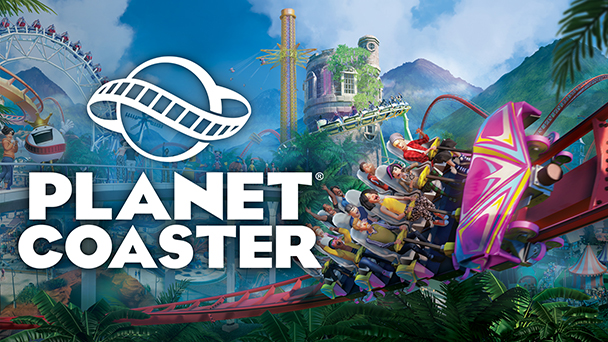 Brand recognition alone can't always stave off competition. Take the case of the 2013 reboot of SimCity, a half-hearted attempt to reinvigorate Electronic Art's beloved city building franchise. Built upon an "always-online" framework, the title stalled at release, as early adopters faced network outages and difficulty saving their progress. Even when connectivity issues were eventually ironed out, a number of vexing hindrances remained. From draconian limits on the size of cities to algorithms that did an abysmal job at modeling traffic and population variability, developer Maxis gave competitors an ample opportunity to create a city simulation that delivered the goods. And that's precisely what diminutive developer Colossal Order did in 2015 with Cities: Skylines– a digital David that managed to slay a gaming goliath.
The recent release of Planet Coaster presents an uncannily similar situation. When Atari released RollerCoaster Tycoon World onto Steam's Early Access program, the publisher most likely expected that the amusement park building sim would gather momentum as it ratcheted it way toward a November release. But the slipshod early builds did few favors, as purchasers noted that Tycoon World felt more like a corroded Tilt-a-Whirl than the cutting-edge thrill ride they were expecting. One day after RollerCoaster Tycoon World's release, Planet Coaster has opening its front gates to gamers, offering an amusement that's truly worth their time and money.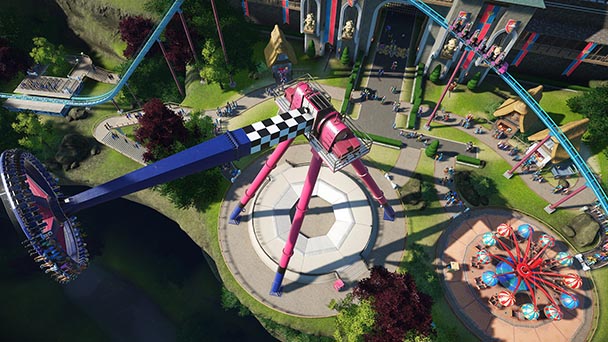 Much of the success of Planet Coaster stems from the expertise of the design team, Frontier Developments. With members from previous RollerCoaster Tycoon games, the Thrillville franchise, as well as the tragically underrated Screamride, the Cambridge-based studio certainly understands how to build amusement park simulations. And that's evident by the game's largely autonomous approach, which skillfully scales the level of micro-management across its trio of play modes.
Sure, the lack of any interactive tutorial is as dissatisfying as discovering a 'closed for maintenance' sign on your favorite real-life ride. In place of hands-on lessons, Planet Coaster offers newcomers a trio of narrated YouTube videos. While the fifteen-minute primer covers many of the basics and title does a good job with alerting you to emerging problems, the majority of your building skillset will develop from experimentation. Fundamentally, ride building and general park management feel intuitive. But don't be surprised if you become stymied by a diminutive detail, like attempting to erase a path in your park. (Hint: hold down the delete key to scrub away any unwanted routes).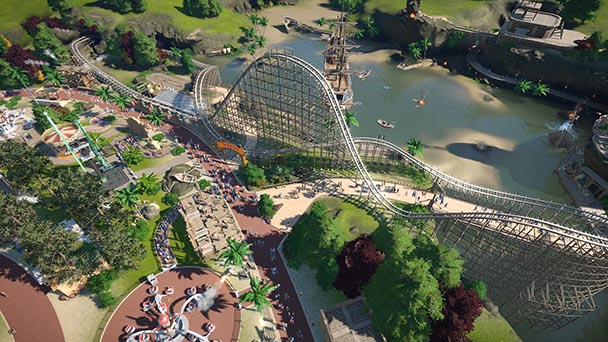 Pleasingly, Planet Coaster's Sandbox mode extends an unrestricted arena for both the absorption of building procedure as well as for free amusement. Here, the title's scalability is evident, with the game giving unlimited funds to place prebuilt rides and facilities, each of which can be modified down to the most minute detail. In execution, players select a pre-built coaster, ride, or facilities, position it, before building connections to your main walkway. While roller coasters need a single test run, most other constructions open automatically or begin taking passengers once players give a green light. As such, an elaborate playground can be created fairly effortlessly.
For those who want to take the simulation a level deeper, Planet Coaster also gives complete control over the business side of park management. Naturally, everything from janitors, costumed entertainers, maintenance workers, can be hired and placed around the park. Players can undertake multiple marketing campaigns, tweak everything from ride prices, wait times, and maximum loads, and even element a priority pass system that extracts extra money from more affluent patrons. Although it would have nice if Frontier Developments allowed players to make wholesale occupational changes instead of tweaking each worker separately, the underlying business model is both convincing and enjoyable to regulate, in an effort to maximize profits.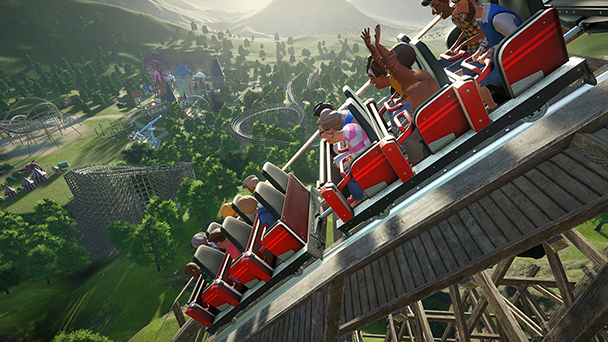 Those lessons in leadership will come in handy when venturing in Planet Coaster's Challenge mode. This component starts players with a limited amount of money while extending an itinerary of building tasks. Agreeably, overcoming financial hardships to improve a park can seem challenging, but time is typically an ally. Manage your balance sheet to push your park toward profitability, and you'll beat the challenges in the long haul. And there's incentive to do so; while the Sandbox bestows the full array of buildables, you'll have to research new designs when tackling Challenges. Similarly, Career mode delivers a succession of prebuilt playgrounds, tasking players to earn stars by meeting different criteria such as achieving a specific number of patrons or constructing certain rides. While it's not as compelling as the game's other components, it gradually goads players into learning minutiae.
And that's really where Planet Coaster outshines the completion, as it facilitates turning your wild, rail-based ambitions in simulated reality. Design encompasses a myriad of details, but like the rest of the game, there's direct control of how deep you want to delve into construction. Beyond building peaks that stretch out toward the sky and loops capable of making iron stomachs churn, you can control the angle of each embankments and even add complex braking and accelerating systems that adjust the momentum of your coaster. Agreeably, the developers give plenty of real-time feedback, so you know details like g-force and speed. Hell, the developers even quantify the fear factor of each coaster, to confirm why your white-knuckle test of human endurance isn't bringing in the revenue you had hoped for.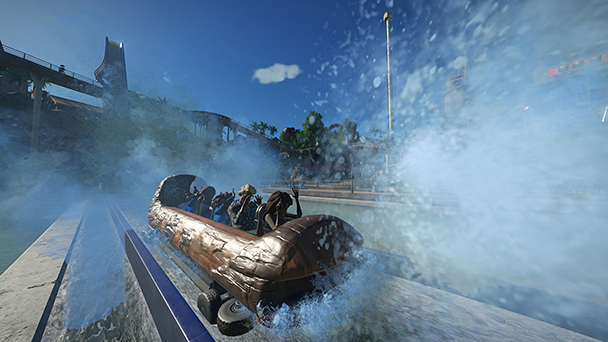 Once the game's thrill rides have lost their ability to rouse and the ability to deform the terrain no longer inspires, the seamless integration of creation from the Steam Workshop is destined to sustain interests. With the easy import of top-ranked material and an active community, this is the feature that propels Planet Coaster past its peers. Just a week after the game's release someone created a richly detailed mecha and a cascading waterfall. Each was intricate enough to inspire me back into Coaster's lower-level creation, where players have complete control of every component, right down to the smallest light bulb.
By bestowing this level of independence, Planet Coaster ensures its own longevity. Frontier Developments has crafted a first-rate simulation that rarely forgets that play is fundamental, giving players a tremendous toolset to help them realize their roller coaster ambitions. With design decisions that allow intuitive park building and a level of polish that outstrips contemporary competitors, Planet Coaster is worthy of a full-priced admission.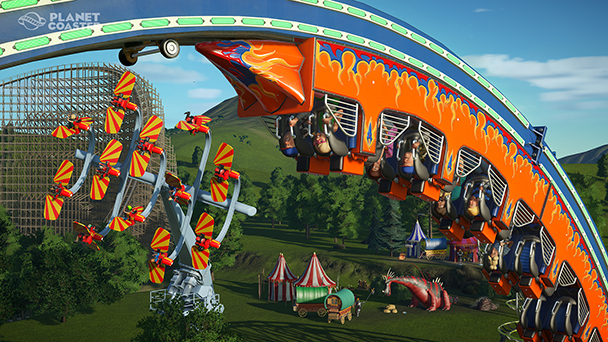 Planet Coaster was played on PC with review code provided by the publisher.
Planet Coaster
Platform:
PC
Developer:
Frontier Developments
Publisher:
 Frontier Developments
Release date:
 November 17th, 2016
Price:
 $44.99 via
Steam
Review Overview
Summary : Planet Coaster looks great (on anything less than a 4K monitor) and plays even better, offering an engaging amusement park simulation that will invigorate your inner architect, engineer, and business person.