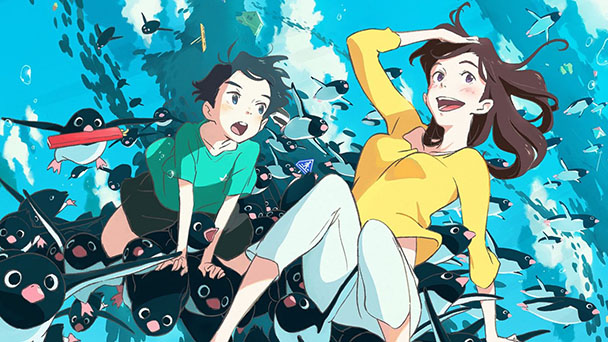 Quite a few films, live-action or animated, take a while to reach their eponymous highlight. That's not the case with the recent stateside release of director Hiroyasu Ishida's Penguin Highway. Working from Tomihiko Morimi's (Eccentric Family, Night is Short, Walk on Girl) story, we find the flightless birds gathering in an empty suburban field. They even talking a spirited swim in a canal before retreating in formation to a lush hideaway, all before the opening credits roll.
What following is a joyous, one hour and fifty-eight-minute ride that can feel as fleeting as youth. Across the duration, eyes are dazzled by opulent visuals and minds are energized by an indefatigable sense of discovery. There are quite a few films that center on kids.  But an exceedingly few capture the exuberance of childhood wonder as delightfully as Penguin Highway.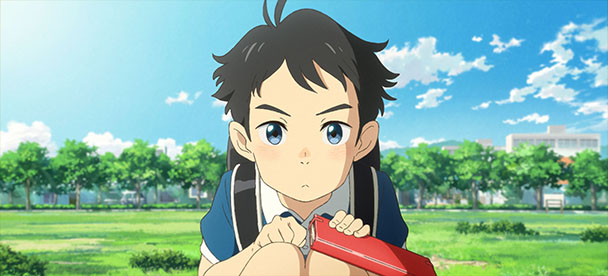 Precocious children are an oft-infuriating custom is cinema. But here, Highway challenges convention. Sure, protagonist Aoyama is an exceedingly smart fourth-grader, applying scientific theory to every new phenomenon he encounters around town. His long-term outlook might also seem unusual. Few fourth graders seem as certain of their vocational pursuit and relational goals. But his insights are shown as a realistic result of his upbringing. He's got a worrying mother, a father who persistently prods his intellectual growth, and a classmate who's probably a prefecture-ranked chess champion.
But he's got a few flaws. Beyond being stubborn, Aoyama is a bit too beguiled by breasts. And he also reveals a revengeful side, confronting a classroom bully who picked on his buddy. For many, Aoyama is either the child we were or the friend we always wanted. Filling his grid-paper science journal with precisely written kana and expressive illustrations, he ventures through life empirically. There's no regret for Aoyama, just a failed test of a hypothesis.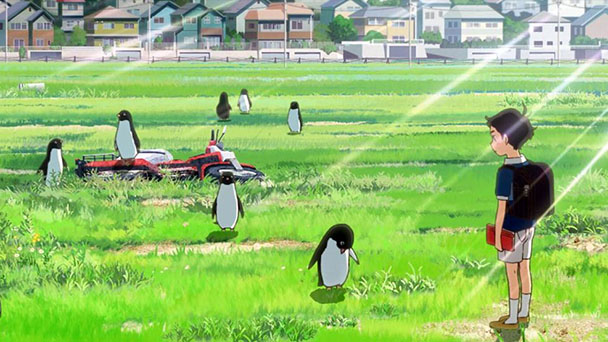 Beyond chess champion Hamamoto, and an intimidated Uchida, the lead's other friend is referred to as "onee-san" (a loose term for an 'older sister', or near peer). Just as elusively as Penguin Highway evades the wunderkind trope, it sidesteps the Manic Pixie Dream Girl. Sure, she's a disarmingly attractive female with a transcendent insight of her own and eccentric talents to match. As an older woman, she keeps Aoyama persistently in the friendzone. But she's hardly static, existing when she's outside of on-screen events, and shifting on a pledge she made with the lead.
What follows ventures far from the sighting of arctic creatures in a park, with Penguin Highway's plotline tackling the metaphysical. Like Your Name or Fireworks, Should We See It from the Side or the Bottom? elements of the film can give viewers a cerebral workout. Alternatively, they can just enjoy the build-up and execution of a rollicking final act that recalls Ponyo). Either way, Highway knows that a conclusion that explains every bit of its odd phenomena would be a like a magician explaining their trick. Speaking of momentum, Ishida makes a prodigious transition from short animations like Fumiko no Kokuhaku and Fastening Days to a full-length feature. There's hardly an unnecessary scene or frame in the nearly two-hour run time.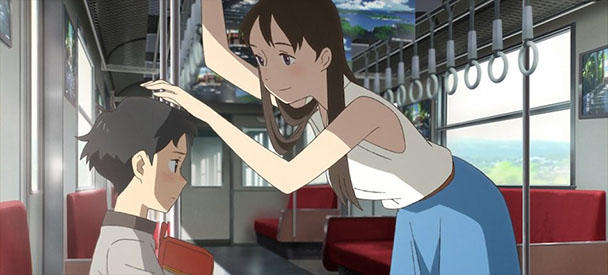 Is Penguin Highway Appropriate for Kids?
Save for a few innocuous boob jokes, the film should be suitable for anyone over the age of seven. Save for the inclusion of ever-so contentious humor, there are quite a few positive messages in the film. Aoyama and Hamamoto are wonderfully self-confident role models, potentially inspiring an interest in the sciences or at least the principles of critical thinking. What's more Penguin Highway's parents and teachers aren't the clueless dupes with often depicted in Hollywood films. They are smart, nurturing, and demonstrate compassion to those around them, instead of being a succession of set-ups for punchlines from flippant leads.
For those with a familiarity with Japanese culture, Penguin Highway pays dividends. With the bulk of the movie's timeline set during a summer, there's the requisite inclusion of Obon, and the moment where you spy a classmate decked out in a yukata. There's the muted boundary between the suburban and the pastoral, with the stalks of vibrant bamboo outside of onee-san's flat or the verdant flora that masks a penguin hideaway. Expectantly, a meticulous amount of detail is visible, whether in a near photo-realistic street sign, or the layout of a train car.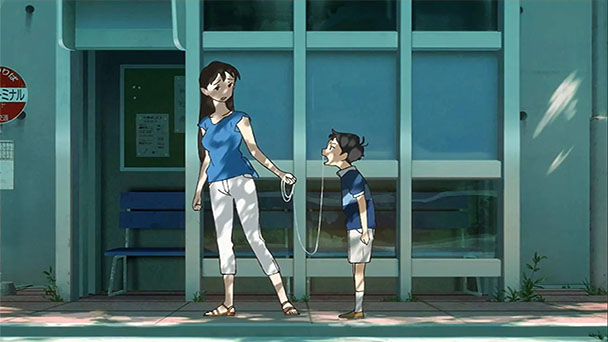 Director Hiroyasu Ishida and Studio Colorido's ode to youthful enthusiasm and wonder is thoroughly infectious. More than just mere entertainment, it's a film with a multitude of gentle messages, from striving for greatness to just how intriguingly complex our world is. Auteurs like Miyazaki, Shinkai, and Hosoda have crafted masterpieces that show the capability of animation. Penguin Highway's Ishida seems poised to join the pantheon.
One last thing: be sure to stay for the closing song, Utada Hiraku's "Good Night". As one of the more lyrically ambiguous tracks on Hatsukoi, I was a bit perplexed by it. Closing the film, it echos many of Aoyama's thoughts and gives the piece new significance.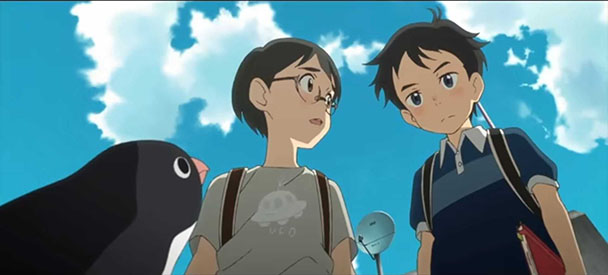 Penguin Highway in now playing at selected theatres.