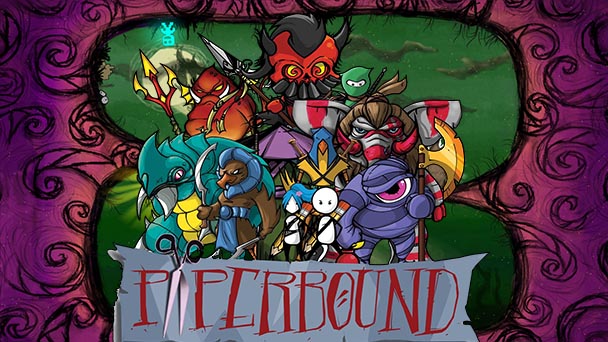 Local multiplayer sessions can lack convenience, requiring a careful synchronization of schedules and venues. But often, they're worth every iota of effort, producing the type of spirited camaraderie that's missing from online play. From childhood memories formed while playing Combat, school years highlighted by late-night Worms, Bomberman and Super Smash Bros. marathons, and now the intermittent office break for a bout of TowerFall Ascension, communal gaming has consistently produced some of my most salient gaming experiences.
While the release of Paperbound for the PlayStation 4 and PC can't quite compete against the industry's top efforts, it's a prodigious inaugural entry from developer Dissident Logic. Crammed with creative ideas, and well-tuned play mechanics, Paperbound's simplicity make it a near-seamless catalyst for groups of gathered gamers.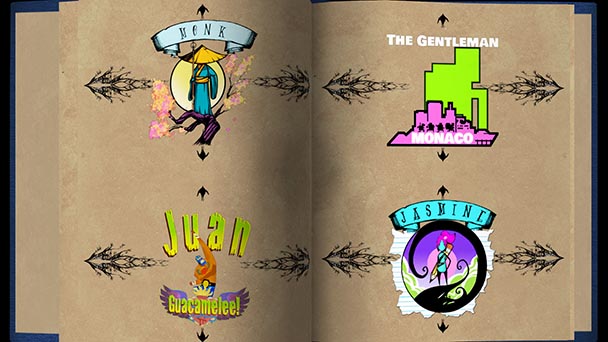 The game's streamlined menu system allows for immediate gratification, requiring players to pick one of three game modes (Classic Versus, Survival, and Long Live the King), select their character, and choose their battleground. For players who prefer a bit more variation, options allow elements such as the restriction of ammo, the ability to toggle environmental deaths, and the adjustment of AI aptitude. Pleasingly, moving through the menu system feels responsive, despite Paperbound offering perks like a miniature window where players can get accustomed to the controls before entering the actual match.
Paperbound's eighteen environments are mostly culled from real texts, with Journey to the Center of the Earth, The Book of the Dead, A Book of Five Rings, Dante's Inferno as well as the fictitious Skull Kingdom serving as the source material for the arenas. Stages resemble the type of illustrations that might be found in each tome, offering levels like The Book of Water. With a sumi-e style rendition of Mt. Fuji, a jutting boat bow, and a radiant sun, the parallax-enhanced backdrop might just would earn approval from Musashi. Meanwhile, the Cave of Mysteries offers an enjoyable exhibition of particle physics, as glowing bit of matter drift around the battlefield. Here, a Venus Fly Trap sways, offering a bit of interaction between characters and the stage. More frequently, there's the environmental danger like a giant revolving iris capable of crushing players.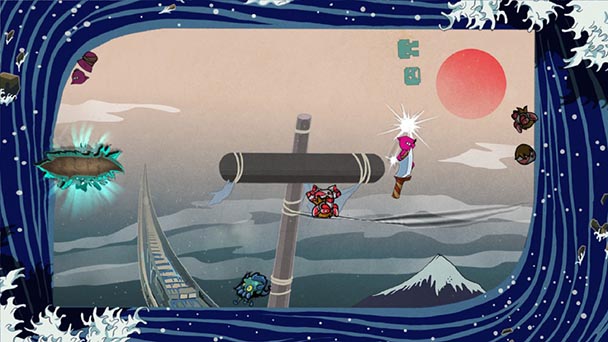 For better or worse, Paperbound has a preference for player balance. Although participants can choose from 17 different characters (including six cameos from titles such as Guacamelee, Monaco, and VVVVVV) each has the exact same moveset, allowing for three different types of attacks. Melee strikes are unlimited, with characters executing a rapid swipe in the direction they are facing. Scissors provide a ranged attack that can home in on nearly foes; to prohibit exploitation, the game limits the name of shears you can carry. Ink bombs are the equivalent of grenades, producing big, messy splotches of onyx-colored liquid that can kill multiple enemies.
While the arsenal might sound simple, there is nuance. A well-timed slash can counter a scissor throw, and when the clipped are harmlessly lodged in a wall, opposing players can pick them up and reuse them. In Classic Versus, winning involves more than just accumulating kills, with players forced to exit from a rift to finish the match. With multiple participants, this changes the nature of the game, as players team up against the leader.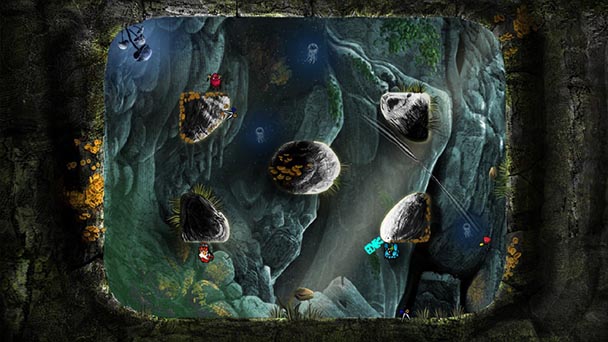 The game's biggest distinction is a player's ability to invert gravity for their character with a single button press. As such, it's not uncommon for players to soar around the arena, nimbly taking shots at their adversary, making Paperbound recall a wuxia film. Largely, combat great fun in short doses- but inevitably, the title lacks long-term appeal, as players are obliged to learn the repertoire for each character. Still, that approach is beneficial for newcomers, who won't be compelled to invest hours into Paperbound before becoming competitive.
For those who insist on getting a bit of practice in, the title offers up to three bots. While the artificial intelligence occasionally stands around if other players aren't nearby, most of the time the CPU is a formidable and unpredictable opponent. Unfortunately, besides battling AI drones, there's no other incentive for single-players, making Paperbound difficult to recommend to solitary gamers. Ideally, Dissident Logic would borrow from Masahiro Sakurai's playbook, encouragement players to unlock rewards as they progress through tournaments.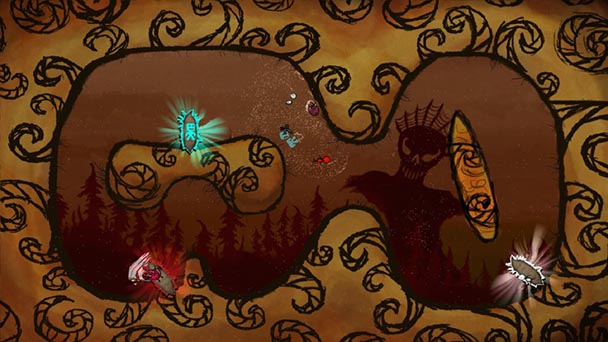 While the addition of a single-player campaign would have been gratifying, it's hard to fault the developer for focusing on local competitions. After all, that's where Paperbound truly shines, nurturing the kind of unruly, late-night play sessions where memories are made and the sporadic controller is sacrificed. As such, it's a recommended purchase for your next gaming ritual.
Paperbound was played on the PC and PS4 with review code provided by the publisher.
Paperbound
Platform:
 PC, PlayStation 4
Developer:
 Dissident Logic
Publisher:
Dissident Logic
Release date:
March 31st, 2015
Price:
$9.99, PC or PlayStation 4. Available on
Steam
or via the
PlayStation Store
Review Overview
Summary : Pundits who claim that gaming shapes anti-social behavior need to pick up Paperbound. Likely, they'll walk away with a newfound appreciation for electronic-mediated interaction, and the joy of a perfect scissor-shot to the head.