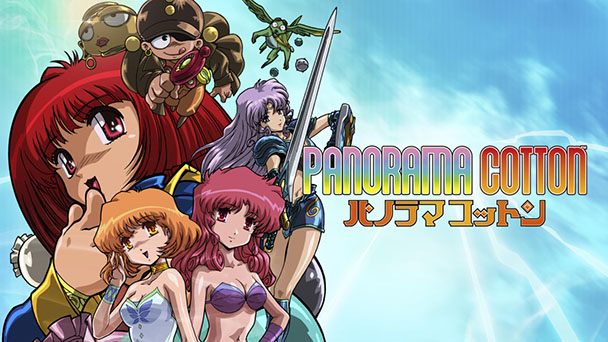 Purportedly, Panorama Cotton was released in incredibly small numbers, with an allotment of four thousand cartridges. That's surprising, since this shooter demonstrated that the Mega Drive could pull off many of the same visual tricks as the Super Famicom. It's a fun but slightly dated shooter that historians might enjoy.
Panorama Cotton
Platform:
Switch, PlayStation 4
Developer:
Success, Ratalaika Games
Publisher:
ININ Games
Release date:
October 28th, 2021
Price:
$14.99 via digital download, $34.99-$75.99 Physical
Availability:
Nintendo
eShop
, PlayStation Store (digital), Strictly Limited (physical)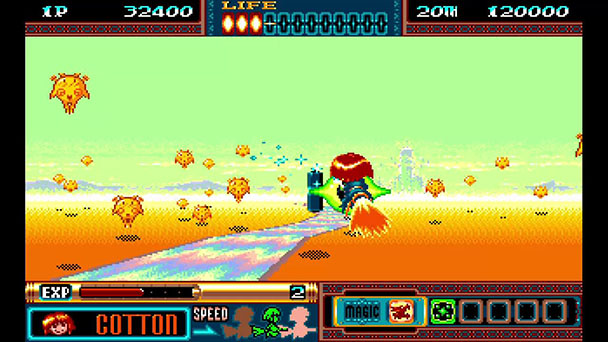 Released three years after the arcade debut of Cotton: Fantastic Night Dreams, Cotton 100% gave the side-scrolling shooter a few notable tweaks. Gone were many of the sinister undertones of the original game, replaced with a vibrant palette more customary for the Super Famicom library. Not only were many of the menacing enemies replaced with less ominous sprites, but backdrops flaunted bits of flora and majestic fountains. Although Cotton 100% wasn't a radical change, it offered a pleasing dose of affable novelty.
Released five months after Cotton 100%, Panorama Cotton largely eschewed formula. Instead of the typical horizontally scrolling stages, the title shifted the action to a pseudo three-dimensional perspective reminiscent of Space Harrier and After Burner. But Sega's home hardware lacked the sprite rotation and scaling offered by these coin-op cabinets. Technically, Panorama Cotton is a programming achievement, with software pushing the Mega Drive to simulate some of hardware-based capability of its rival, the Super Famicom.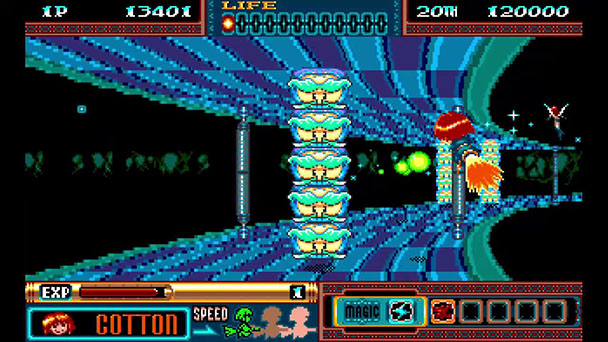 The Experience Gauge is Back
Remarkably, Panorama Cotton retains many of its mechanics from its inaugural two-dimensional entry. You can move the broom-riding, red-haired protagonist around the entire screen, firing at familiar looking monsters. Defeated monsters often drop crystals. Pick up a gold-colored one and you'll boost your 'experience' gauge, which powers-up your offensive output. Other colors refill your magic meter, allowing to cast five different spells that can take out formations of foes.
Much like the original Cotton, the crystals change color when shot, providing you with different strategic possibilities. Of course, collecting the desired crystal color occasionally means you'll have to stop firing, leaving you susceptible. Notably, the feeling of vulnerability is also present when you select the overheating option from the main menu. With this variation selected, Cotton's rate of firing slows after two seconds of automatic fire.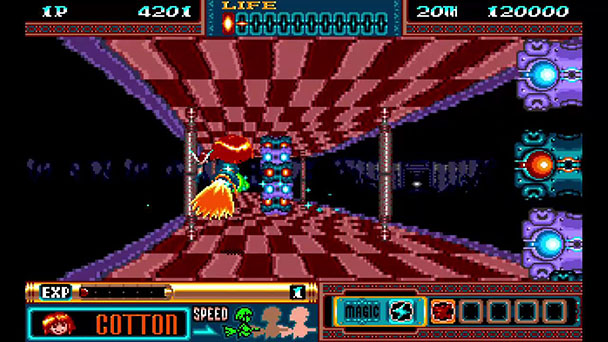 Sugar Rush
Undoubtedly, Panorama Cotton's stage design sets it apart from other on-rails shooters. Whereas many of the game's contemporaries feel like jittery shooting galleries, here you'll have to chase down adversaries, which take multiple shots to eliminate. Occasionally, hunting foes like giant rolling cylinders and shifting gates is easy, as their movements are limited. But staying in one part of the screen for too long is perilous. This tension between targeting opponents and moving around to evade approaching enemies is effectively realized. Since Panorama Cotton uses a health bar rather punishes players with single-hot kills, you'll probably find yourself taking a few more risks.
Smartly, boss battles halt the forward momentum, as gargantuan foes launch projectiles at you. Unlike most showdowns which raise the difficulty exponentially, these often feel easier than the rest of the stage. Although others might feel differently, I appreciated the inversion of the traditional challenge arc. Expectedly, there's still the post-stage bonus round, with Cotton flying (or evading) tea cups.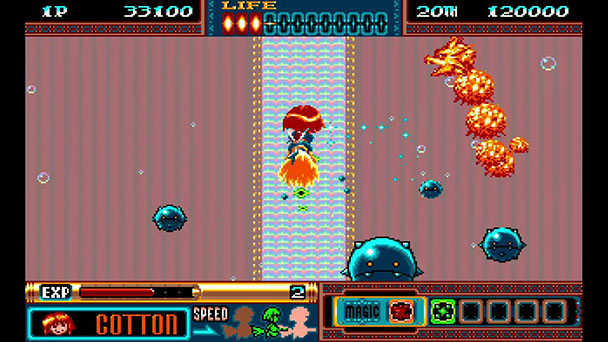 Psychedelia Cotton
Panorama Cotton's graphical style sets the game apart from other Mega Drive titles. Sure, the game is archaic looking when compared to contemporary on-rails shooters. But retro enthusiasts might be captivated by the attention that went into the visuals. From a flight over a rainbow-colored river in the primary stage, a journey through an inferno, each stage offers a distinctive and vibrantly colored setting.  Small details, like checkerboard gradients, parallax scrolling, and a simulated 'mirage effect' enliven each environment as well. And there's even some tasteful fan-service used as reward, after Cotton and Silk swap roles.
But the non-localized storyline means that someone likely found a rom dump, added open-source emulation and called it a day. While it's great to see entries in the Cotton series arriving stateside, it's baffling that the games skeletal storylines aren't translated. Sure, there are a few perks present, like the ability to rewind time and unlock cheats once you beat Challenge Mode. But traits like having two different menus for game options are perplexing.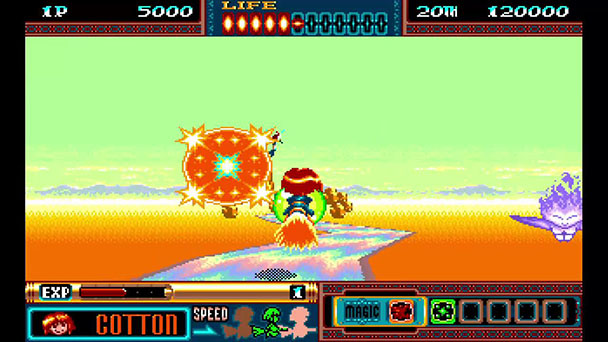 Conclusion
Cotton's 3D outings (which also include 2000's Rainbow Cotton for the Dreamcast) don't get the attention of their two-dimensional brethren. They might not be the tests of navigational precision offered by the franchise's side scrolling entries, but they're enjoyable efforts. Revisiting Panorama Cotton reveals a time when the industry was about to shift from sprites to polygons. But more importantly, it recalls a moment when programmers could home hardware perform some truly amazing feats.
Panorama Cotton was played on Switch with
review code provided by the publisher. 
Review Overview
Summary : As the third entry in the series, Panorama Cotton pushes the broomstick-rising witch into the third dimension. While it might primitive now, it must have seemed cutting edge for the those lucky enough to own a copy. It's tragic that Ratalaika isn't taking a more conscientious approach to these ports.