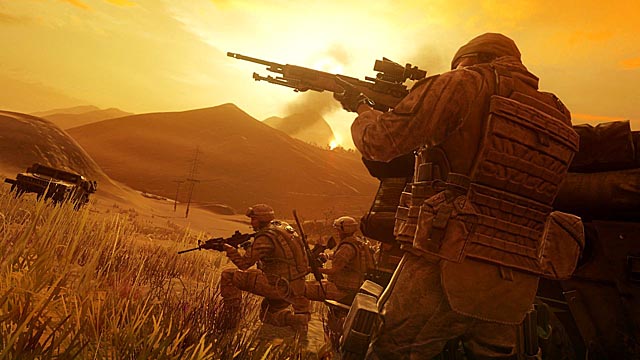 Few series reveal the trajectory of the console first-person shooter as accurately as the long-running Tom Clancy's Rainbow Six franchise. Once a tense, protracted, tactical sim on the Dreamcast, (admittedly, a port of the PC title) over time the series morphed into a simplified, cover-based shooting gallery which surrendered many of its strategic elements in favor of accessibility. Following this trend, gamers have seen the proliferation of 'pick up and play' FPSs, while more analytical simulations have woefully fallen out of favor.
One of the few exceptions to this rule was 2009's Operation Flashpoint: Dragon Rising– a gratifying playground of war-porn which didn't neglect a constituency who cared about bullet drop. Amidst a wave of corridor shooters, the title's thorny firefights and ambitions for realism were a refreshing reprieve. Regretfully, reports of the game's difficulty became exaggerated, relegating Dragon Rising to following the fraction of the Modern Warfare audience. With the release of sequel Operation Rising: Red River, developers Codemasters sustains the franchise's fighting spirit, while making a handful of accommodations in hopes of luring in newcomers.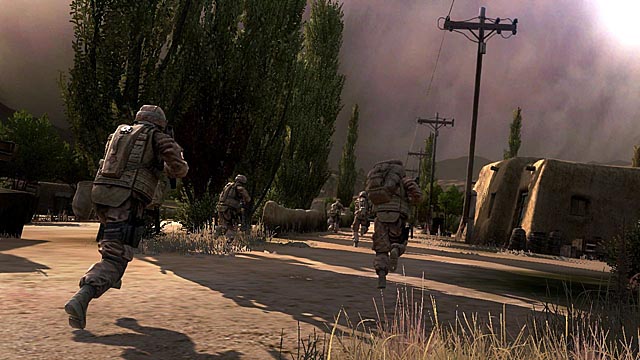 Following a opening cinematic which explains al-Qaeda's geopolitical trajectory via a jumble of video clips, flashy graphics, and irony (War's 1975 hit, We Can't We Be Friends? adds the incongruity), players find themselves deployed to Tajikistan. As the lead on a four-man fireteam, Red River initial missions involve hunting down any insurgents who have recently fled Afghanistan. Tensions mount as China sends its own troops across the border, initiating a conflict with the People's Liberation Army, the force player's battled in Dragon Rising.
Cleverly, Red River abandons much of the requisite tutorial associated with tactical FPSs. Beyond a brief stop at the rifle range and a pithy introduction to the title's Quick Command Radial (a menu system which allows the players to issue maneuver, tactic, suppression and directional orders) most instruction in indoctrinated through Staff Sergeant Knox's Ten Commandments. Delivered through mid-mission dialog, the NCO tenders a set of tactical rules which follow basic combat protocol while improving a player's chances of success in the game. From keeping a full mag ready, using suppressive fire, to firing in short, controlled bursts, Knox's knowledge won't be revolutionary to military sim vets, but it does deliver tactical info in a convincing manner. The downside is that players who replay a campaign mission have to hear the whole expletive-filled spiel all over again.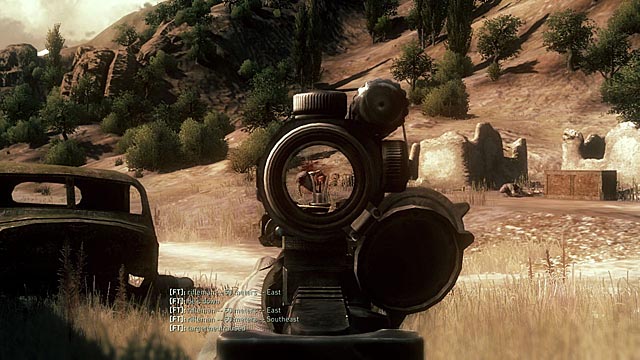 Although some might not appreciate Sgt. Knox's lewd loquaciousness, the character's anecdotes and explanations embed Red River with a personality which was largely absent from Dragon Rising. Credit should be given to the voice-work from Al Mathews, best known for his role as Sergeant Apone in Aliens, who delivers a spot-on performance. Knox is an ever-confident, seasoned leader, but despite his course talk, there's a hint of patriarchal pride stowed away in his heart.
Less credible are the men on your fireteam, who execute orders serviceably, but display a serious lack of autonomy. Habitually, your squad will stand around idly after completing an objective; at one point my team stood motionless in the middle of an engagement, refusing to take cover.  To balance things out, enemy AI seems consistently uneven, with foes taking the same path of a freshly-fallen foes. Overall, enemies tend to display less adaptive behaviors than Red River, with fewer antagonists digging deep into well-protected positions. Additionally, the game plays an oddly tranquil Tajik dialog sample when players get within 25 yards of an alerted foe, which sounds like a last minute afterthought to warn reckless gamers.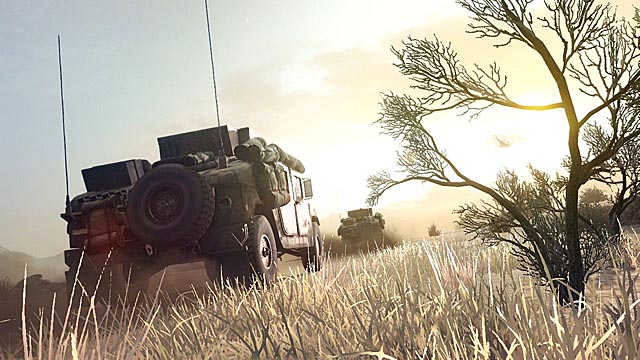 While enemy behavior remains hazy in the game's cooperative campaign, allied AI ceases to be an issue. With up to three online players, Red River truly shines, with gamers working closely to accomplish their mission objectives. With each of the game's 10 stages taking close to an hour, skulking through towns and performing overwatch duties can result in a uplifting sense of espirit de corps when the mission is finished. Additionally, parties can take on Fire Team Engagements, which bypass Red River's storyline to deliver Spec-Op style challenges. From the horde-mode like Last Stand, where teams defend against wave of encroaching baddies to Rolling Thunder a tense convoy escorting exercise, these variants are pleasing. Although each of the four modes only has two playable maps, expect Codemasters to rectify this shortcoming through future downloadable offerings.
New to Red River is an Player Progress system, with a functionality which recalls Call of Duty perks and unlocks. Depending on what class the player chooses (picking from rifleman, auto-rifleman, grenadier and scout disciplines), rewards are distributed for mission completion, as well as for performance superiority. With experience new weapons as well as accessories open, giving your player a serious tactical superiority over a stagnant enemy. Less the title become too easy, there's a Hardcore difficulty which eliminates much of the HUD info, forcing players to identify navigational waypoints and friendly locations on their own, while increasing the accuracy of opponents.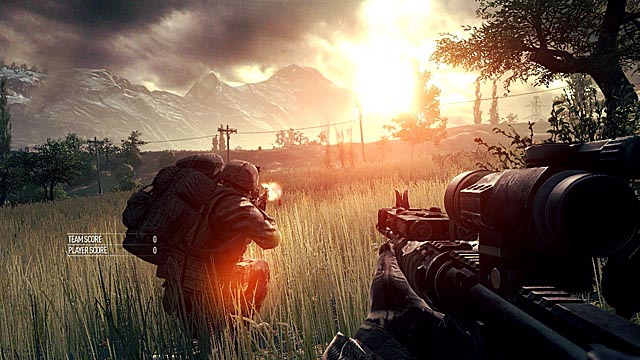 Visually, Codemaster's EGO engine is undeniably starting to show it's age. On open vistas, the game can struggle to maintain a refresh rate of 30 frames per second, while attempting a wide flank which transcends the title's fringes is met with an instant death. Still, the occasional wash of sun or rivulet which cuts through a dusty landscape articulates the unlikely beauty which occasionally pokes through the hostile landscape.
Whether prompted by an unforeseen attack which ruptures  the tedium of a desert hump or the thrill of calling in an devastating airstrike on a quarrelsome encampment, Operation Flashpoint: Red River delivers the type of thrills absent from most first-person shooters. Skillfully straddling the space between detached hardcore simulation and narrative-based action game, the title comes recommended to anyone who has ever scoffed at the improbability of a contemporary military title.