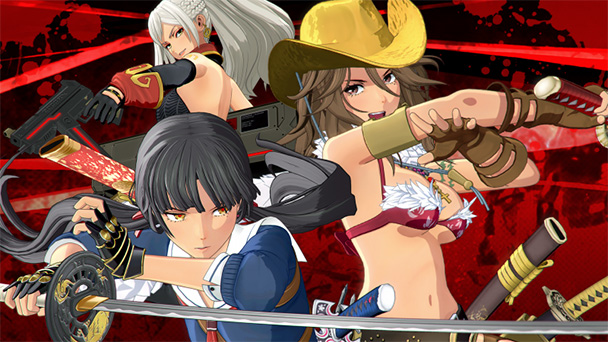 Remaking the first two franchise entries, Onee Chanbara Origin updates the sights and storytelling, while preserving the zombie-hacking play.
Onee Chanbara Origin
Platform:
PC, PlayStation 4
Developer:
Tamsoft
Publisher:
D3 Publisher
Release date:
October 14th, 2020
Price:
$59.99 via digital download, $47.99 Steam launch price
Availability:
Steam
,
PlayStation Store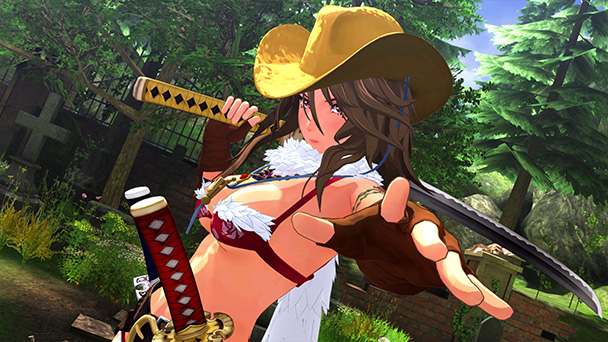 The game industry frequently displays an admiration for Hollywood. The results are big budget, interactive titles that rival the gun battles, fights, car chases, and explosions of theatrical blockbusters. But movies weren't always so focus tested, polished, and predictable. During the 1970's, the exploitation film becoming increasingly popular, filling grindhouse theatres and drive-ins with movies that depicted sex, violence, generating a much-needed bit of social agitation.
During this era, Japan had its own type of exploitation films, with a subset of blood-soaked samurai films inspired by gensakusha Kazuo Koike, the author of Lone Wolf and Cub, Lady Snowblood, and Samurai Executioner. Named after the onomatopoeia for clashing swords, chambara once packed people into theatres. Much like the decline of western grindhouse theaters and drive-ins, when the rudimentary venues began to be replaced with multiplexes, the pulpy films waned as well.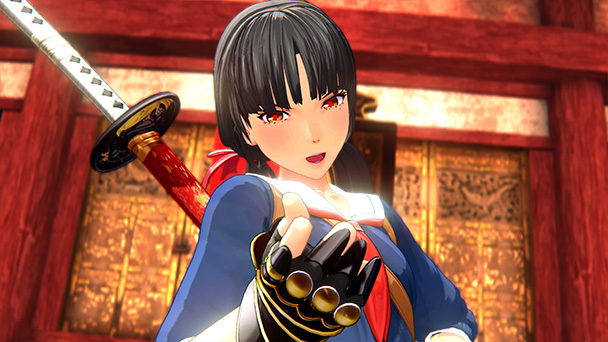 Humble Origins
As the name implies, the 2004 Japanese release of The OneeChanbara paid homage to this era of magnificently low-brow cinema. Released as part of D3's low-priced Simple 2000 series, the game centered around scantily clad, katana-wielding young women who sliced through legions of the undead. Like yesteryear's chambara films, it was stylish and defiant, shunning any aspiration of nuanced plotline or polished play mechanics.
Onee Chanbara Origin for the PC and PlayStation 4 offers a remake of the original title and its sequel, providing a piquant taste of chambara for a new generation. And while the cel-shaded visuals and output that scales all the way to 4K present a contemporary vibe, gameplay is largely the same. While Origin has its merits, there's a strong chance you'll wonder what a true sequel to 2015's Onechanbara Z2: Chaos would have played like. Hopefully, we'll still find out.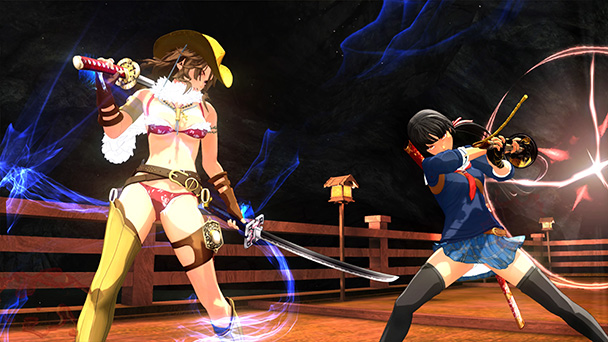 A Pair of Stunners
In the meantime, Onee Chanbara Origin is a competent placeholder. As with previous iterations, the game is a bit of a button-masher, as you tap out combinations of light and heavy attacks. Much like Dynasty Warriors, foes aren't much of a threat individually. But if either Aya (the cowgirl one) or Saki (the schoolgirl) allow themselves to get surrounded, death is a possibility. But where repetition in the Warriors games is often offset by the shifting tide of a larger war around you, Origin's encounters take place in smaller arenas like graveyards, caves, and derelict towns. Expectedly, bosses help break up the predictability.
Fortunately, the girls have a few abilities that strive to keep offset the fatigue to melee fighting. When enemies are stunned by a series of light attacks, you'll sporadically be provided with an opportunity for an assault that instantly kills your target as well as any adjacent undead. While Aya and Saki can dash out the way of an imminent strike, if they're able to precisely time a parry, they can freeze their foe. Occasionally, you'll be required to do this against bosses and at least one enemy, so it's best to learn the timing as quick as possible.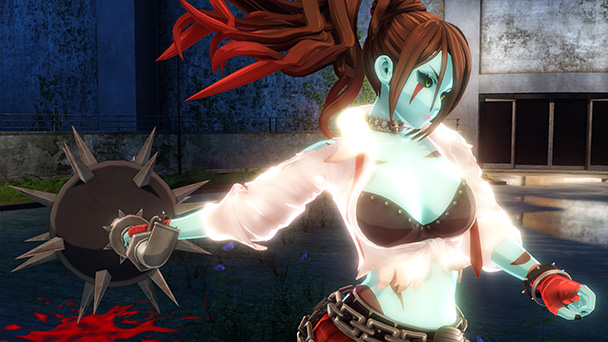 Another Bloody Mess?
All this violence results in bloodshed, covering both you and your blades. A meter tracks just how much zombie hemoglobin you're soaked in. When it's maxed, you'll go into Berserk form. Here, your damage output is greatly increased, but your defenses are weakened. Demonstrate a particularly vicious amount of violence and you'll head into a deeper state called Xtatic Form, where you'll gradually drain health. But butchery returns a bit of your vitality as you cleave through enemies, so you'll want to keep killing. Sixteen years later, Onee Chanbara feels incomparable, as wild-eyed, blood-soaked, near-naked girls furiously hew through crowds of zombie fodder.
As such, it's easy to get caught up in the combo-driven carnage, turning into a whirlwind of viscera-spilling barbarism. But your blade's slicing power diminishes as blood accumulates on it, requiring an occasional fling to restore its steely state. In practice, this means you'll have to occasionally move to a safe distance, preventing Onee Chanbara from descending into complete monotony. Similarly, progress rewards you by augmenting your movesets, and dropping skill points into Health, Attack, and Defense stats. But since the level of adversity rises as you make your way thought the ten-hour campaign, any advantage becomes canceled out.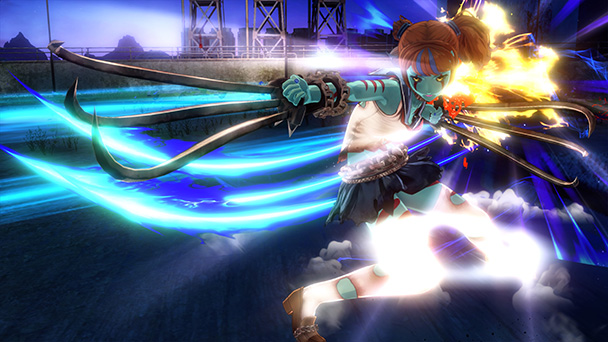 An Articulate Storyline This Time Around
Thankfully, Origin's fusion of the first two OneeChanbara titles does bring a few changes. Narratively, the story beats are fleshed out, making the tale of two oppositional half-sisters much more coherent. Some of the exposition occurs during conversations that play out during combat, which helps distract from some of the repetitiveness of zombie killing. While you can opt for Japanese or English voicework, if you're not fluent in the former, simultaneously slaying and reading subtitles might be challenging. As with most contemporary games, Origins is accompanied by a long list of DLC, adding everything from costumes, music, weapons to new missions. As a title with a sixty-dollar MSRP, launching with nearly a hundred dollars of content feels egregious.
On PC, performance can be a mixed bag. On a desktop with a RTX 2070 Super, Origin ran with a hitch, providing a persistently fluid, 60 FPS experience. However, a laptop outfitted with a 2060 struggled with plenty of visual and aural hiccups undermining the experience across both fullscreen and borderless modes. Playtesting might be an issue, as its always puzzling to see a title launch with a mouse cursor that isn't concealed during play.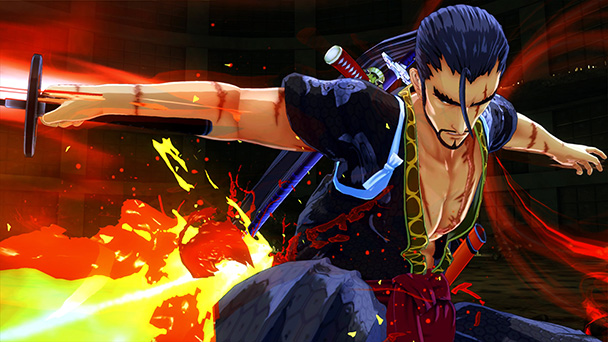 Conclusion
Given the industry's shift toward safer, less lurid experiences, the arrival of Onee Chanbara Origin feels celebratory. While moment-to-moment isn't revolutionary, it's pleasant diverting, and bound to elicit a laugh as the camera zooming leeringly on bust or butt. This is a reminder that today's games are overly sanitized, stripped of anything that even flirts with subversion.
Onee Chanbara Origin was played on PC
with review code provided by the publisher
Review Overview
Summary : When The OneeChanbara was released sixteen years ago, games depicting cascades of bloodshed where still infrequent. And rarely was this kind of carnage combined with ample displays of cleavage. Onee Chanbara Origin is a throwback to that time when games weren't afraid to appeal to lascivious interests. Like an exploitation film, execution is marginal at times, but it's hard the fault the stylish amalgam of sex and violence.