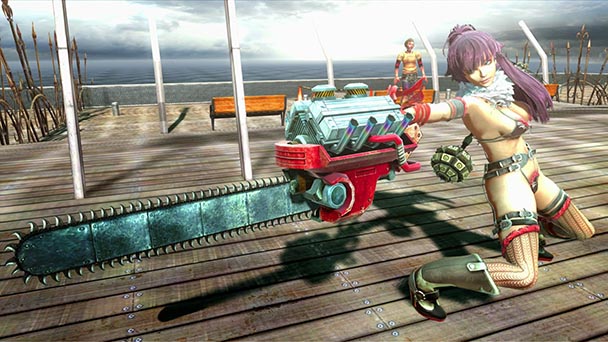 In Hollywood it's not uncommon for a director to shift from low-budget film to high-profile epic. But as Carl Rinsch's 47 Ronin, Gareth Edwards's recent Godzilla reboot, or Marc Webb's attempted revitalization of The Amazing Spider-Man have demonstrated, the transition isn't always a slam-dunk. Coaxing auteurs to transition from intimate indies to movies designed for mass appeal can often feel forced. Anyone who witnessed the (500) Days of Summer filmmaker create an awkward, disappointing entry into web-crawling canon surely understands the potential for problems.
Likewise, the PlayStation 4 release Onechanbara Z2: Chaos can feel disjointed, as a scantily-clad quartet of vixens hope to obscure a skeletal plotline, repetitive combat, and a diminutive campaign length. Like D3 publisher's insect-annihilating Earth Defense Force games, The OneeChanbara began as a Simple series release- offering campy, modestly-coded diversions which could be acquired for little more than the price of a take-out meal. The Simple series was fun, frothy, occasionally fan-servicey, but most importantly- didn't take itself too seriously. Yet when the production costs of next-gen games skyrocketed, even D3 producer Takashi Sue doubted if the budget series could survive. It has, with Onechanbara Z2: Chaos the interactive equivalent of a straight to video release flaunting Bernardo Bertolucci-quality visuals.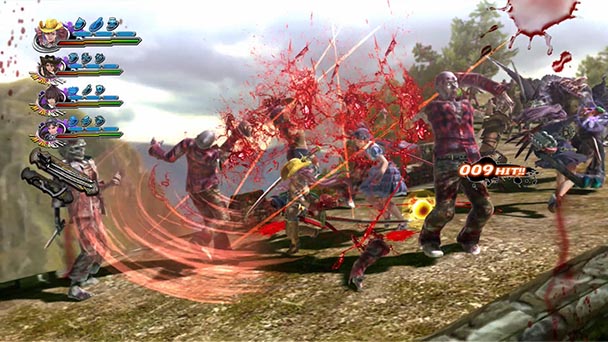 Narratively, developer Tamsoft keeps the impetus simple, allowing a quick, post-tutorial premise and comic book-style cinematics to handle most of the exposition. Drawing from the previous Onechanbara titles, the duo of a blood-enhanced Kagura and Saaya have been at constant odds with vampire-slaying sisters, Aya and Saki. When an enigmatic antagonist enters the picture, creating a pestilence of putrid creatures around the world, the two pairs are forced to put aside their differences and put their bloodletting skills to the test. Although becoming civilization's savior is ubiquitous for game characters, Z2: Chaos is best when it focuses on the rivalry between the girls. Especially amusing is Kagura, who as a quick-tempered, reckless cowgirl, delivers dialog that sounds like the gruff jabs of Gears of War re-envisioned for an all-female cast.
In all, the plotline is little more than an excuse for sending the bikini-clad combatants jetsetting to a variety of locales, from Dubai, China, Japan, Peru, and the U.S. Regrettably, each of the game's milieus is little more than culture-coded backdrop, with Dubai's nondescript sand dunes to China's pedestrian walkways. What's more, level design fares no better, with the game persistently delivering long halls punctuated by unremarkable rooms where waves of homogenous enemies or a boss appears. The campaign's midpoint attempts to thwart linearity by permitting players to select stage order. But in execution, it makes little difference, with each level offering the same fundamental degree of difficulty.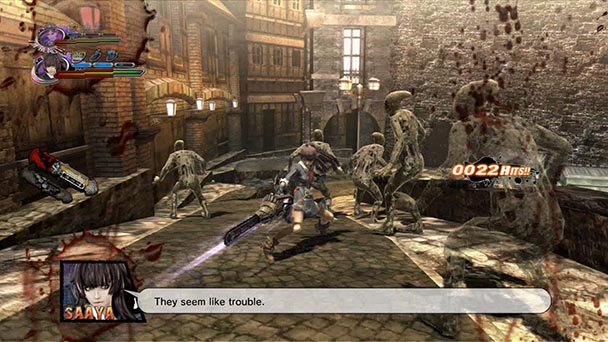 But criticizing Onechanbara Z2: Chaos' environments might be akin to missing the beauty of the forest because you're obsessing over the drabness of the dirt. Undoubtedly, players are supposed to admire the game's memorizing maidens, who start off wearing skimpy bikinis, and by gathering in-game currency, are likely to end up wearing attire that's even more revealing. Whether your fetish is loligoth, schoolgirl, or just good old exhibitionism, you can count on Chaos to deliver the goods. And yes, you can even change the color of the blood that splatters on the girls to something more creamy colored, if that's your thing.
Dutiful attention has been lavished on the game's sisters, who demonstrate carefully coded breast jiggle, methodically rendered butt cleavage, as well as skirt physics that promise a persistent procession of peeks. But even when the girls enter Transformation mode, which bestows a devastating amount of demonic power as they go temporarily topless, they aren't all that erotic. With skin that radiates a plastic sheen and nipple-less chests, they look more like pugnacious Barbie dolls than real women.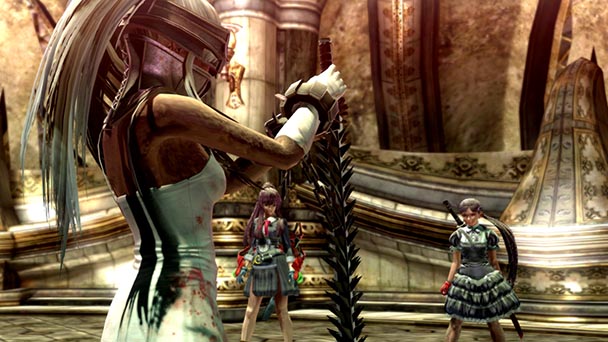 But wildly hectic, unswervingly sixty-frame-per second combat can occasionally obscure their synthetic sexuality, turning the game's visual output into a whirlpool of blade, blood, and body parts. Movesets are designed for wild mutilation, offering a visual spectacle that nearly trumps the game's festival of flesh. Adeptly, Onechanbara Z2: Chaos can function as a button masher, allowing newcomers to cruise through the sixteen stage campaign with light and heavy attacks, as well as the occasional touchpad- initiated QTE. Spend time with the title and you'll find the combat is more nuanced that it first appears, with practice mode (or the protagonist's glowing hands) revealing that well-timed button presses can quickly turn foes into bloody pulp. Indeed, the game doesn't offer to teach you its minutia. You'll have to absorb the information yourself by perusing through the twenty-one page tip sheet that's displayed during the game's exceedingly sluggish level loads. Onechanbara apprentices should be sure not to overlook the guide, as essential moves like weapon cleaning are disclosed.
The guide also explains some of Z2: Chaos' character changing and Blood Recovery healing options, which are essential for success. Using the directional pad, players can shift between girls. Beyond the benefit of being able to use a new moveset, off-screen characters gradually regenerate health, making management an indispensable task. When groups of more difficult enemies or bosses emerge, a press of the DualShock 4's touchpad allows the full foursome to jump in momentary and hack away mercilessly.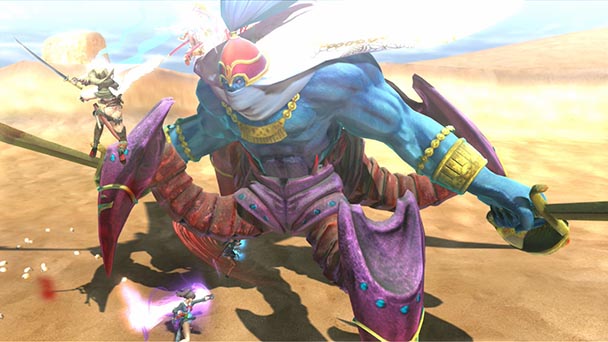 By the time you make your way through the three-hour campaign, you'll have a handle on each girl's repertoire, which includes a primary and secondary weapon. Saaya is bound to be a crowd favorite, although she's slower that her companions, she wields an enormous chainsaw that easier splits foes down the middle. Kagura's specialty is chained daggers, which gives her the range and raw stopping power of a certain God of War. Regardless of what girl you're controlling, you'll want to make use of the lock-on command, which allows players to instantly hurdle toward opponents and begin hitting them with an aerial assault. While Z2: Chaos' enemies extend beyond the undead, few show much intelligence, making opponents feel like outcasts from either Dynasty Warriors or Bayonetta.
Go into Onechanbara Z2: Chaos expecting an odd mix of camp, competency, and clunk. Although the game's visuals and combat mechanics no longer reveal their Simple series heritage, issues like invisible walls, austere level design, and a tendency toward tedium pay respect to the past. Without any type of multiplayer component, players might want to wait on Chaos, hoping that the frantic fun might see an additional drop from it's $50 retail/$40 digital price point.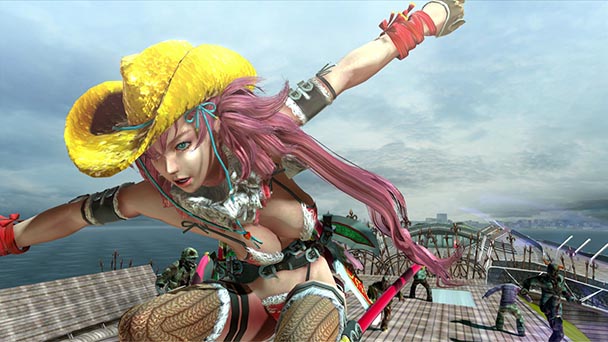 Onechanbara Z2: Chaos was played on the PlayStation 4 with review code provided by the publisher.
Onechanbara Z2: Chaos
Platform: PlayStation 4
Developer: Tamsoft
Publisher: XSEED
Release date: July 21st, 2015
Price: $49.99 via retail (Special Edition), $39.99 via PSN
ESRB: Mature
Review Overview
Summary : Like Dead or Alive Xtreme Beach Volleyball, Onechanbara Z2: Chaos is more for leering than long-term play value. While the campaign offering fleeting fun, and lack of finesse means the game will best be remembered for raising the rendering bar for console T&A.