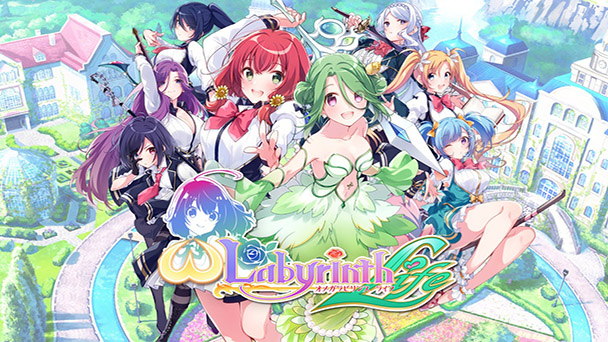 As evidenced by the complaints faced by prominent sports series, many are irked by publishers who pump out iterative sequels with unremitting regularity. But the practice has an undeniable upside. Gradually, these franchises evolve, jettisoning any troublesome mechanics while adding in just enough key features to keep things from feeling completely stale.
That's the design method behind the recent Switch release of Omega Labyrinth Life. Since the release of Chunsoft's Torneko no Daibōken: Fushigi no Dungeon in 1993, the Mystery Dungeon series has been propelling players into procedurally-generation dungeons. Six years later, the creators of Fushigi no Dungeon teamed up with Matrix Software to create Torneko: The Last Hope, extending the mustached character's explorations. In the ensuing years, the template has been applied to a multitude of franchises, with Shiren the Wanderer, the Chocobo series, and even the Pokémon Mystery Dungeon all following the basic blueprint, while adding their own protagonists and distinctions.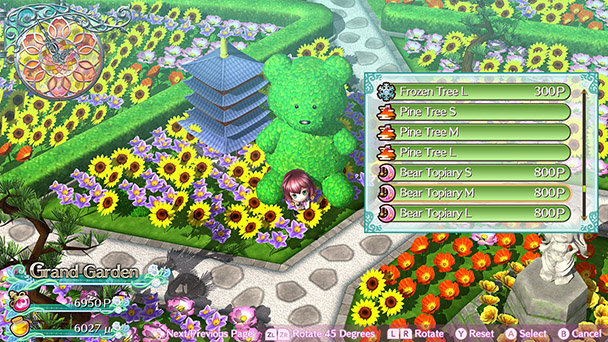 How Does You Garden Grow?
Omega Labyrinth Life has two fundamental differences that endow the game with individuality. Beyond dungeon skulking, players also must maintain Belles Fleurs Academy's Grand Garden. A nursery filled with magnificently vibrant flowers, it's the campus' conspicuous centerpiece. It's also been around for over a hundred years. But when the academy's first exchange student, Hinata Akatsuki arrives, all of the flowers mysteriously wither. Naturally, some blame Hinata for the calamity.
As a perpetually positive lead, Hinata believes the best way to clear her name is through the restoration of the Grand Garden. Here, Omega Labyrinth Life injects a bit of the light-hearted agrarian simulation of the Harvest Moon/ Bokujō Monogatari series. Working with a relaxed timetable, you'll sow seeds, water, and within a few days, reap seedlings and nectar before starting the process anew. Interestingly, it's largely optional so if the prospect of digital horticulture doesn't entice, you can largely ignore the whole component, investing your time in elements like synthesis or character growth.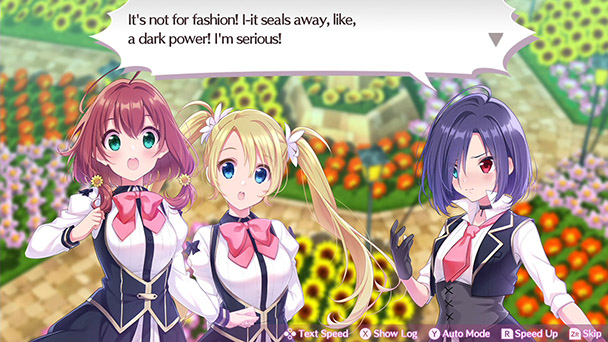 Bosoms in Full Bloom
Omega Labyrinth's other departure from Mystery Dungeon formula is the game's unabashed incorporation of mischievousness. Whole mechanics are built around the idea of comic titillation. Every time you enter a dungeon, you begin with your character's default bust size. As you level, up, your chest swells to colossal proportions occasionally bursting through clothes, offering a visual indicator of your pumped-up stats- at least until you exit the dungeon.
As with most crawls, you'll likely uncover a mass of unidentified items. The title's method for recognition is remarkably suggestive, requiring a girl to rub an elongated, expanding crystal between her breasts as she emits moans of ecstasy. Boobs also come into play (literally) during the game's 'Tit-for-Tat' mini-game, which manages to use mammary glands to simulate a match of rock, scissors, and paper. Sure, it's a bit forced, but if you're carrying a certain object when you party is defeated, winning or tying at Tit-for-Tat can preserve your inventory.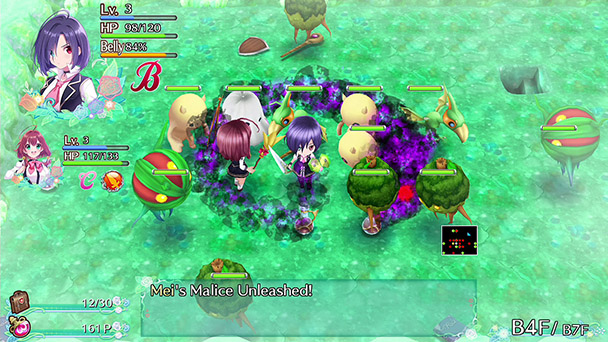 But the game's most impish element revolves around powering up your characters, referred to as Boosting. By touching emerging icons on the Switch's screen, you'll gradually push your girl toward the pinnacle of ecstasy. Once she inevitably climaxes, the payoff is jars of nectar that are used for your gardening pursuits. It's hard not to appreciate Omega Labyrinth Life's delightfully perverted circle of life, when even ejaculatory liquids have an environmental function.
Tossing Panties for Damage
Although Omega Labyrinth Life is filled with fan-service, with blustery floor traps that blow your skirt up, and an odd side-game where you pick insects off a nubile young body, sensuality isn't the game's sole hook. Head into the game's dungeons (called the 'Holy Cavern' of course) and you'll find a crawl that benefits from a close study of Chunsoft's Mystery Dungeon formula.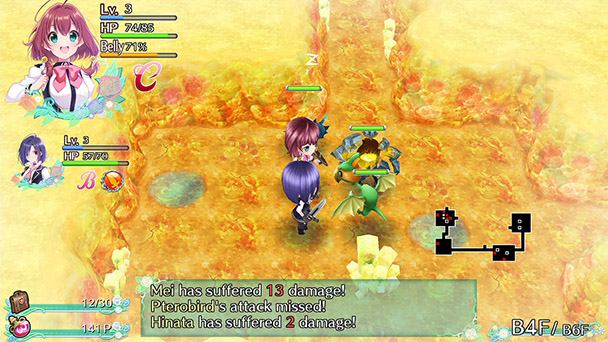 Making your way through the randomized mazes isn't hard, given your robust toolset. Beyond auto-mapping, and a partner who can prove to be helpful when you're encircled by monsters, the title's dungeons are filled with all kind of loot. Shrewdly, most of it is deliberately superfluous, goading you into performing actions like throwing bras and panties at attackers when your inventory is at its limits.
Like any good rogue-like, a limited capacity compels you to make tactical suggestions. Some might opt to venture with a minimal number of items, picking up every object to turn a profit back at the academy. Other might favor prudence, since a single trap can dump a subset of your belonging on the dungeon floor, leaving your vulnerable to attack. Most importantly, Omega Labyrinth Life forces you to react to unexpected events, making each subterranean journey tense. While it's easy to predict the behaviors of individual monsters, when your party descends into a monster room teeming with traps, Labyrinth offers a truly taxing test of your item management and tactical skills.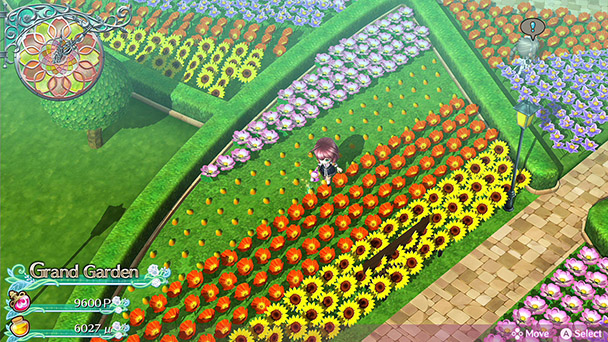 Dozens of Activities Await
Arguably, the game's best design decision is to inundate players with things to do. Beyond the dungeon crawls that advance the story, there are also puzzle-like trials for you to tackle. For those who appreciate collecting intel, there's are multiple codices for items, monsters, synthesis, flowers, and curios, the game's name for garden art. If you wanted to revisit a section of the story, Omega Labyrinth extensions that option, which is perfect if you missed an explanation. Most importantly, there's healthy amount of autonomy, with the game shirking any kind of linear advancement.
Omega Labyrinth Life isn't for everyone, with comic sexuality stuffed into almost every component. But if you're OK with playful titillation, the game offering some of the most captivating crawls around. Solid storytelling and player independence are infrequent acquaintances, but with Omega Labyrinth they're the best of bedmates.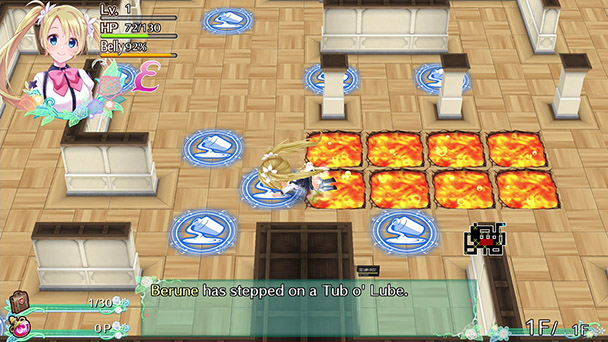 Omega Labyrinth Life was played on Switch
with review code provided by the publisher. 
Review Overview
Summary : Come for the unabashed fan-service but stay for some of the best dungeon crawling on the Switch. Omega Labyrinth Life offers a whole lot more than an obsession with oppai.