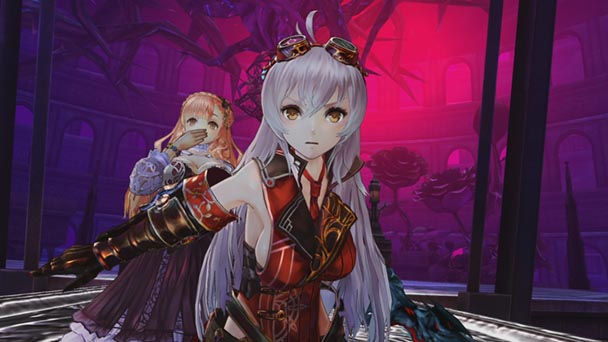 Gust's oeuvre is filled with gentle artistry. Across the Atelier franchise, protagonists go on inspirational journeys of self-actualization, mastering the venerable craft of alchemy in an effort to prevent impending tragedy. In the Ar Tonelico series, music plays a remarkable role- with compositions concealing a level of beauty cloaked by lyrics sung in a constructed language. As such, it's not surprising that the Nagano-based developer's latest release is a wonderfully poetic and poignant experience.
But what's surprising is Gust's choice of vehicles, with Nights of Azure's core mechanics rooted in hack-and-slash principals. Sure, there are some light role-playing elements and the draw of amassing and augmenting a legion of assistants known as 'Servans' is just as powerful as the lure of managing a team of Pokémon. But the accomplishment of melding engaging slices of visceral action with characters and story deserving of sentiment makes Azure an experience worth seeking out.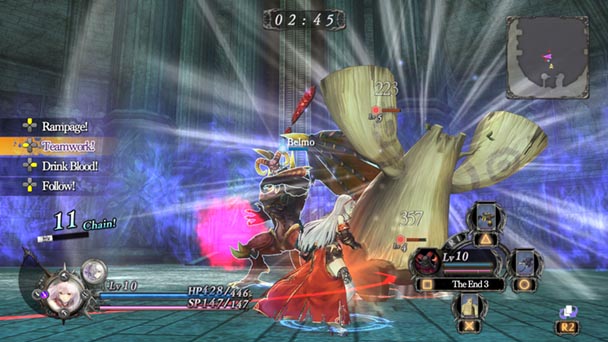 Pleasingly the premise is focused, offering up an economical set-up and an efficient roster of characters. The game's opening cinematic details the extermination of an evil beast, whose slaughter spread blue blood across Rusewall Island, turning the populace into vicious beasts. To quell the situation, help comes in the form of Arnice, a human-demon hybrid who's handy with sword, as well as Lilysse- a saintly associate who's able to seal away the scourge of wickedness.
But their arrival comes at an inauspicious time, with martyrdom seemingly the only solution at temporarily halting the spread of evil. In traditional Gust fashion, this means another fascinating interpretation of cultural tradition. In Japanese folklore, Hitobashira refers to the person who sacrifices their life so that a building can withstand destructive forces, and thereby protect its inhabitants. In Azure, Lilysse serves as the sacrificial maiden, forecasting a fateful conclusion poised to keep the islanders safe.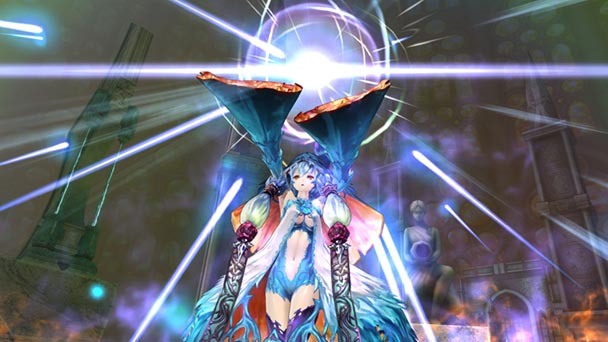 But in order for the plot device to be effective, players have to feel for the young saint. To fulfill that ambition, Gust crafts a delicate relationship between the leads, built upon mutual admiration, trust, and complementariness. While interactive media hasn't produced too many candid depictions of relationships, let alone ones with same-sex subtext, Nights of Azure extends a wonderfully restrained and nuanced example. While the bond could have easily slid into sophomoric titillation, there's an enduring tenderness exhibited as Arnice and Lilysse cling closer as the two hurdle toward a final farewell.
But that's not to say, Gust completely shirks the notion fan-service. Undoubtedly, the duo's appearance is destined for otaku appeal, with each wearing the type of fetishized armor that still allows for plunging necklines and a sufficient supply of sideboob. The impression is further amplified by inclusion of breast physics which put Arnice and Lilysse's mammaries in constant motion during each conversation. But delve into the metaphysical Altar of Jorth and you'll discover a wonderfully tranquil, intimate setting. It's here that players can augment Arnice, but also plumb into the pair's innermost feelings. Given this context, the duo's revealing clothing makes sense, serving as a metaphorical representation of vulnerability.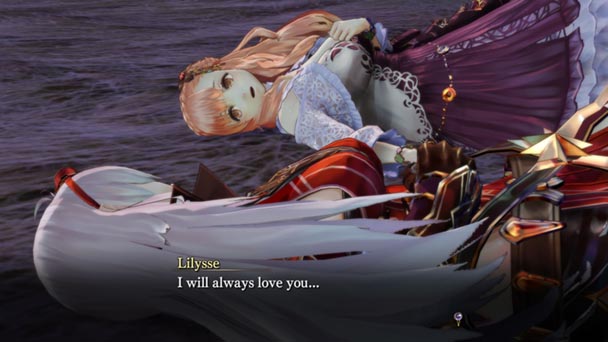 Largely, the nuance of the Azure's narrative offers an ideal complement to the game's action. Between scenes of exposition, Arnice is hewing through hordes of attackers with a variety of weapons using the typical arsenal of weak, powerful, and special attacks. If she had to face foes alone, the title's timed missions would have easily sank into tedium, despite the ability to call upon a secondary, more formidable form. Fortunately, the heroine has the ability to summon up to four of the aforementioned Servans, with each having their own strength and skills, allowing for a myriad of offensive and defense loadouts. While these subordinates can be outfitted with ability-boosting items and develop with battle experience, they also have one distressing shortcoming, looking exactly like enemies. Until players learn to look for a diminutive spot on their health bar, fights can become a visual cacophony, with scant divergence between foe and friendly.
On the upside, your Servans hold their own in battle, striking at foes and offering healing when HP levels are reduced. For players who want more control over their underlings, pushing the directional pad in different directions can issue basic commands, which is ideal if you want your party to remove a troubling obstruction that's blocking progress. They also have special abilities regulated by blood points and cool down timers with special capacities like area of effect attacks or deflective skills. As such, effectiveness in combat becomes less about mashing buttons and more about managing your troupe of accomplices. Certainty, you'll notice their absence in boss battles when your Servans get knocked out- leaving your feeble strikes as the only way to whittle down a substantial health bar.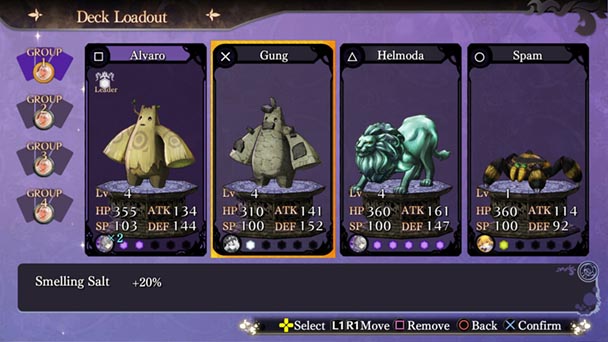 Visually, Nights of Azure targets a sixty frame delivery, faltering only when special attacks are summoned against a flock of foes. Given producer Keisuke Kikuchi's work of the Fatal Frame and Deception franchises, it's not surprising that Azure's palette favors deeper, more brooding hues. Sonically, the title extends Japanese voice acting with English subtitles, with capable performances delivered by the two leads. Complementing the game's melodramatic themes, the soundtrack favors plaintive piano and violin drenched melodies, underscored by the occasional guitar lick when clashes occur. Unquestionably, the OST (crafted by Hayato Asano, Kazuki Yanagawa, Daisuke Achiwa and Toshiharu Yamanishi) is a strong enough inclusion to warrant the purchase of a limited edition.
During Nights of Azure's twenty-five hour campaign, Gust blends an increasing number of mechanics atop a foundation of hack-and-slash basics. Sporadically, the technique falters, leaving players with an underhanded weapon or forcing them to grind before confronting a resilient boss. But far more often, the game's elements integrate synergistically, offering an experience that's thoroughly engaging. Factor in an engaging, poignant storyline that helps drive to drive the action, and Nights of Azure forms into a quiet gem poised to produce a fervent audience.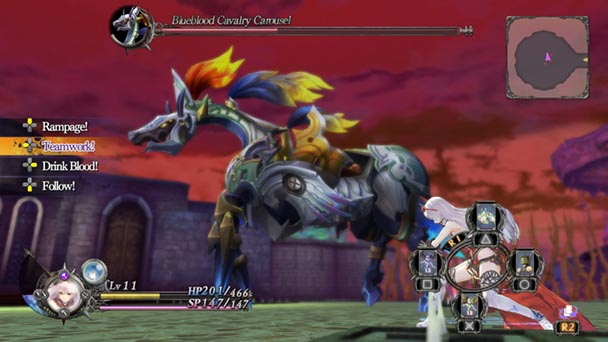 Nights of Azure was played on the PS4 with review code provided by the publisher.
Nights of Azure
Platform: PlayStation 4
Developer: Gust Co. Ltd.
Publisher: Koei Tecmo
Release date: March 29th, 2016
Price: $59.99 via retail or PlayStation Store
Language(s): Japanese voice, English text
Review Overview
Summary : Nights of Azure feels like developer Gust challenged themselves with making a hack-and-slash game built around a story that's worth caring about. Largely, they succeeded, with adept play and plot that bond as blissfully as the game's two protagonists.