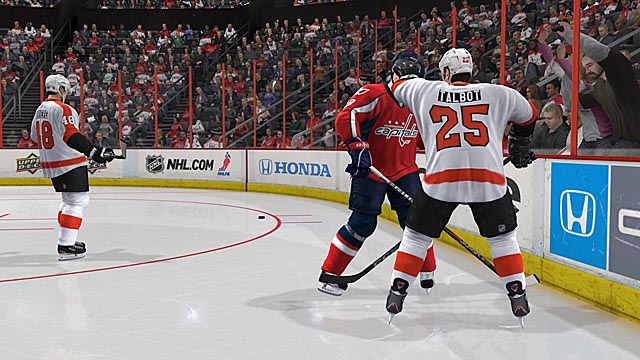 In Minnesota, they say children often learn to skate before they can walk. Having attended grammar school in Minneapolis, I can testify that this adage isn't complete hyperbole- a disproportionate amount of my early life was spent on the ice, chasing down pucks in the pee-wee leagues. When my family relocated to California, my passion for the hockey was usually greeted with curious looks, forcing early recreations like Nintendo's Ice Hockey or Konami's Blades of Steel to satiate my cravings for the sport. In 1991, my enthusiasm for the pastime was intensified by Electronic Art's NHL Hockey, which grew to become a seasonal substitute in my tepid west coast environment.
Two decades later, the franchise still has the momentum of a top-notch winger thanks to a handful of offseason improvements. One of my childhood coaches would incessantly advise, "be where the puck is going to be, not where it is". At long last, EA Canada was able to heed the command. AI players now react with enhanced aptitude, allowing NHL 12 to better simulate the flow of an actual game. Immediately, series veterans will observe CPU players chasing after slipshod passes and discern much more organic transitions between offense and defense.  While NHL 12's athletes can still get perplexed when predicting how a puck will careen around the corners of the rink, it's refreshing to see a reduction in the unrealistic frequency of breakaway opportunities.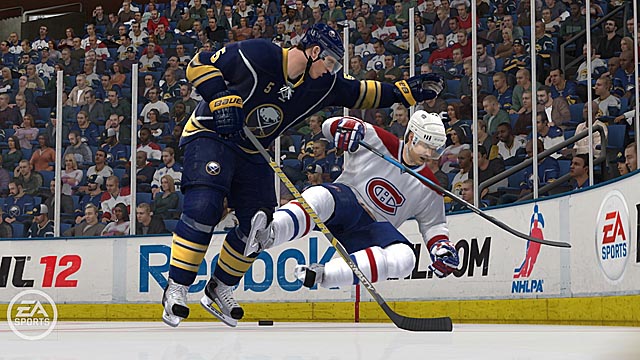 Complementing the changes to the game's artificial intelligence is the inclusion of signature traits, which help on-screen players more closely match the behavior of their real life counterparts. One example- if players are helming Tampa Bay, an AI-controlled Steve Stamkos is much more likely to scout an ideal position to receive a one-timer while Martin St. Louis may linger in front of the net, hoping to capitalize on a deflection. Likewise, goalies have been given a boost in aptitude. Net minders now display a better sense of awareness- which is important as players can now jostle the goalie and even knock him from the crease. Whereas goaltenders often felt like automatons before, now their actions seem much more natural and dynamic. One downside is that goalies have trouble protecting against the wraparound shot, recalling the oft-exploited Achilles' of early 90's era NHL cartridges. The other consequence is the abundance of interference calls, which will hopefully be remedied with a patch.
On the ice, the title's revamped physics system delivers more realistic and satisfying checking. NHL 12 examines the size, momentum, and angle of each collision, potentially allowing more diminutive players to topple a hulking defenseman. As such, hits no longer feel like concealed dice rolls- with adept checks sending knocking athletes around convincingly and even knocking players into the benches. Small details from being able to knock off helmets, breaking the Plexiglas, dislodging the net, and even rolling pucks contribute to NHL 12's skillful sense of simulation.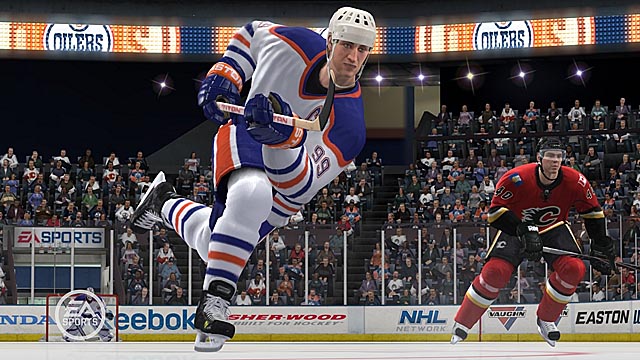 For players with loftier ambitions, the game's Be a GM mode returns. Although drafting prodigious players, securing free agents, and the other responsibilities of the head office are certainly compelling, a few failings continue to linger. Mutually beneficial trades are still routinely snubbed by the AI- who also makes some dubious roster choices. Stats can be equally suspect, with the abilities of aging players failing to depreciate realistically, while many fledging athletes are able to garner elevated ratings in just a few seasons.  The component's one inspired addition is the addition of the action tracker. With both a 2D representation of the game and a textual analysis, allowing budding general managers to (optionally) manage on a micro-level is a pleasing addition.
Following in the footsteps of NBA 2K11's inspired MJ: Creating a Legend mode, NHL 12 allows players to step into the skates of nine hockey greats. Yet where 2K's title dutifully re-erected history, NHL imagines an alternate reality where greats like Yzerman, Gretzky, Roy are drafted onto contemporary teams. While there's an undeniable allure in seeing how these luminaries fare in today's league, without any additional historical context the component can feel like the preexisting Be a Pro component, albeit with licensed likenesses. Ideally, it would have be nice to rematch my 1993 Los Angeles Kings against Montreal to see if the Canadians could be defeated with the curve of McSorley's blade taken out of the equation.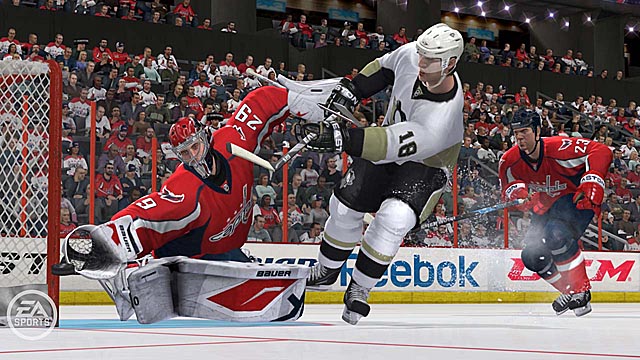 Shrewdly, Hockey Ultimate Team- an amalgam of fantasy hockey and card collecting has been given an online upgrade. Once participants assemble and train their expansion team, they can upload their squad for other players to take on. Since beating server-based teams will reward gamers with NHL 12's currency, getting infatuated with Ultimate Team is a definite possibility. Like most of EA's fantasy-themed components, the top tiers are dominated by people who have invested real money in the game. So as long as players don't have Lord Stanley-sized aspirations, there's plenty of enjoyment to be found.
While NHL 12 offers near-broadcast quality aesthetics during play, with a fluid refresh rate and capable commentary from Gary Thorne and Bill Clement, once the whistle blows the title shows it seems. Scoring replays inexplicably stutter and lack the sinuous animation found in-game. Strangely, user prompted instant replays (players can instantly jump to any goal) don't seem as choppy.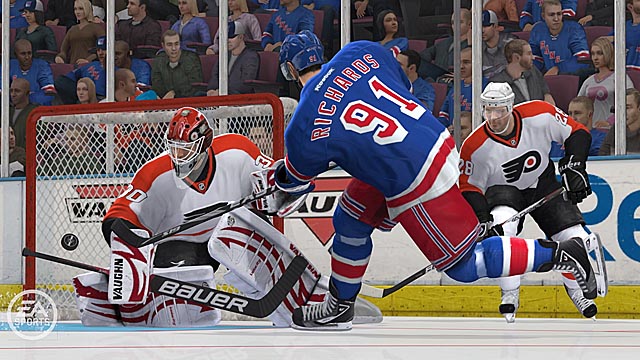 This year's iteration of NHL is undeniably ambitious, providing players with an abundance of key improvements and additions. While these developments are accompanied by a number of blemishes and oversights, in the end, NHL 12 delivers a dazzling simulation of the hockey. From the moment a post-period shot on goal induced a check from an opposing player, I knew EA Canada has created one of the most faithful and enjoyable sport simulations around.