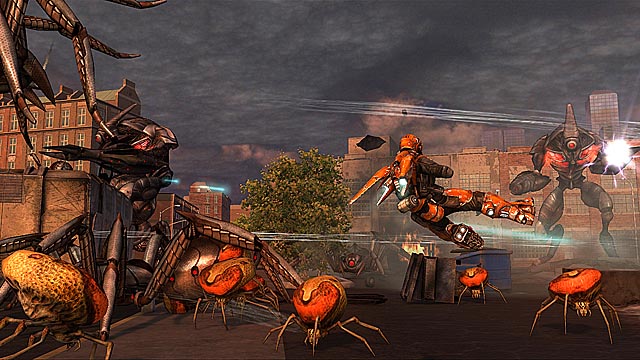 Between Earth Defense Force's procession of insects, Ape Escape's simian-capturing, as well as Reel Fishing Paradise's and Fishdom's marine-centered diversions, animals are clearly the stars of this week's new releases. Rumor has it that even the re-release of Mafia II has some beguiling aquatic activities, as players make a few enemies 'sleep with the fishes".
360
Dead Block (XBLA)
Earth Defense Force: Insect Armageddon
Mafia II: Director's Cut
PS3
Dead Block (PSN)
Earth Defense Force: Insect Armageddon
Playstation Move: Ape Escape (PSN)
Resistance Dual Pack (Greatest Hits)
Wii
JustJam
3DS
Reel Fishing Paradise 3D
DS
Fishdom
Jewel Match
PSP
No Releases
PC
Dead Block
Gods & Heroes: Rome Rising
The Chosen
DesertEagle's Pick: While I'm not an entomophobic, I did find gentle gratification with Earth Defense Force: Insect Armageddon's bug-quashing. Unlike my colleagues who seemed bored to tears, the thrill of a steady arsenal of weapons is enough for me to offer a guarded recommendation.
BlueSwim's Pick: After 195 hours and counting of Earth Defense Force 2017, there's no way I can't recommend Insect Armageddon. It may have a new developer, a new location, and new enemy designs, but I'm certain that the B-movie charm that the series is known for will still be alive and well in my most anticipated game of the year. My birthday can't come soon enough.
SeanNOLA's Pick: Yikes, slim pickin's this week. I was unwhelmed by Earth Defence Force at E3, but when it's contemporaries are Fishdom and Jewel Match, I suppose "underwhelming" is this week's "must have".
Samurage's Pick: Nothing this week really grabs my eye, so I'm saving up for the games coming up later in the month. And I already pre-ordered Catherine.  AND I'm still waiting to get From Dust on XBLA–has anyone else had problems with that?  Anyway, guess I'll just stick to Plants vs. Zombies for this week.