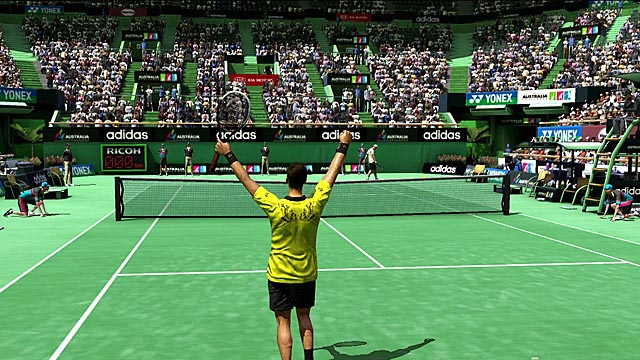 Whereas most now-gen sport franchises are resolute in their efforts toward realism, the Virtua Tennis has persistently delivered a quirky interpretation of the sport. Verisimilitude be damned, the series' signature ingredient is its eccentric selection of mini-games, which transposes the action onto a giant billiards table or bowling alley. Recent release Virtua Tennis 4 maintains this tradition by supplementing its competent on-court action with these diversions, while adding two modes which add motion control to the package. Although players seeking a realistic game of tennis might be better served with Top Spin 4, SEGA's title is undoubtedly the more entertaining of the two racquet-clutching rivals.
Jumping into an Exhibition match, gamers will find a agreeable assortment of athletes among the title's roster of nineteen ATP and WTA players (PlayStation 3 owners even get access to three additional legends- Becker, Edburg, and Rafter). Except for a handful of small tweaks, the game's rendition of tennis remains relatively unchanged, with players using a concise repertoire of shots to expose the weaknesses of opponents. The one key supplement to Virtua Tennis 4 is the 'super shot'; a chargeable ability that is determined by your athlete's aptitude. Regretfully, the technique doesn't become available often enough to give a trailing player much of an opportunity to catch up. Additionally, prolonged competition can be found in the title's Arcade mode, which presents four championships of escalating difficulty.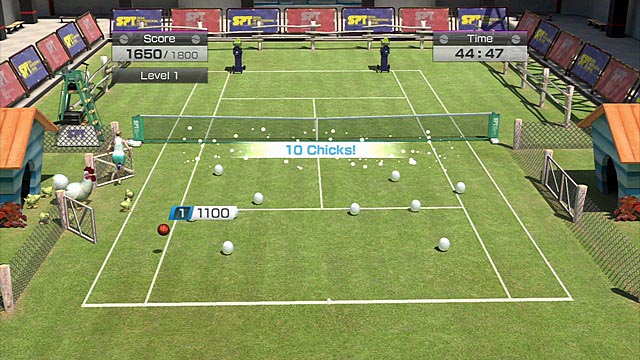 More remarkable is VT4's World Tour, which uses board game-like mechanics to depict an athlete's career trajectory. Here, players follow a series of branching paths around the globe, each space representing a city. Using randomly distributed cards, players inch around each continent, pausing on mini-games, rest stops (which refill your constantly dwindling energy meter) and exhibition matches. Beyond earning experience and money in each diversion, players are seeking stars which catapult them up the global leaderboards. Like most board game, there's opportunities to purchase more stars as well as spots which can drain your bank account. Although World Tour isn't robust enough to push Virtua Tennis 4 into must-buy status, it's inclusion certainly sweetens the deal.
Less inspired is the game's integration of motion control, which is inexplicably limited to exhibition and party modes. Disappointingly, Virtua Tennis 4's motion control scrutinizes little more than a player's timing and power. While this simplified mechanic might have been advantageous to novice players, savvy Move owners can't emulate the type of swings that would cause back spin or drop shots. Ideally, the title would have offered multiple levels of challenges, each with its own fidelity settings, exchanging input complexity for greater ball control.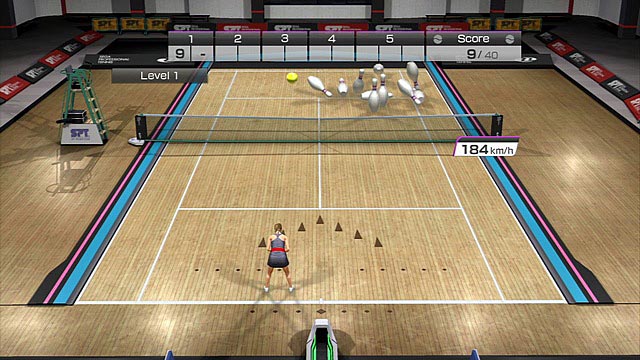 Visually, Virtua Tennis 4 eliminates most of the infrequent spots of slowdown exhibited by its predecessor. While the game's models are animated well (with superb touches like the discouraged head drop of a player who narrowly missed a shot) and have a gratifying variety of apparel, their skin often suffers from a unsightly sheen. At least one passerby asked if I had unlocked a 'zombie Nadal', after seeing SEGA's inadvertently amusing sweat modeling. Conversely, the game's courts are proficiently rendered, filled with details like animated officials, score boards, and serve speed readouts.
Virtua Tennis 4's strongest virtue is its fusion of offbeat components. From mini-games which have you delivering chicks to sideline-sitting hens, breaking columns of dishware to the game's wonderfully wacky World Tour, the title's best moments use tennis as a launch pad for other activities. However, spend a few days with Virtua Tennis and you'll have seen most of its charms, as you play the same mini-games on higher difficulty levels. For the inevitable sequel, both a greater amount of diversity and comprehensive motion control would be as welcome as a Centre Court seat at Wimbledon.