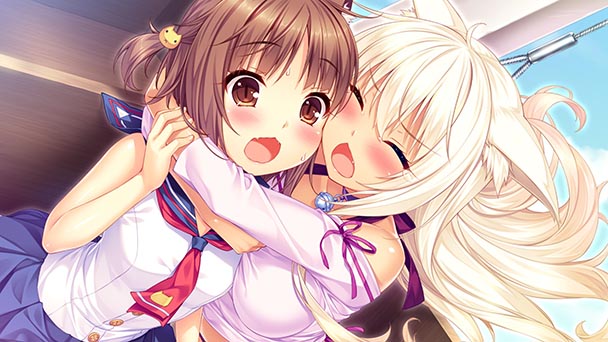 Spend the day strolling through Akihabara, and you'll inevitably be invited into a multitude of maid cafes, each promoting their own unique theme. Beyond the frilly French maid costumes at Maidreamin or the cosplay ninjas found at the Shinobazu Cafe, you'll likely find a few nekomimi-tsuki joshi (girls wearing act ears). Succumb to temptation and you'll find overpriced, mediocre edibles served by girls who sporadically strike the 'paws to face' pose. In a region with so many rich experiences, the cat-girl cafes just might leave you underwhelmed and just might make some as sullen as an old tabby.
Ideally, the establishments would be a whole lot like Nekopara Vol. 3, the latest installment in Neko Works' franchise. After selling over a million copies worldwide and inspiring a hastily funded crowdsourced campaign for an original video animation, illustrator and designer Sayuri seems to be hitting a groove- extending a festive, flirtatious experience that no true kemonomimi aficionado will want to miss.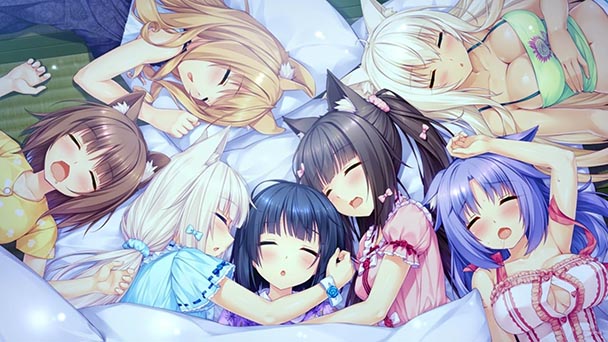 Previous installments have detailed the exploits of protagonist Kashou Minaduki, an aspiring chef born into a long line of confectioners. Hoping to cultivate his own brand of success, he moved out of his parents' house, determined to operate his own French-style bakery. But when he began unpacking items in preparation of the store's grand opening, he discovered that his family's catgirls were inadvertently shipped to the business. Like any budding entrepreneur, he followed his industrious instincts, putting a growing pack of neko to work.
Building on the growing recognition that was signaled in Volume 2, this episode shows the La Soleil bakery surging in public popularity, thanks to an online store and a blog that highlights the hardworking staff of neko. Whereas the first volume introduced players to Chocola and Vanilla, and the second installment focuses on the oft-bickering siblings, Azuki and Coconut, the spotlight this time out is on the well-heeled Maple and perpetually perverted Cinnamon. Notably, Volume 3 does a commendable job of worldbuilding, detailing everything from the visit by an online admirer to a trip to the amusement park.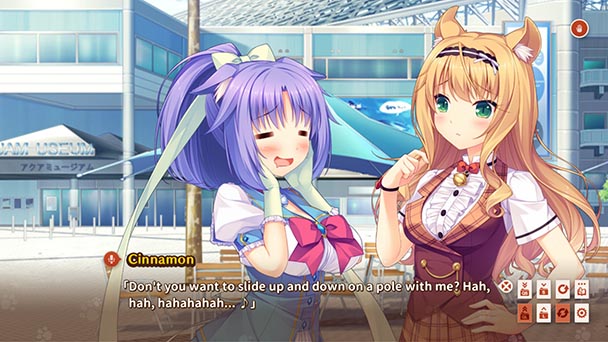 Unsurprisingly, the bulk of the episode is rooted in exposition for Maple and Cinnamon, with the former recalling a dream she had and her ambitions to make it a reality while the latter provides a heart-warming amount of support for her long-time friend. While the core conflict might seem like a natural highlight for the kinetic novel, often the spirited interaction between the cast is charming enough to warrant a readthrough. While the cat-girls might seem constructed around timeworn trope, Nekopara gradually breaks the confines of convention, with exposition that hints at traits and quirks. Although a succinct seven-hour read, it's very likely that Nekopara Vol. 3 will warm your heart.
Regrettably, if you purchase the Steam version, other body parts won't be affected. In accordance with Valve policy all the R18 content has been excised from the game, upsetting the continuity when a mention of sexual activity is mentioned. But if you want to see the eight, extended ecchi scenes, you'll have to buy the novel or the patch from Denpasoft, effectively doubling the price. More thrifty readers will have to find solace in some of the risqué dialog that permeates the plotline.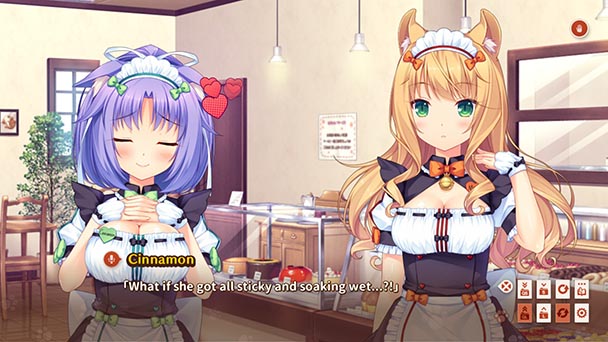 Although Nekopara's E-mote engine has permitted readers to indulge in some lavish character design, the team at Neko Works has set a new standard with Volume 3. Now, each character has an abundance of poses and facial expressions, endowing personality into each conversation. Transitions are exceptionally fluid, with a change in stance emulating the look of anime. Save for a host of selections for output resolution, Nekopara's other main adjustment is a slider than controls the amount of on-screen bounciness.
Save for a single typo, Volume 3's localization is proficient, evading the humdrum discourse that can stem from a direct translation. Much like the previous episodes, Nekopara's voice work is spot-on, with each actress helping to bring aspects of each neko's personality to life. The game's theme song, "Nekoichi" is pure infectious J-pop, but is prohibitively priced, costing just as much as the novel.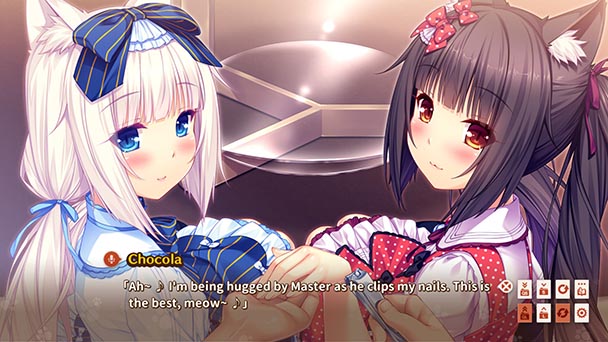 If you're a fan of kawaii cat-girls, The Nekopara series should be considered, with each entry blending a fluffy plotline and plenty of furry-eared charm. While Nekopara Vol. 3's story is comparable to past iterations, its visual delivery has been purr-fected even further, helping La Soleil outshine any real-life locations.
Nekopara Vol. 3 was played on the PC with review code provided by the publisher.
Nekopara Vol. 3
Platform: 
PC

Developer:
Neko Works

Publisher:
 Sekai Project

Release date: 
May 25th, 2017

Price: 
$9.99 via
Steam
, $8.99 through June 2nd
Review Overview
Summary : NEKOPARA Vol. 3 is pure digital catnip for neko fans, enchanting eye, ear, and mind with a delightful, light-hearted yarn.