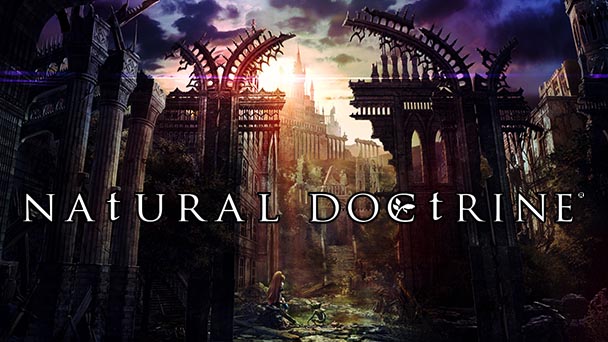 Video games habitually push the boundaries of sensory overload, whether it's the number of projectiles in a bullet hell shooter or the simultaneous task-juggling required by real-time strategy titles. Personally, I prefer the overstimulation caused by a superfluous amount of on-screen data. Games in Sting's Dept. Heaven series not only burdened with complex play mechanics, but would consistently exhibit several simultaneous ticker-tape bands of figures. It was pure stat-porn for the mathematically-minded.
Although NIS America's release of Natural Doctrine for the PlayStation 3, PlayStation 4, and PS Vita doesn't quite match Knights in the Nightmare and Gungnir spectacle of on-screen statistics, the title does provide moments where players are inundated with multiple rivers of visual and aural information, tasking them to make crucial decisions amidst a cacophony of indicators. Fortunately, it's a lot more fun than it initially sounds.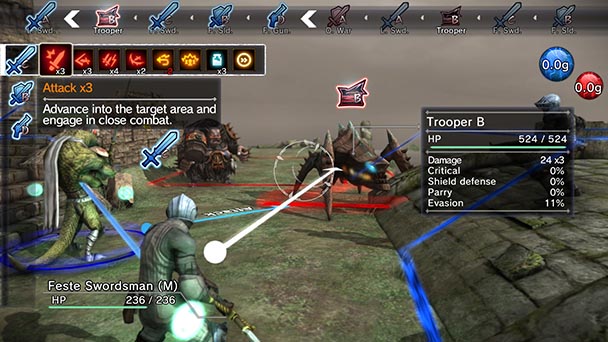 At the heart of Doctrine's combat model is linking- a system where adjacent units combine their offensive capacities into a dominating assault. While it might sound like the type of combos that has driven franchises like Disgaea, there's much more nuance in it. Natural Doctrine abandons the small grids and hexes that are ubiquitous in the tactical genre, for large rectangles that delineate movement and attack ranges.
Once a group of allies share the confines of one of these boxes, the title reveals its distinctive ruleset. Characters can't be too close to each other, or else they won't have enough room to execute an attack. In fact, increasing the distance between party members swells the amount of damage or the probability of earning a critical hit. Herein the stream of stats emerge, with vibrant colored connection indictors divulging percentages between comrades.
As Doctrine takes place in labyrinthine dungeons with multiple heights, firearm-equipped adventurers have to worry about the environment impeding a line-of-sight attack, while melee attackers need to be aware of elevations. Mercifully, a press of right trigger shifts the player's perspective, alternating between two overhead views and an over-the-shoulder perspective that recalls Valkyria Chronicles' viewpoint. While the title's clearly articulates whether a shot is capable of hitting a target, friendly fire is entirely possible.
Essentially, moving characters with the left stick while targeting enemies with the right works well, maintaining the momentum of battle. With enemy AI reacting fairly swiftly and intelligently, the only really element which slows down the speed of battle are Doctrine's fighting animations. While seeing a wayward axe swing leave the weapon buried in the ground is amusing the first three times, before long these routines becomes monotonous.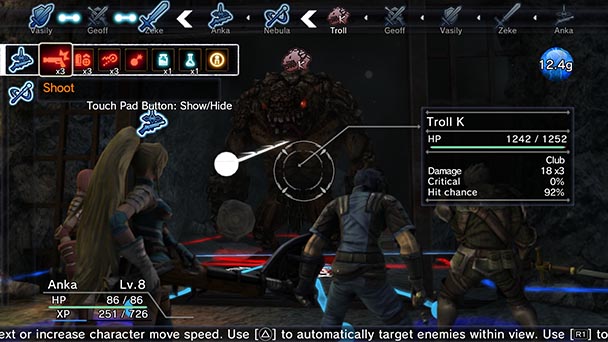 And while the battle sequences do drag a bit, it does give time for player to think about initiative. At the top of the screen is a linear sequence showing the order of battle. While it's an essential tool for planning your attacks, waiting for a strike can be circumvented. Once the players imitates an attack on an opponent, and adjacent allies can also join in. In essence, this becomes Natural Doctrine dominant play strategy and forces parties to think and move as a single unit.
Naturally, the game throws a plethora of problems to disrupt that tactic, such as a pre-scripted event where one character stands on a switch to keep a door open. Notably, Natural Doctrine takes a role-playing attitude toward its cast, with characters destined for certain roles and predetermined banter between party members as players explore each foe-filled expanse. While it may not provide the satisfaction of building your own treasure-hunting troupe from the ground up, it does provide a bit of a story arc, endowing each character personality. What's more, it subtly guides the action, as say Anka, the resident gunner is capable of blowing holes through weak walls or picking the locks of doors. The emphasis on teamwork is so heavy that if a single character perishes, players aren't sent back to the last mission checkpoint.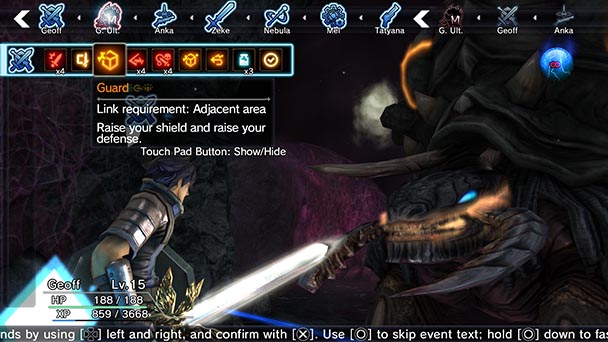 That said, Natural Doctrine does give a generous amount of leeway in the ability set of each character. Each successful mission rewards party member with both equipable loot and skill points- with the latter being able to unlock new ability and stat boosts. Although Geoff, the game's all-around warrior, starts the game with the ability to block, he can soon learn an advanced guard to shield nearby allies from attack. Other perks include additional attacks and the gift of starting each mission with a HP-replenishing potion. All this is an addition to a traditional leveling system, which gradually increases each characters ability level as they grow in experience.
Beyond Natural Doctrine's robust single-player campaign, there's also a multiplayer component with an unprecedented twist: the game supports cross-play between the all platforms. Naturally, there were a scant number of competitors in the duration leading up to the game's Stateside and European release- yet navigating through the game's menu gave a promising impression. Online or ad-hoc players are able to engage in either competitive or cooperative matches using teams built from decks constructed by in-game cards. Mercifully, the game is self-contained, with no hooks build-in for DLC purchases.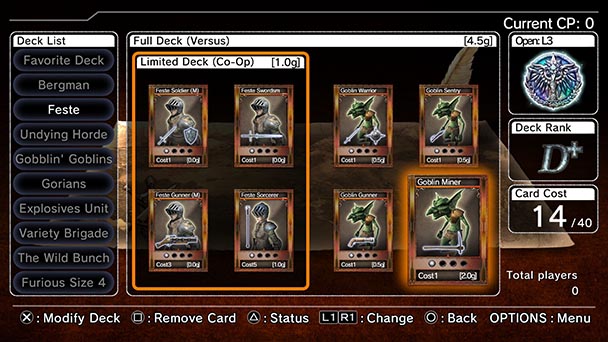 When Natural Doctrine was released in Japan, some bemoaned the game's lofty level of difficulty, cause the title to receive a post-release patch to moderate the challenge level. For the stateside release, there's a range of difficulty levels- and while the Easy setting allows for a very small margin of strategic error, the game shouldn't be too much of a challenge for those familiar with basic battle tactics. While there is a multi-stage tutorial, crucial play components are usually explained only once, meaning players might have to repeat the lessons if they want a strong foundation of knowledge. The other piece of advice I'd give to my fellow tactician is to scrutinize the main menu- shifting screen allows players to modify elements like event art and voice-over language.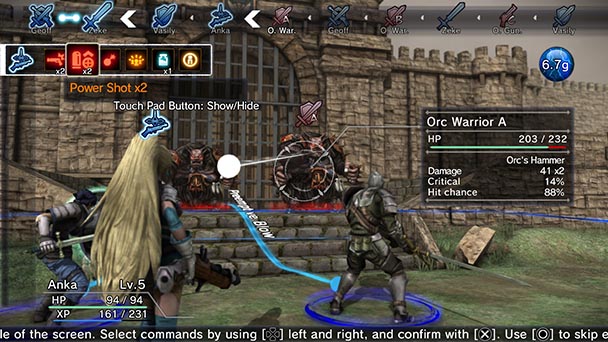 As Kadokawa Games inaugural effort, Natural Doctrine is quite prodigious, easily ranking among the PS Vita's best strategy titles. While the game has a few minor aesthetic issues, from repetitive battle animations to music which loops a bit too often, all these are relatively minor issues. At its core, Doctrine is the type of innovative strategy title that's all too rare on dedicated hardware. Fans of the tactical role-playing genre shouldn't miss it.
Natural Doctrine was played on the PS Vita and PlayStation 4 with review code provided by the publisher.
Natural Doctrine
Platform: PlayStation 3, PlayStation 4, PS Vita
Developer: Kadokawa Games
Publisher: NIS America
Release date: September 30th (US), October 3rd (EU)
Price: $59.99 PS4, $39.99 PS3, Vita
Language(s): English/Japanese voice, English/Japanese text
ESRB: Mature
Review Overview
Summary : Natural Doctrine could easily recommended on the quality of its single-player campaign. But factor in a separate deck-based competitive mode that's playable across all three platforms, and the title should be the next move for every armchair tactician.