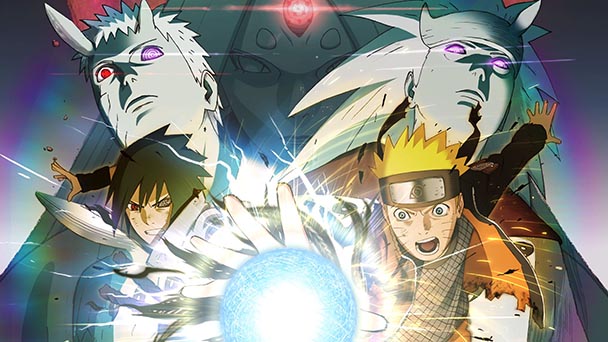 Given the quality of most modern adaptations, it's easy to forget that most games based on manga and anime were routinely horrible. From the eight-year localization cycle delay faced by the lackluster Dragon Ball Z: Ultimate Battle 22, Zatch Bell! Mamodo Fury's monotonous fighting, and the depressing misfire known as Mobile Suit Gundam: Crossfire, many games failed to capture the spirit of their source material- disappointing legions of animation aficionados.
But that abruptly changed when CyberConnect2, fresh from making their faux-MMORPG, .hack, tackled Naruto, offering a respectable rendition of Masashi Kishimoto's long-running manga. Not only did the succession of PlayStation 2-era titles recreate each character's signature jutsu, but they were also surprisingly engaging fighters, putting participants in conflicts that aped the aesthetics of the anime. I still remember marveling at Naruto: Ultimate Ninja 3, as the game had the original Japanese voice-overs and permitted players to explore a three-dimensional reproduction of Hidden Leaf Village. For anyone with even a passing knowledge of the property, Ultimate Ninja proved to be the Hokage of interactive adaptations, bolstered by a capable combination of combat and Naruto lore.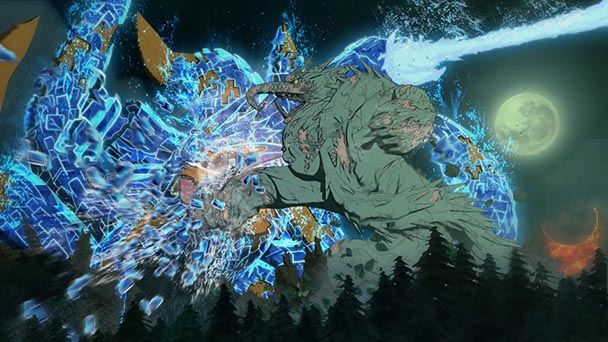 One decade and fifteen follow-ups later, CyberConnect2 is still leading the charge. Although manga and anime-based games might have improved over the last ten years, the Fukuoka-based team remains at the forefront, delivering a visual spectacle that captures the look of Studio Pierrot's hit series. And while hardcore purists might still scoff at Naruto Shippuden: Ultimate Ninja Storm 4's straightforward mechanics and abundance of quick-time events, both of these constituents allow the game's target audience to summon screen-filling, retina-searing ultimate jutsu.
An obvious starting point into Ultimate Ninja Storm 4's collection of content is the Story Campaign, which offers a twelve-hour trek through Shippuden's concluding story arcs. Given the protracted accumulation of characters and conflicts, it would be impossible for the title to provide an unabridged overview of Naruto history. Instead, the title picks up after the events of the last game, plunging players into the fourth Great Ninja War, where the Allied Shinobi Forces battle Akatsuki. Luckily, if you're not quite up to speed on the epic storyline, Ultimate Ninja Storm 4 provides enough flashbacks to provide context- which is imperative given the poignancy of the narrative's finale. As such, those new to Kishimoto-san's output would be better off tracking down the previous franchise titles.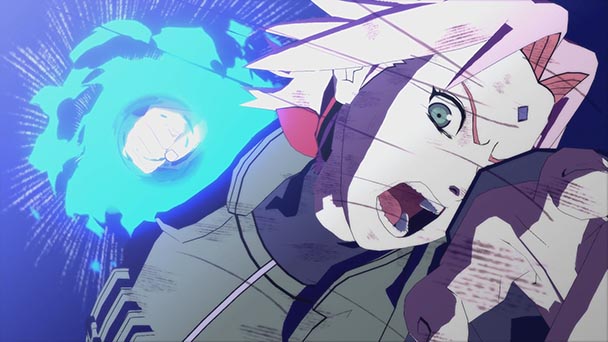 In execution, story mode strives for variety, mixing animated cut-scenes with static stills, more conventional fights with at least a dozen epic boss battles- and even the unexpected on-rails shooting sequence where players can take control of characters like Susanoo. Although the Story shirks the light role-playing approach used by previous titles, it also circumvents linearity. Often during the course of events, there are branching paths that not only provide two means of progress, but also extend parallel conflicts occurring across the Ninja World. For gamers with limited amount of recreational time, Ultimate Ninja Storm 4 even gives a conservative estimate how long it will take to complete each stage. Save for the tendency for AI to stay out of reach while peppering opponents with ranged attacks, this is one considerate ninja.
Beyond Story mode, players can also take on missions in Adventure Mode- in a context that's set after the events of the main story. Naturally, the errands almost always end in showdown, which would have made the Adventure seem superfluous if it wasn't for the recreation of classic fights and the ability to visit many of the work's principal locations. Beyond this, Ultimate Ninja Storm 4 also extends the traditional venues, with tournament, versus, free-play, survival and practice mode vying for your recreational time. As there's not even a digital manual, the latter is the best way to brush up on your jutsu.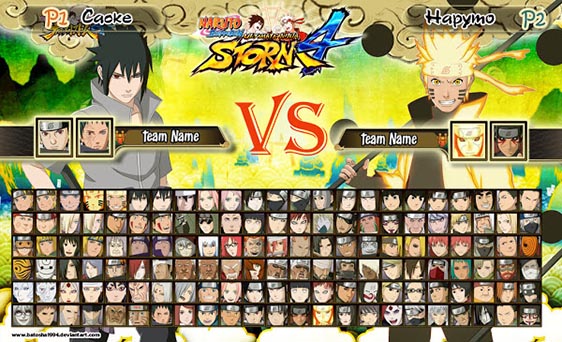 Although combat draws on the mechanics established by previous entry, there are enough additions here to make Ultimate Ninja Storm 4 feel distinct. The Leader system allows players to make the most of the game's massive roster, allowing for the creation of three character teams where you can switch between combatants. Accessed with a flick of the right analog stick and regulated by a meter, the change allows show nuance to showdowns.  Now, when you feel that an opponent is getting the upper hand with a speedy fighter, you can swap out your heavy hitter for a nimbler ninja. Being able to run up walls seem like a minor modification, but it's just another tool to keep rivals from predicting your next move.
Quick Time Events are often contentious, with the believe that they reduce interaction to minimum levels. Here, they permit Ultimate Ninja Storm 4 to showcase massive amount of visual spectacle without the type of finger-contorting, reflex-based demands of most fighters. Given, the source material and the quality of the eye-candy, it's a fair trade-off, and most players will be accepting of the compromise.  To help sweeten the deal, the title Interactive Actions (IA), rate the speed and accuracy of your button presses. React quickly and you'll earn stars which are used toward unlockables.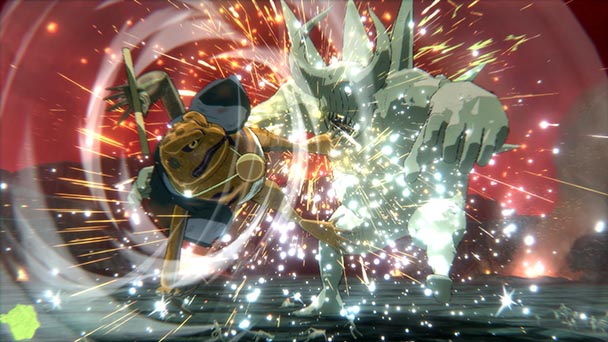 As the fourth and final game in the series, Naruto Shippuden: Ultimate Ninja Storm 4 is a near-requisite purchase for fans of the manga and anime. Echoing the sentiment of the concluding story arc, the game is a fitting send-off- offering an appropriately epic storyline and a massive compendium of fighters that help recreate many of the memorable battles of the source material. While the actual fighting might be a bit simple, it's geared toward a fan-base that would most likely devote their time to watching and reading rather than rehearsing quarter-circles.
Naruto Shippuden: Ultimate Ninja Storm 4 was played on
the PlayStation 4 with review code provided by the publisher.
Naruto Shippuden: Ultimate Ninja Storm 4
Platform: PlayStation 4 (reviewed), Xbox One, PC
Developer: CyberConnect2
Publisher: Bandai Namco Entertainment
Release date: February 4th, 2015
Price: $59.99 console versions, $49.99 PC
ESRB: Teen
Languages: English and Japanese voice acting
Review Overview
Summary : CyberConnect2's series has always been one of the best licensed games around, with its accessible play and dazzling delivery. Naruto Shippuden: Ultimate Ninja Storm 4 for the PlayStation 4 ups the ante, advancing a game no Naruto fan will want to miss.