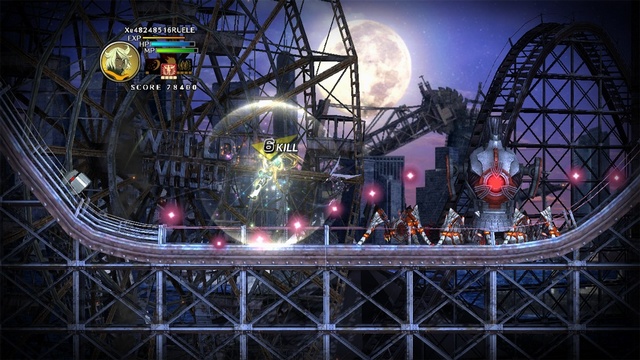 As last year's Castlevania: Harmony of Despair demonstrated, converting a beloved single player title into a contemporary co-operative game can be a thorny undertaking. One of the principal quandaries is difficulty scaling: what might be a normal challenge for a solitary participant, has the tendency to become a cakewalk when multiple players enter the fray. Harmony of Despair imprudently refused to make any type of adjustment, leaving behind a exasperating single-player experience. Recent Xbox Live Arcade release (after a March debut in the PlayStation Store) Moon Diver narrowly escapes a similar fate.
Whereas Konami was able to garner gamers attention with a celebrated moniker, developer Feel Plus Inc. (Ju-on: The Grudge, MindJack) is unable to capitalize on retro reminiscence. With Kouichi Yotsui acting as the title's producer, and a main character with an arsenal of acrobatic, sword-swinging moves, Moon Diver is a sequel to the Strider series in all but name. Like the much-loved franchise, players alternate between carving through swaths of foes and navigating a jagged two-dimensional  environments.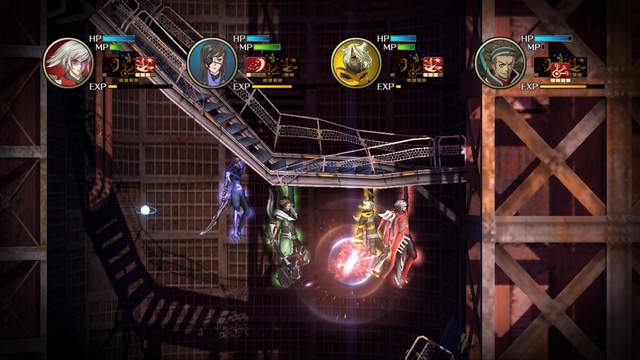 Players are given a pleasing repertoire of moves as they make their way through the game's twelve enormous stages. From double jumps, wall climbs, slides, and hand-over-hand ceiling scuttles, Moon Diver's control set finds a gratifying balance between variety and simplicity. Additionally,  the quartet of playable protagonists (along with a fifth DLC character) are each equipped with four MoonSault slots- granting players access to healing, projectile, and freezing abilities. Levels even conceal supplementary powers, encouraging players to scour the recesses of each location.
Pleasingly, Moon Diver also possesses a  light role-playing element- with even botched excursions rewarding players with experience. As characters level up, players are given points to spend on heath, magic, and melee intensity. For single players, this mechanic helps subdue Moon Diver's strenuous difficulty, where similar foes attack with escalating ferocity. With up to four online or local players working cooperatively, annihilating the title's angry swarm of foes is considerably easier. Yet with an increased number of gamers, tracking your protagonist amidst the chaotic on-screen action become considerably harder, especially if two player have picked the same character. Conveniently, Moon Diver allows participants to effortlessly  jump in or out of ongoing games.
Although the title's visuals are elevated by character design by Tatsunoko Productions' Roberto Ferrari, the game occasionally succumbs to narcissism. Activating a MoonSault combination plays an uninterruptible cinematic- interrupting the flow of combat. While the disruption is only sporadic is single-player game, it tends to spoil the cadence of co-operative matches. The game's soundtrack channels a decidedly retro vibe- while the game's music is energetic, the mix is heavy on the mid-range. The first time I played Moon Diver, I thought the tweeters on my sound system had stopped functioning.
Despite a handful of niggling blemishes, Moon Diver's biggest imperfection is its price. At fifteen dollars the title feels a bit expensive- a problem that's exasperated by additional charges for score attack modes and an extra character. Built upon a game mechanics where adversity leisurely changes from level to level, Moon Diver is likely to be enjoyed by retro enthusiasts. All others are encouraged to at least wait for a small drop in price.