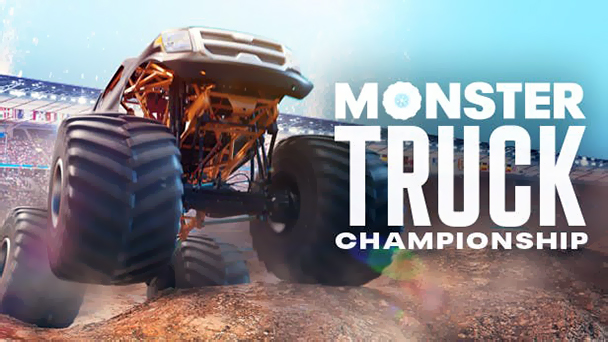 Monster Truck Championship offers a realistic recreation of its inspiration. Racing, stunting, and destruction are all appealing once you're mastered the controls. But you might wish the developers opted for a more accessible approach.
Monster Truck Championship
Platform:
Xbox Series S/X and PlayStation 5, previously released on PlayStation 4, Switch, Xbox One, and PC
Developer:
Teyon
Publisher:
Nacon
Release date:
 March 15th, 2021
Price:
$39.99 via physical or digital media
Availability:
Microsoft Store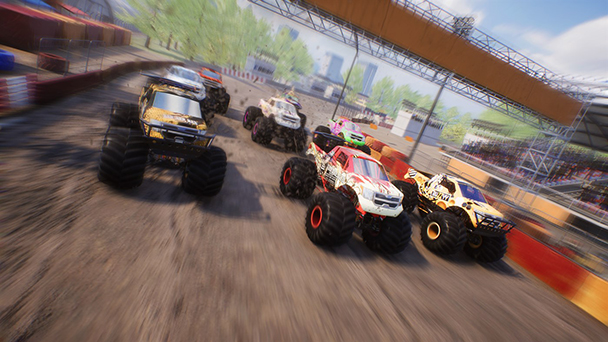 Seemingly, monster trucks are ideal video game subjects. With their oversized tires, sophisticated suspensions, and eye-catching artwork, they sport an unmistakably iconic appearance. When it comes to performance, these racing alcohol-guzzling behemoths habitually tout their destructive capabilities by crushing old cars like beer cans. So, it's rather surprising that they have a subdued presence in interactive media.
With the arrival of Monster Truck Championship on Xbox Series S/X, developer Teyon hopes to change that. Originally released last November, the title now showcases 4K/60 FPS delivery, adding extra responsiveness to the game's roster of non-licensed giants. Much like the original release, MTC is at its best when it allows players to harness the destructive power of these 11,000-pound trucks. It's hard not to smile when chaining a long jump with a smash that splinters an old trailer. While the game has its flaws, it's hard to fault its intentions. MTC is far more simulation than arcade-like amusement and offers a respectable recreation of trying to control a massive machine.
Like a Turtle on Their Back…
Before heading into the game's trio of stadium tours, you'll probably want to make a brief pitstop at Championship's tutorial. Save for the aggravation of having to listen to instructions before gunning the accelerator, there is gratification found in learning the basics. From performing donuts, bicycles (where trucks precariously balance on two tires), to landing jumps, you'll get a handle on the fundamentals. But once you actually hit the dirt, there's still a lot of learning ahead of you.
Much of this is because monster trucks don't handle like cars. While low-slung vehicles can effortlessly drift around corners, these beasts have a much higher center of gravity. As such, races are persistently precarious with over-acceleration throwing you into track barriers or rolling your truck. Don't assume that you'll be able to hold down the accelerator through one of MTC's events. No, this is motorsport sim that requires deft braking as well as steering your rear wheels.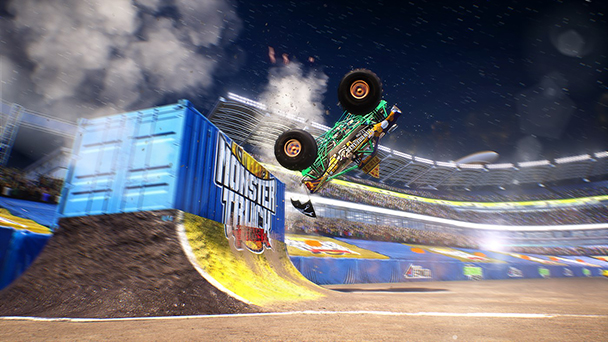 Wrist-dulling Vibration
The latter feels vaguely like drifting, but with a taut balance between a tighter turn and a rollover. MTC's haptic feedback (which produces a steady, aggravating vibration) lets you know how rare four-wheel traction is. Growing accustomed to the massive weight of your vehicle will undoubtedly take time, especially since the game doesn't offer the kind of assists present in Codemasters' and Turn 10 Studios' titles. And that's a significant issue that might be prohibitive to more casual players.
The aforementioned developers habitually extend a rewind system, so a single botched turn on the last lap doesn't ruin the entire race. While the game will let you retry single events in the middle of a multi-venue competition, that's the only assistance you'll find. To make matters worse, during races, AI opponents tend to follow a fixed route. Spin out in front of a pack of trucks and expect them to crash into you, ruining any hope you might have had for recovery. On the upside, your rivals don't adhere to rubber-banding. This is especially true for drag races which are notably easier than the snaking competitions where you'll jostle with adversaries.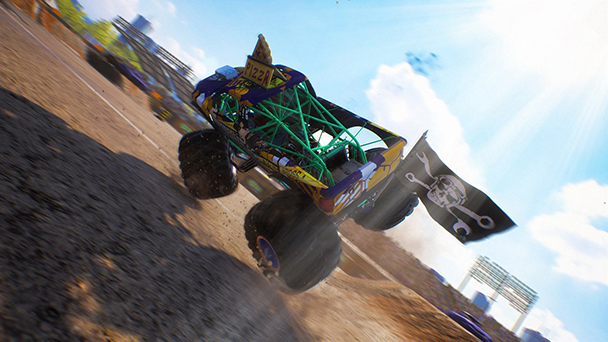 Three Progression Tiers of Ten Events
MTC's non-racing events tend to far best. Drag races aren't the typical straight sprints, routinely containing jumps and a hairpin turn. They occur on mirrored courses that intersect in front of the finish line, promoting the possibility of a last second collision. Freestyle events require players to chase scores by stunting. Here, MTC feels like Tony Hawk with a sumo wrestler boarder and your truck lands jumps, flips, and endos around a course without crashing. Much like the celebrated skating game, combos are necessary. Here, you'll be constantly scanning the stadium, assessing each part of the environment for point opportunities.
Destruction events are another winner, mixing in shattering old junkers, sending giant tires flying, or landing a jump on top of a row of RVs. Not only do these acts escalate your combo multiplayer, but they'll also add time to the clock. As such, these events favor stage memorization rather than moment-to-moment improvisation. Naturally, a salvo of fireworks detonate when you hit the big jump. While the announcers and crowd remain uncharacteristically calm, it's hard not to imagine a stadium fill with frenzied fans on their feet.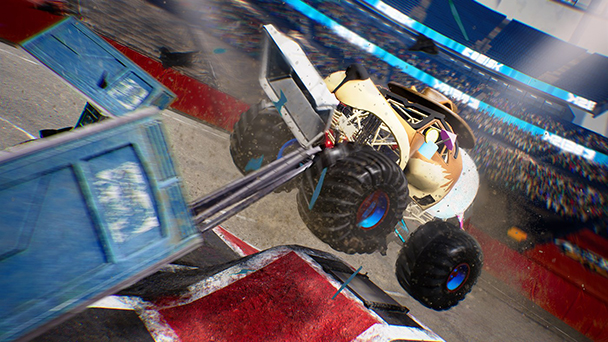 Fixing Broken Parts is Cheap, Buying New Parts is Expensive
Performance is imperative in real Monster Truck shows. MTC dabbles with simulation of the autosport, rewarding players who hire engineers and mechanics. But you'll never feel the heartbreak of disappointing an arena filled with fans due to the game's simplistic crowds. What's more, while you'll have to pay for damages to your vehicle, it's a paltry sum, confiscating much of the tension elevated by attempting wild stunts. At worst, you'll lose a few seconds or have to restart the event.  Contrast this with equipment upgrade prices that require grinding and you have a formula for a bizarre in-game economy.
As a now-gen title, Monster Truck Championship has moments of visual attractiveness. Assets like the trucks and their enormous tires are detailed; look closely and you'll even see small cracks in the tread. But other elements aren't nearly as realistic. The dirt and smoke trails left behind competitors look like the kind of effect you'd find in an Xbox 360-era game. Similarly, there's appears to be some placeholder sound effects that found their way into this re-issue. Skid on dirt tracks and you'll encounter a squeal that sounds suspiciously like a car skidding on wet asphalt.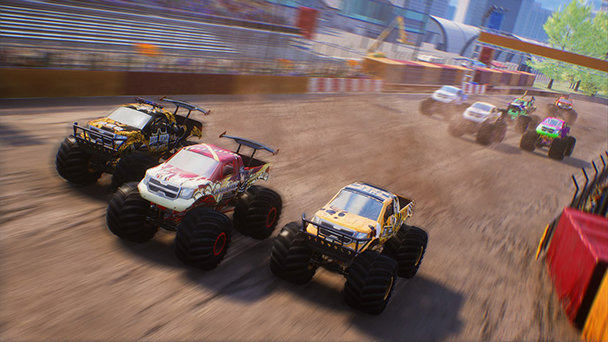 Conclusion
Ideally, Monster Truck Championship would follow the system of most modern racers, extending various amounts of control-based assistance. Undoubtedly, many of the game's events are fun, but racing in particular requires a substantial amount of proficiency.  Sure, there's enough enjoyment in the other event to provide a recommendation for fans of vehicular sports. But a balanced difficulty could have opened up the game to fans who might overlook monster truck derbies.
Monster Truck Championship was played on Xbox
Series X with review code provided by the publisher. 
Review Overview
Summary : Monster Trucks are insanely powerful, incredible loud, and delightfully destructive. Monster Truck Championship comes close to doing them justice.