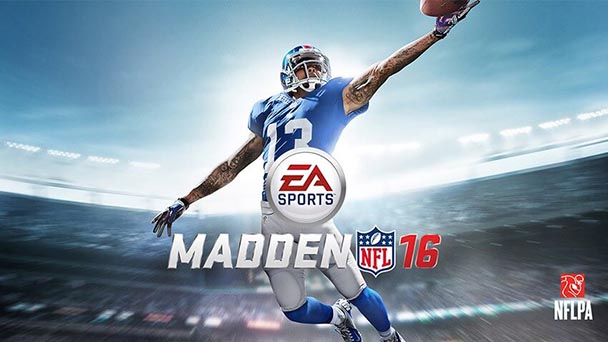 When John Madden Football was released for the Sega Genesis in 1990, few could have predicted it would become the prototypical sports game franchise. Purportedly, the Pro Hall of Famer and former Oakland Raider coach required realism before endorsing the title. But looking back, the inaugural entry lacked many of the fundamentals that modern players assume, missing essential elements like team and players names. In fact, the original console version was so barebones, it only included 16 of the league's 28 teams.
Subsequent sequels mended these transgressions, while adding additional components that allowed Madden to better simulate the sport. From the integration of pre-season games, audibles, injuries, and even digitized commentary, the series gradually grew, establishing the annual iteration. But over the past decade or so, this approach produced its own faults, with Madden NFL improving some areas of the game, while recycling others- making for a decidedly uneven experience.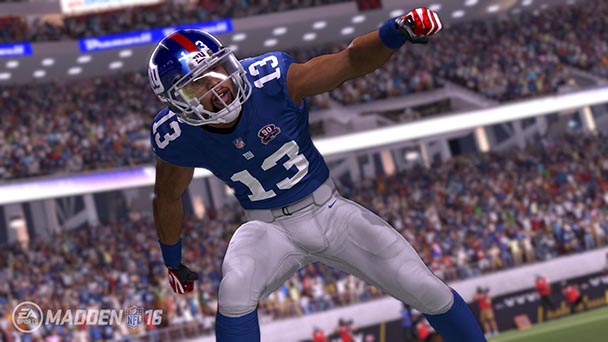 Capably, Madden NFL 16's enhancements and new elements gel together seamlessly, delivering an exemplary version of the game for now-gen console owners. Although there are still a few wrinkles that need to be ironed out, the title demonstrates one of the most enjoyable and convincing football simulations that developer EA Tiburon has ever created.
That said, Madden 16 makes a mixed first impression. When the game is booted up for the first time, players are dropped into an imagined Superbowl matchup between the Arizona Cardinals and the Pittsburg Steelers. While the concept is noble, elevating Madden's already invigorating play with cutscenes voiced by Antonio Brown, Patrick Peterson, and Ben Roethlisberger, as well as a stirring soundtrack- there's a noticeable gap in quality between the cinematics and the on-field action.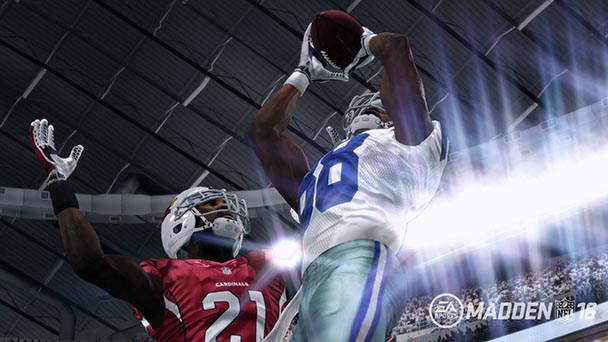 Close up, the pros are dead-eyed, there's unmistakable artifacting, and the branching scenes lumber along at thirty frames-per second. But once control is handed to the player, Madden's traditional field perspective comes into view, and players get a taste of the persistently fluid and exhilarating game that awaits. What's so frustrating about the sequence is the sheer missed potential. There are fleeting moments when the narrative hints at the type of adrenaline-fueled energy generated by sports films. But too often, technological seams stymie the sequence, lending the belief that the interactive experience won't reach realization for another year or two.
But once players actually take to the field, the blemished introduction is quickly forgotten. Newcomers are encouraged to make their way through Madden 16's new tutorial system, which offers a painless method to absorb the game's range of play mechanics across 25 distinct areas. Returning gamers might even find the set of lessons helpful for the new toolset that's bestowed to quarterbacks.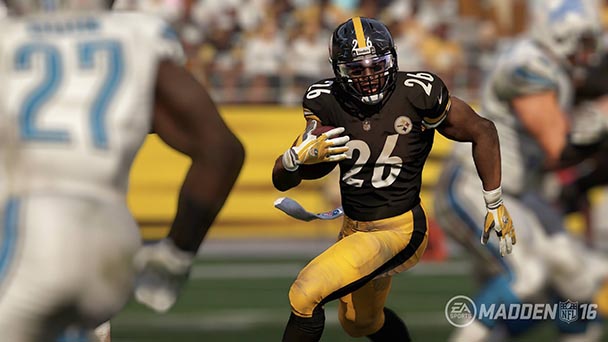 While QBs can still opt for bullet passes and deep lobs by either holding or tapping the receiver button, now they can also adjust the height of their throws. By using either the shoulder buttons or triggers, players can control elevation, allowing for an agile receiver to produce that completion. Coupled with the option to touch pass with a double tap, Madden 16's provides passers with nice array of easy-to-execute options, which provide an intriguing risk-to-reward ratio. Naturally, the quarterback's ranking affects the precision of the toss, with less seasoned players apt to throw one into the AstroTurf, or worse- pitch the pigskin right into defensive hands.
With Odell Beckham Jr.'s turn as cover star, is little surprise that NFL 16 allows players to emulate the Giant's wide receiver's dazzling athleticism. Now, the controller's face button provide a trifecta of catching options. With aggressive and possession-securing grabs, receivers can opt for the risky leap or the safety of ground, while 'run after catch' puts receivers in position to potentially steak past a defender.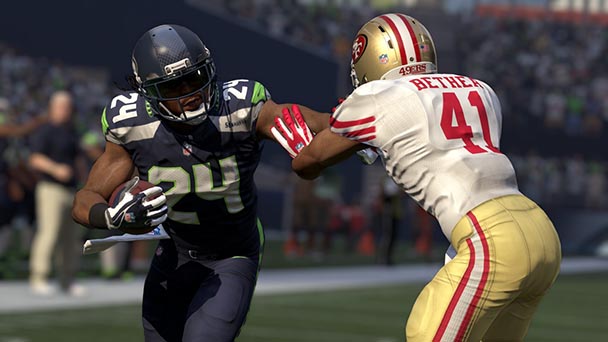 Madden 16's determination for parallelism means the defensive players also benefit from the addition of new mechanics. Different button presses can either send players into position to break up the pass, or inversely, cause them hug the receiver, with an imminent hit stopping forward progress or even instigating a fumble. Madden's ambition for natural multi-defender tackles is coming closer to fruition. Although, the unnatural contortions or gliding can still be seen, tackles generally look and feel more organic, offering a myriad of branching animations.
On paper, Madden 16's changes sound like the typical perennial tweaks rather than significant alterations. But collectively, they bring Madden's number more in line with the stats of an actual game. As such, players aren't likely to see dozens of sacks or receivers carrying for 800 yards in a game. While there's still a handful of outliers, the sense of simulation has substantially increased, intensifying Madden Ultimate Team and the new Draft Champions component.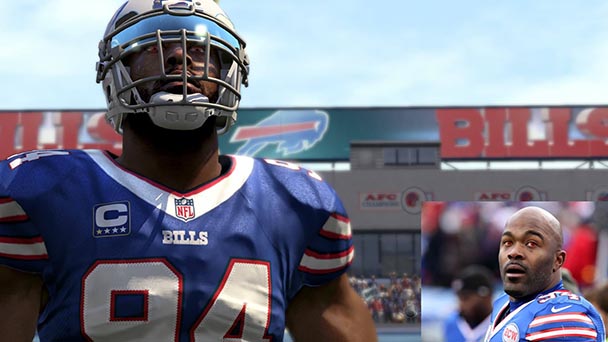 MUT's biggest change is the addition of Ultimate Moments, where players are tasked with success across a variety of timed scenarios. While a small refinement, it helps to quicken the pace of improvement for your squad. Meanwhile, Draft Champions puts one of two players through a streamlined, 15 round draft. Starting off with a rather weak roster, each turn allows participants to choose from one of three players. Tough decisions abound, essentially tempting each player with either playing with a few luminaries, or creating an all-round capable team. Cleverly, the inclusion of NFL legends adds another variable, allowing players to explore some fascinating fantasy teams.
For some, the continued absence of Online Team Play will be a bit of a sticking point. Missing from last year's iteration, the component allowed for a trio of online friends, allowing for lively three on three matches. Although matchmaking shows this wasn't a universally popular play type, there was an enthusiastic consistency of OTP players who will undoubtedly be disappointed by the lack of revival.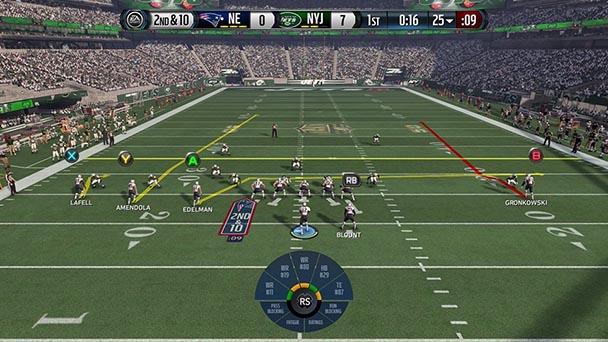 Beyond the First Interactive Experience, Madden NFL 16's presentation is persistently top notch. Equipment and gear is consistently eye catching, allowing players to discern diminutive details like the glimmering paint of helmets or the realistic light and shadows of evening games. New camera angles allow stadiums to appear suitably enormous- and coupled with a soft focus on crowds, shots can verge on photorealism. Elsewhere additions like having giant virtual monitors adorn the playfield and Wirecams that occasionally reveal their own shadows endow the game with broadcast-level splendor. One of the few visual setbacks in the tendency for even veteran players to engage in rookie, post-score showmanship. Occasionally, in-game commentary from Jim Nantz and Phil Simms delivers a deliberate gaffe, to amplify the sensation of human authenticity. But all too often, the team supplies painfully obvious statements or makes avoidable errors. Sorry, guys but low scoring games aren't always defensively driven, but the product of three-minute game quarters.
Despite a few minor blemishes and the odd omission, Madden NFL 16 is easily Tiburon's best effort in years. With augmentations designed to intrigue series vets and convivial lessons ideal for newcomers, the title aims to broaden in audience, are consistently on-target. Coupled with mechanics that provide both new strategies and bring the stats in line with a real game, this year's game is a worthwhile contender, even for owners of last year's iteration.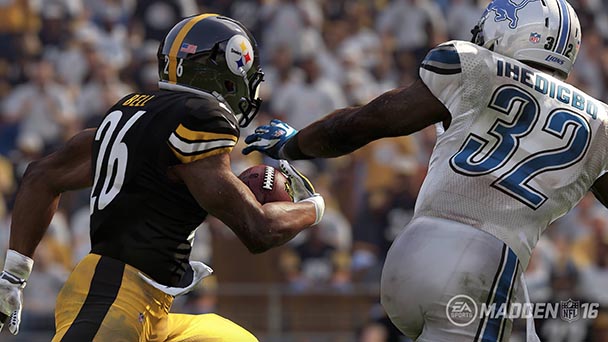 Madden NFL 16 was played on the Xbox One with review code provided by the publisher.
Madden NFL 16
Platform: Xbox One, also on Xbox 360, PlayStation 3, and PlayStation 4
Developer: EA Tiburon
Publisher: Electronic Arts
Release date: August 25th, 2015
Price at release: $59.99 via retail or via digital download
Review Overview
Summary : Madden's off-season alterations have often lead to an uneven experience, favoring either the offensive or defensive. This year, both sides get a substantial upgrade, making for one of a delightfully cohesive game destined to please players of all skill levels.