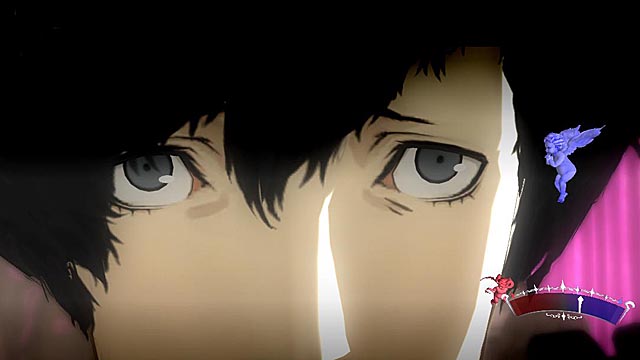 Despite an obsession with bombastic violence and a near-constant objectification of the female body, there are signs of maturation in gaming. Faced with refreshingly pensive objectives, Catherine challenges participants to prevail against the type of dilemmas faced by the average thirty-something. Sure, Atlus' marketing efforts might have played up the title's sexiness, but Catherine is worlds away from the sophomoric titillation exhibited by Itagaki-san or Bayonetta.
Hardly the archetypical, forceful protagonist, Vincent Brooks is an timid thirty-two year old whose existence is governed by complacency. Tension arises when Vincent's long-time girlfriend, Katherine McBride, yearns to become the marital partner that her surname suggests. Following a round of drinks with a band of bachelor friends, Brooks' routine is upended by Catherine- a spirited and adventurous young women who is the polar opposite of his prim partner. While subjects such as the viability of a long-term commitment and fidelity will certainly resonate with a demographic, all should enjoy watching Vincent's increasingly madcap emotional downfall. Cleverly, the developer prohibit gamers from associating too closely with the protagonist, framing the game as a pulpy television program.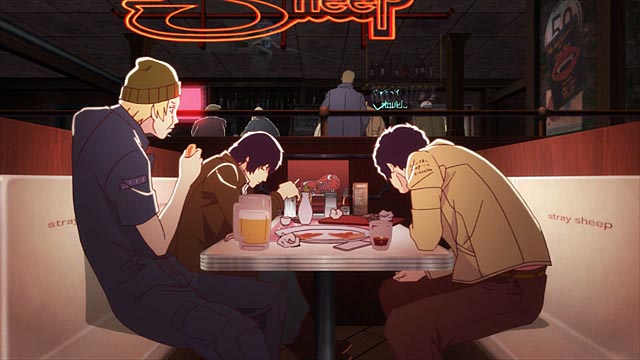 Lest you think the game is a esoteric exercise in navel-gazing, Catherine surrenders a tall tower of conventional, adrenaline-pumping action-puzzling. Here, Altus' Shin Megami Tensei Team allows players to peer into Brook's guilt-ladled psyche- a landscape dominated by pillars of blocks, egotistical sheep, and the unnerving klaxon of church bells. Across each evening of the game's nine night duration, players are thrust into Vincent's subconscious, where they must push, pull, and navigate their ways to the top of the screen. As players persevere, these stages become increasingly frantic with additional nuances designed to prohibit your ascent to the top of the tower, and back into the game's storyline.  Smartly, the notorious difficulty of the Japanese release has been dialed down, allowing players without the patience for puzzling to follow the game's plotline. Additionally, optional tutorials are offered to players in the landings between each tower.
Even on the game's 'easy' setting, Catherine's climbing and block manipulation is no pushover. If the developers were hoping to illicit a sense of panic in players, they've succeeded marvelously. With a constant crumbling base, bosses which drop down control-reversing  hearts, and tongue blocks which threaten Vincent with a lethal licking, pulses are certain to rise. Yet, despite a lofty level  of challenge and the sporadic frustrating fumble, Catherine's climbing game will maintain a player's interest, through additional two-player and retro-themed variants.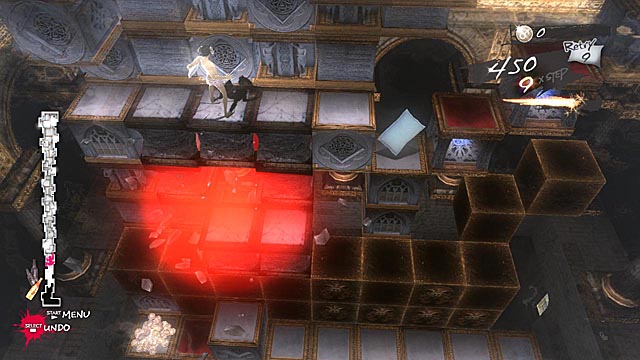 Elegantly, Vincent's waking hours are just as interesting- allowing for conversations which complement the phantasmagoric jaunts. Here, the protagonist can chat with bar patrons, drink (which affects his speed in the nightmare realm) or communication via phone or text message with Katherine or Catherine. Dialog with the two women involves choosing from a list of varying responses, ranging from douchey detachment to genuine empathy, turning the title into a very elaborate (and fascinating) Rorschach test. As with best works of literature or film, Catherine obliges players to ponder over their own life decisions.
Periodically, players also participate in a poll, answering queries both pensive ("Does life begin or end at marriage?")  and pervy ("Would you have sex with a ghost if it were attractive enough?"). Each survey response and conversational choices factor into the game's karma meter, which gauges a player's morality on a scale bounded by a red devil and blue cherub. While some are bound to be displease with the explicitness of the system, it is instrumental in guiding gamers to the title's octet  of endings.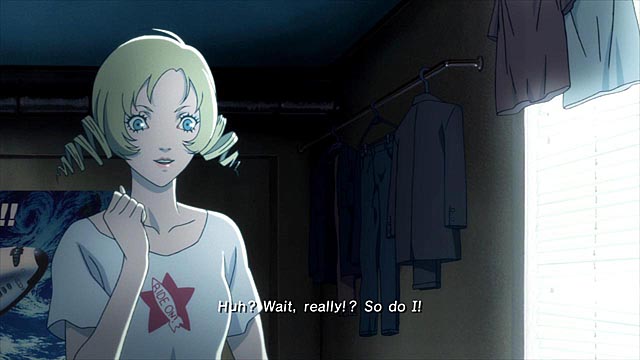 While Studio 4°C's visual interpretation of Catherine's landscape is impeccable, with an evocatively drawn cast, a new minor quibbles are sure to erupt from the game's presentation. Although the localization team did their best to synchronize English voicework with the game's Japanese-speaking characters, phrasing can sometimes sound stilted. Purists are sure to gripe about the lack of subtitled option, which given the capacity of a Bluray disk, seems like a strange omission for the PlayStation 3 version. Yet, the title's most conspicuous blemish is the change in sound level from prerendered cutscenes to in-engine segments. Each of these transgressions is relatively minor when measured against the game's otherwise sumptuous presentation, which is certain to stoke to desires of players anxious for Persona 5.
The overwhelming majority of our games hope to emulate the flash of a summer blockbuster, searing retinas with a brilliantly vapid succession of explosions. Conversely, Catherine is more like the heady indie film, whose taut sequences are bookended by the type of dialog which encourages debate long after the credit have rolled. If you find that prospect even slightly intriguing, give Catherine (and Katherine) a chance to cultivate one of the most memorable and rewarding rapports in gaming.