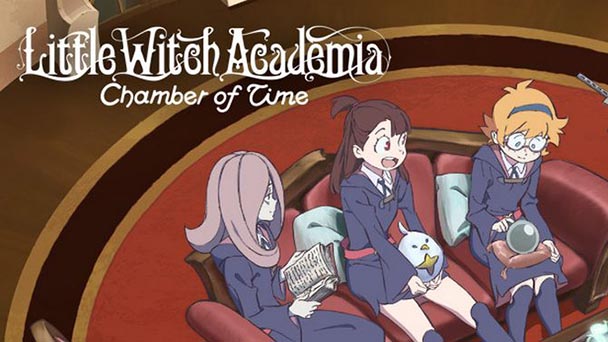 The recent PlayStation 4 and PC release of Little Witch Academia: Chamber of Time demonstrates the difficulty of adapting certain anime genres into video games. Sure, shōnen typically makes for a straightforward transition, with Naruto Shippuden: Ultimate Ninja Storm, One Piece: Pirate Warriors, and Dragon Ball Z turning each series' boisterous battles into interactive experiences. But, Studio Trigger's Little Witch Academia's conflicts are rooted just as much in the social as they are when the trio squabbles with the supernatural. As such, Chamber of Time is split between two divergent experiences.
A significant amount of your playing time will be in a recreation of the Luna Nova Magical Academy. Like much of Chamber of Time, a substantial amount of effort went into recreating the layout of its interior. If you've watched Little Witch Academia, you've undoubted seen the dormitories, lecture halls, offices, and library. But being able to explore these locales and perceive their general arrangement will likely generate a feeling of subdued satisfaction, making Luna Nova seem less like a backdrop but an actual place. Fans will certainly appreciate the small details, like the poster of Shiny Chariot hung in a dorm room.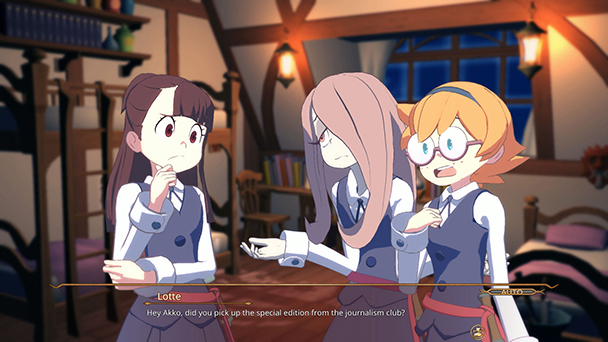 However, moving around the academy isn't as graceful as it should be. Sure, lead character Atsuko "Akko" Kagari's normal walking rate is a bit too sluggish. But at least that issue can be remedied by holding down the run button. But the bigger setback is learning how to navigate the academy. Between exploration's side perspective view, an ambiguous 'you are here marker', a rotating mini-map as well an overhead one, and load times between sections, it's easy to get your signals crossed in the game's early hours. Sure, you'll come to terms with the way navigational information is presented, and will eventually be able to fast travel, but it feels like Akko's first day at the academy for longer than it should.
Expositionally, Chamber of Time captures the feel and dialog of the series and films, opening with Akko in trouble. Her punishment consists of re-shelving books in the library, a task so tedious for her, that she falls asleep after just three spell books are returned to the proper places. During her slumber a cloaked figure enters the room, leaving a well-weathered tome on the table in front of her. Once Akko's roommates, Lotte and Sucy show up to check in on her, they discover that the old book is the key to opening a hidden vestibule in the library, thereby leading to the game's eponymous room.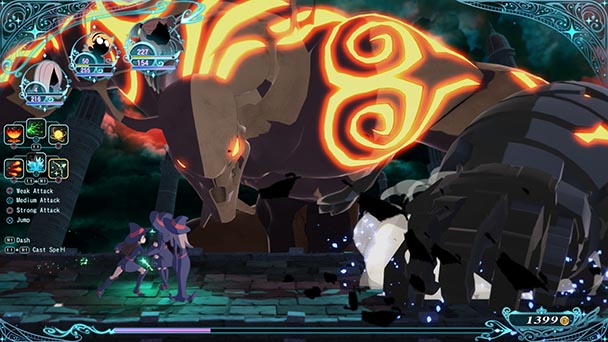 Further exploration reveals Chamber's hook, with time resetting every day at midnight. Expectedly, this means there are a myriad of small problems at Luna Nova and it's up to you to prevent these from ever occurring. In execution, everyone at Luna Nova has a preset schedule and you'll have to keep an eye out for any troubles, altering some element when the day begins anew. Pleasingly, there's no real punishment for fixing things, beyond going to bed and starting the cycle anew.
Akko's limited magical abilities means she's often forced to use potions, a requirement that lead players into Chamber of Time's action-driven segments. Here, the game gives players a customizable arsenal, with weak, normal, and heavy attacks as well as spells that can be cast as often as your magic pool permits. Agreeably, you don't have to fight antagonism alone, as you'll have two selectable party members with you, selecting from potential favorites like Lotte, Sucy, Amanda, Constanze, Jasminka, or even Diana.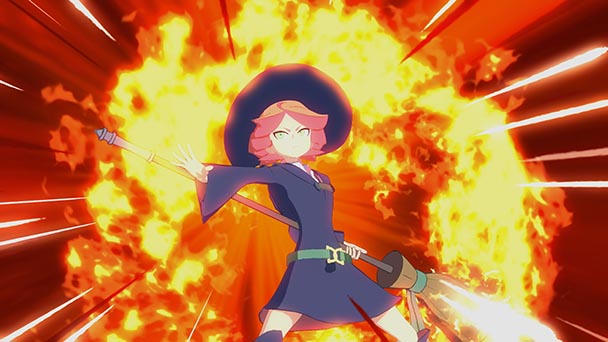 Your partners all act autonomously, so you don't have micro-manage in the middle of a boss fight. The downside, expectedly, is that they're only as useful as their experience level, so you'll probably develop a default adventuring party. Interestingly, Chamber of Time's default stat allotment fall in line with the characters, meaning Akko has a pathetically shallow pool of magic points, while Constanze is an exceedingly competent gunslinger. But spend enough time finding and equipping loot, and bolstering the desired stats, and you can overcome almost any shortcoming.
One area where Chamber will surprise is the amount of customization at your disposal. Beyond shaping the proficiencies of party members, there's over sixty different spell you can slot into six different keys, as well as the loot that you'll earn as you make your way through the game's dungeons. And undoubtedly, you'll need this flexibility. While most subordinate foes and a few bosses are pushovers, there are a few that will goad you in grinding up and respeccing your team. But even then, there's the occasional villain that will take multiple attempts to defeat.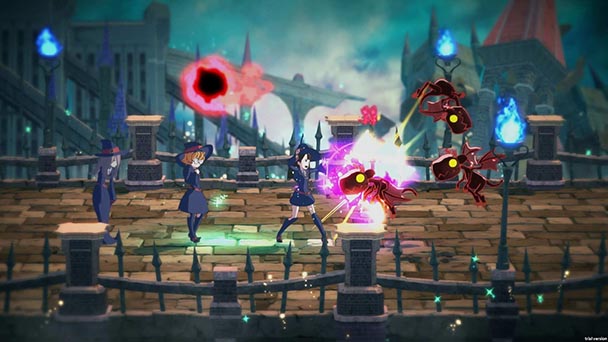 Artistically, Chamber of Time aspires to recreate the look of the anime and films, but reveals a few issues. The game's cell-shaded character models certainly resemble their counterparts, lacking only a bit of detail. Personality is conveyed through spirited animations, which are amusing, although they recycle a bit too often. Possibly, the most disappointing element of the game's visuals are the level of performance, with framerates sporadically dipping when there more than a few characters on-screen. But on the upside, A+ Games should be commended for their integration of material from the show. From animation sequence drawn by Trigger, a soundtrack culled from the show, and the original voice actors, there's a sense of authenticity in Chamber.
Turning Little Witch Academia into a game must have been a difficult task. Unlike many anime that focus on action, amusement stems from observing the witches in training play off each other, rather than engage in heated action. As such, Chamber of Time offers an admirable adaptation that captures the details of the films and series. But before enrolling in Luna Nova, you'll need to die-hard fan with a moderate amount of patience, since adventuring is a fairly dawdling pursuit. Those unfamiliar with the property will probably want to skip this title; Chamber of Time represents fan-service in the most fundamental form.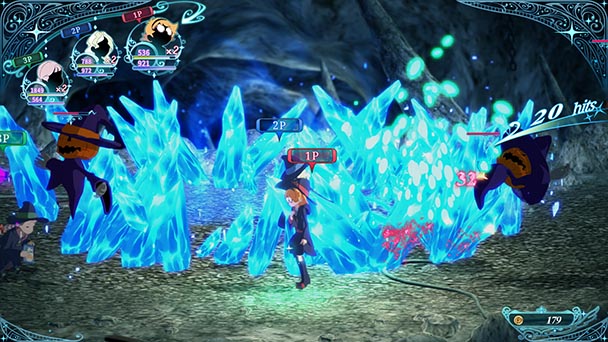 Little Witch Academia: Chamber of Time was played on the
PlayStation 4 with review code provided by the publisher. 
Little Witch Academia: Chamber of Time
Platform:
PlayStation 4, PC

Developer:
 A+ Games
Publisher:
 Bandai Namco Entertainment
Release date:
 May 15th, 2018
Price:
 $49.99 via physical and digital download (PS4), $39.99 via
Steam
(PC)
Review Overview
Summary : Viewed as an adaptation, Little Witch Academia: Chamber of Time achieves, recreating many details from the films and anime. But as a game, it's like Akko's spell casting. The potential is obvious, but the execution can be lacking.