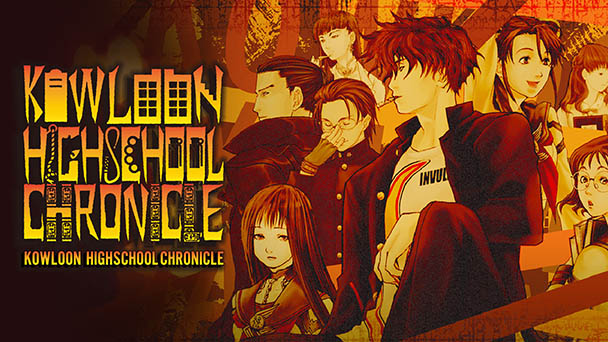 Kowloon Highschool Chronicle is a throwback to a time when games were unabashedly experimental, blending genres and mechanics in the pursuit of an experience that feels truly unique.
Kowloon Highschool Chronicle
Platform:
Switch
Developer:
Shout! Design Works, Toybox
Publisher:
Arc System Works
Release date:
February 4th, 2021
Availability:
Digital
Price:
$29.99 via
Nintendo eShop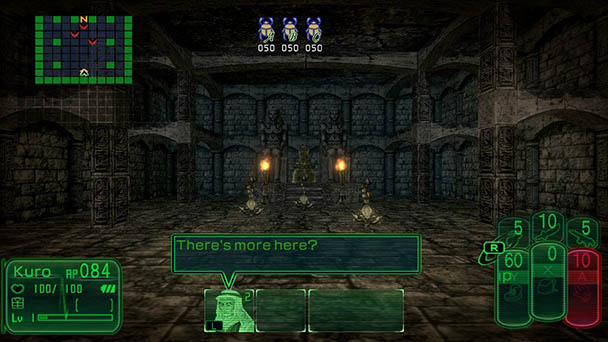 Before the dominance of streaming, there was still a bit of mystery in gaming. Often, obscure titles were summarized in first- and second-hand oral anecdotes that seemed incredulous. Originally released on the PlayStation 2 in Japan, 2004's Kowloon Youma Gakuen Ki must have fashioned some descriptions that sounded like fever dreams. "It's a visual novel by day and a dungeon crawler at night, where you play a young Indiana Jones-like character. Did I mention there's an option to lick other students and there's a whole game within a game?" a friend might say. Interests would undoubtedly be piqued.
Unfortunately, Kowloon Youma Gakuen Ki didn't perform well in its home territory. But positive word of mouth eventually grew, leading to a re-release two years later. The revision added elements like new characters and an epilogue that provided a bit more closure than the game's original ending. While stateside games aren't getting the Re:Charge iteration, we are receiving the next best thing. Kowloon Highschool Chronicle for the Nintendo Switch offers a localization of the original title, while providing modernizations like widescreen support and additional voice acting. It's a title that has aged remarkably well, with a blend of puzzling, social bond building, and combat that feels distinctive and remains fun seventeen years later. And yes, that game within a game is in there.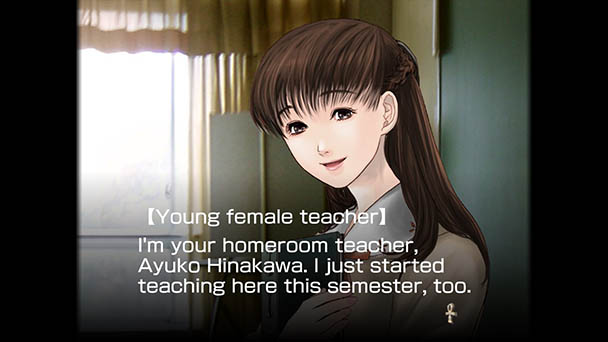 Teenaged Tomb Raider
Right from the start, Kowloon Highschool Chronicle makes a lot of shrewd design decisions. While most developers might have built up a sense of intrigue before letting you lose in a dungeon, the title thrusts you into an underground vault at the start. Although movement uses the same kind of tile-based movement seen in dungeon crawls like Wizardry and Etrian Odyssey, there's a lot more interactivity. The lead character can crawl through tight spaces, jump, use night vision, and even attach a grappling hook to help assist your explorations. Interestingly, ruins are often built from an assembly of smaller rooms. In execution, this helps with navigational progress, typically putting solutions like switches adjacent to the mechanisms they impact.
Additional guidance arrives in the form of the Hunter Assistant Network Tool (or H.A.N.T) an in-game computer that clarifies terminology, tracks encountered enemies, and even has its own email system. Charmingly, it feels and resembles a device from the early 2000s, an aesthetic that spills over to dungeon crawling. Here, you'll examine points of interest and receive information on your heads-up display, with everything rendered in the kind of glowing green hue reminiscent of monochrome monitors.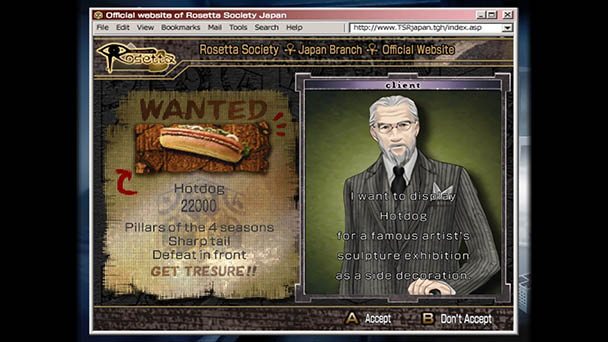 Old Fashioned Charm, Modern-day Visuals
But that's not to say that Kowloon Highschool Chronicle looks antiquated. Dungeon texturing rivals any contemporary crawl, while the game's visual novel segments use stylized photos of an actual school. Even the game's bust-ups don't scream early millennia and shirk the look of say, 2003's Muv Luv. Instead, there's much more of a classical influence that draws just as much influence from ukiyo-e as it does from manga. Pleasingly, the incorporation of professional voicework is a great addition and adds to the game's episodic vibe. However, there a few blemishes associated with the localization. The 'end' credits for each chapter aren't translated and worse, font sizing is inconsistent in H.A.N.T. There's also the issue of text disappearing when a button is used to advance the dialog. Luckily, it doesn't happen consistently, and there is a backlog, so players can review conversations.
Fortunately, combat inside the ruins are near flawless. Highschool Chronicle could have retained the typically turn-based showdowns found in most dungeon crawls. But instead, fighting is much more interactive, tasking players with using AP for moving around each battlefield and using melee and ranged attacks. While it's not on the level of something like XCOM, there's just enough nuance to make you consistently look forward to encounters. From weak spots to elemental susceptibilities, there's typically an advantage to be gleaned, provided players are up for some experimentation. Pleasingly, the game's trio of difficulty settings do a suitable job of scaling the level of challenge. Few things are worse than getting stuck in a game because of an obstinate boss.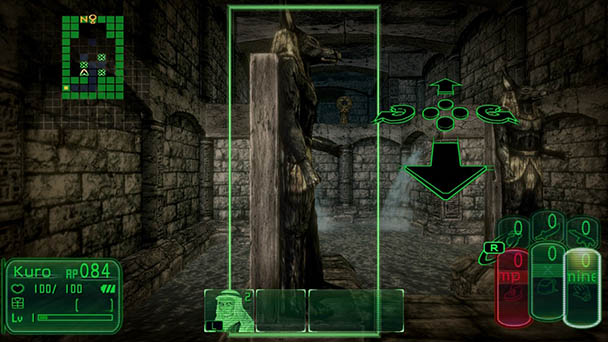 School Spirits?
After an introductory exploration in Cairo, the protagonist travels to Shinjuku's Kamiyoshi Academy. With exposition conveyed through visual novel-style interaction with classmates, Kowloon Highschool Chronicle cultivates a fulfilling sense of intrigue, especially given the mysterious disappearance of the school's last transfer student. You meet peers who range from the resident class-ditching delinquent to the perpetually energetic sidekick as well as the affable and lovely language teacher. Pleasing the title keeps the pace lively. Just when the plot shows signs of slowing, there's typically a strange incident to shake things up.
You'll be communicating with characters via the Emotion Input system, where you'll have access to eight different types of responses, as well as unresponsiveness. Pushing the directional pad in one the four cardinal directions selects a general sentiment, while holding it intensifies the reaction. In execution, you're able to articulate everything from gentle agreement, loathing, and arousal, with the game giving a tone if your choice resonated with the other character. But reading the ornate font with overlapping letters used by the system might make a bit of time, especially on the Switch Lite's diminutive screen.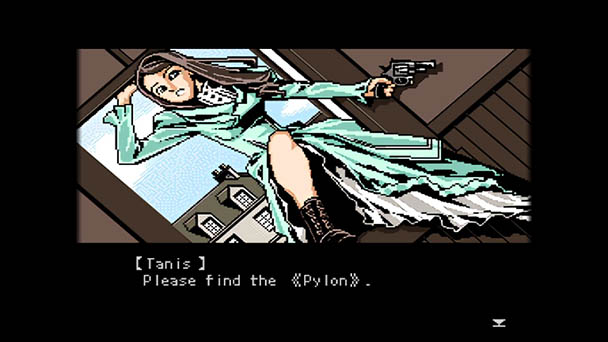 Conclusion
Undoubtedly, one of the best things about Kowloon Highschool Chronicle is the sense of discovery as you make your way through the title. You'll encounter wonderfully offbeat design decisions like a report card where grades are determined by your in-game actions. Who knew that excelling at math would be related to lock-picking? Agreeably, the game conceals some of its appraisals. While I was pleasant with the academy's counselor, Highschool Chronicle assumed that I had a preoccupation with white lab coats.
Even when you're not treasure hunting or uncovering the ambiguities at Kamiyoshi Academy, the title imparts of feeling of delightful sense of discovery. Sporadically, small in-game mechanics aren't explained compelling players to figure them out on their own. None of them are too unconventional or sophisticated to need a FAQ, but they contribute to Kowloon Highschool Chronicle's enigmatic feel. Fundamentally, the demonstrate that gaming is a bit more enjoyable when there's an aura of mystery.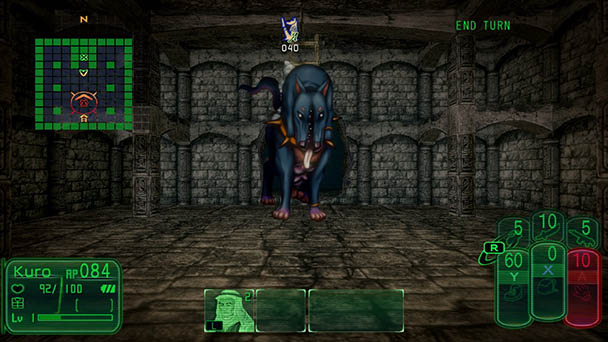 Kowloon Highschool Chronicle was played on
Switch with review code provided by the publisher. 
Review Overview
Summary : While Re:Charge would have been the better candidate for localization, it's hard to find fault with the wonderfully enigmatic Kowloon Highschool Chronicle. Fans of offbeat PS2-era adventure will love unearthing this lost gem.