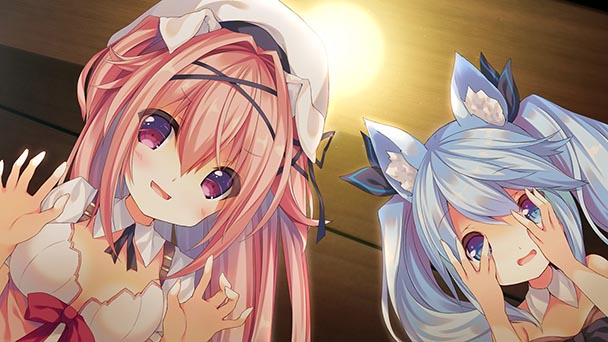 Often it's the attractive full-screen images known as CGs (for Computer Graphics) which attracts an audience toward a visual novel. But arguably, it's the narrative that faces a tougher job- with exposition and dialog tasked with maintaining a reader's interest once the aesthetic allure has faded. Certainly, with doujinshi darling P19 (Himegitsune no Servant, Vamp on the Deadline) handling character design and illustration, Karakara is adept, offering a barrage of muted-pasted, magnificently moe-fueled artistry. Contradicting the novel's dystopian, arid climate, Karakara is a rural realm of cobalt-blue, stratocumulus cloud filled skies, which offers a picturesque backdrop for its adorable four-character cast that includes a trio of achingly cute cat-and dog-girls.
But it's Karakara's world that's bound to sustain interests. Early on, readers are told of a cataclysm that has radically reduced the population. Shrewdly, the disaster is ambiguously explained, with history and knowledge steadily slipping from collective knowledge. Likewise, yesteryear's technologies are still around, but without the comprehension of how they work, they are gradually growing extinct. What is known is the state of the present- with characters reminding us of escalating scorching temperatures, and a constant dryness that's inferred with the onomatopoeia in the novel's title.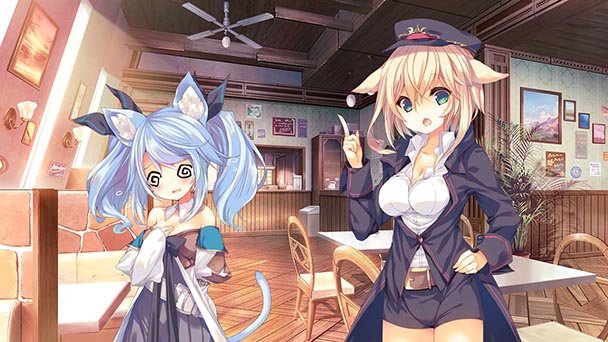 Unsurprisingly, ganbaru is the central theme on display, prohibiting Karakara from ever feeling disheartening. When lead character Leon inherits a diminutive diner after his parent's death, assistance arrives with the auspicious appearance of Lucia Haynes. Now with the restaurant for over four years, the fluffy-eared secondary's knowledge helps the diner squeeze out a small profit, through work that leads the duo exhausted after hours of preparation and delivery. But indefatigably, the team labors on, undeterred by the occasional criticism of too many mushrooms in the box lunch.
When buyer occasionally mistake Leon and Lucia for a couple, there's embarrassment, as the two strive to keep a platonic relationship. But that amicable union is transformed when the duo stumble across a dog-girl named Aisia Mayfield, lying vulnerably on a suitcase in the middle of a desert. Naturally, Leon offers to take the young girl in, immediately offering a position as a live-in assistant. It's here, that Karakara reveals the intricacy of relationships, with the addition of Aisia transforming bonds. Appearing on Valve's distribution arm, things can get Steam-y, but lascivious minded readers will want to pick up the Denpasoft release for unedited gratification.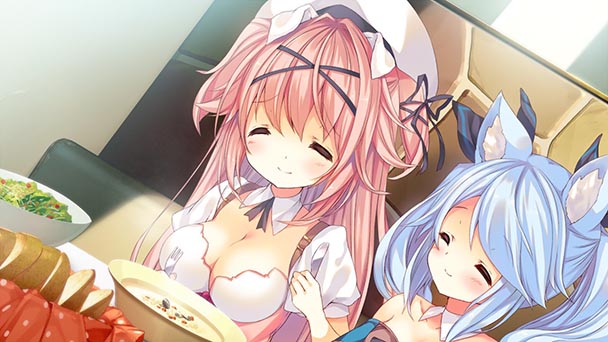 Largely, the novel's world building is adept, with a substantial explanation of how cat and dog-girls came into being. More interesting and slightly underdeveloped in the merging of East and West cultures in the novel's imagined setting of Sagami Francisco. Narratively, Karakara doesn't make an obedient exit, with a conclusion that brings the experience to an end without much of a sense of closure. As such, it feels like the bulk of developer calme's efforts went into the context, rather than mapping out a fulfilling story arc. While a sequel might soften this transgression, expecting the audience to double-down is a bit of an encumbrance.
As Karakara is a kinetic novel, there's are no branching paths, only a conventional plotline. While this might degrade replayability, there are the requisite VN offerings, with an unlockable CG and Music galleries to revisit the work's exquisite art and melodic details. One interesting feature is Karakara's bilingual option, which displays both English and Japanese text on-screen- ideal for those learning kanji and kana. With the ability to autoplay, review previous dialog and quick-save in a multitude of points, calme strives to make a pampering reading experience, as well.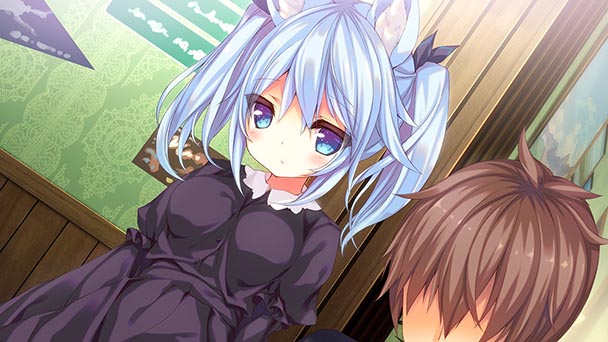 Priced at ten dollars, Karakara extends a respectable cost-to-length ratio, especially for readers who appreciate a bit of anthropomorphic playfulness. Although the novel's wrap-up might disappoint some, the rest of the four- to five- hour journey was largely blissful, thanks to attentive world building, curious characters and a catalyst that transforms the novel's liaisons. Karakara might not be revelatory, but it's spirited study of relationships is exemplary escapism.
Karakara was played on PC with review code provided by the publisher.
Karakara

Platform:
 PC
Developer:
 calme
Publisher: 
Sekai Project
Release Date:
 June 27nd, 2016
Price:
$9.99 via
Steam
Review Overview
Summary : Karakara is a kinetic visual novel that's both succinct and satisfying. Save for a lackluster final act, you're likely to find your longing for playful puckishness quenched.