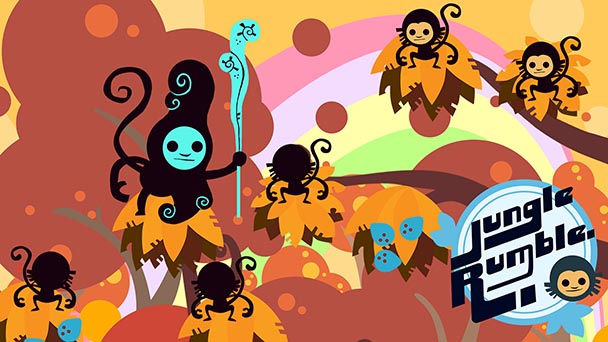 One of the more common design philosophies in contemporary gaming can be found in the mash-up. Take two or more stagnant genres, mix them together- and with a bit of creative inspiration and programming prowess, a synergistic amalgam emerges. While the recent release of Jungle Rumble: Freedom, Happiness, and Bananas isn't quite an exemplar for the process, the mixture of rhythm game and turn-taking strategy is capable of providing a few hours of cadenced amusement.
Jungle Rumble's tutorial does a commendable job at explaining the basics, using a few quick, interactive lessons rather than a longwinded lecture.  Set to a persistent 4/4 beat, the game tasks players with issuing commands to a tribe of cordial monkeys. To send a simian to a different tree branch, players tap the primate on the first and third parts of the measure, while on the second and fourth beats, the desired destination is touched. Scattered along the tree line are coconuts, which can be thrown at enemy monkeys to remove them from the forest. To attack an antagonist, players touch their own monkey three times, with a fourth touch flinging a projectile toward a nearby color-coded primate.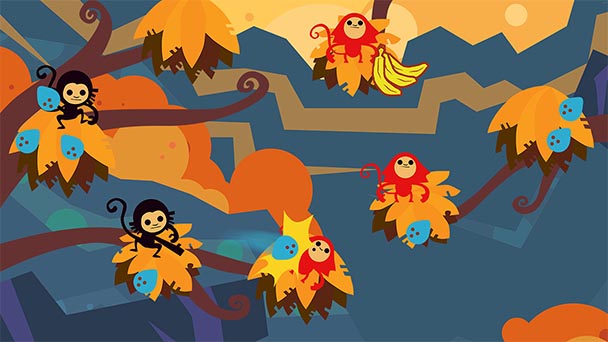 While the title's first few levels test a player's skill with a lone monkey on a static, foe-free playfield, adversity is imminent. Before long you'll have to content with moving multiple monkeys, scrolling settings, and a horde of shifting simian opponents- all without breaking the beat.
Much like the Patapon series, the combination of simple strategizing while maintaining a tempo can be off-putting at first. Mess up any of the four touchscreen pats, and the whole measure is ruined, requiring player to wait for the next procession of beats. Woefully, a single mistake can prohibit gamers from earning a gold medal on the level, a mechanic that divulges Jungle Rumble's roots as a smartphone game. Obsessives can take solace in the on-screen menu which allows a stage restart with two quick taps.
Deftly, the game doesn't allow players to get far off-track, rendering a bouncing ball so wayward players can rebound back into the rhythm. Fortunately, that's not Jungle Rumble's only source of feedback. Movement areas are highlighted, showing the areas where each monkey can move. Sonically, the game uses a bit of percussion to let players know they are on beat, which is a nice touch. Best of all, the title isn't too fastidious about rhythm. Drumming doesn't have to be exactly on beat, which will undoubtedly please players who struggle with keeping tempo in rhythm games.
For those who are cadence klutzes, stick with Jungle Rumble long enough and its two incongruent components may start to gel. For me, this happened about an hour in, and I began to appreciate a rhythm game that offered at least a bit of control, instead of sending me down a processions of tedious note highways. Of course, the sensation is a bit transitory, with players likely reaching the third, final world in about two and a half hours.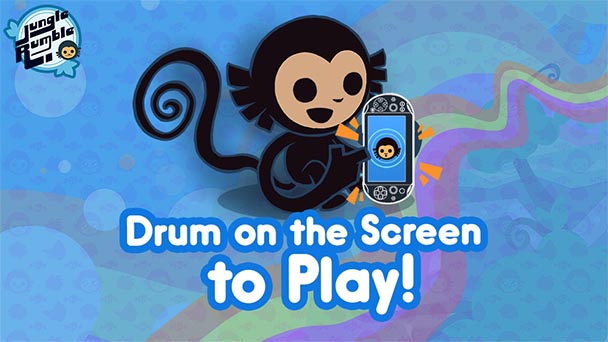 Visually, the game is colorful and charming, using bright colors and a clean, simple art style to render its jungle realms. The one caveat is the game is played with the PS Vita held vertically; which never quite feels natural. While Jungle Rumble's percussive rhythms start off simple, they gradually grow in complexity. Once gamers find a groove, each rhythms growing in intensity as players perform combos. Of course, a simple misstep brings the volume of the drumbeat back down. Later worlds bring more exotic sound effects, filling in the riffs with clanks and water drips. The game's text and load screen messages should be commended for squeezing in every monkey and banana pun possible. If developer Disco Pixel missed one, I haven't heard it.
As a port of a smartphone title, Jungle Rumble: Freedom, Happiness, and Bananas swings onto the PS Vita library without too many issues. Coding to allow the game to be played on PlayStation TVs would have been big-hearted, as well as adapting the game for play in a horizontal screen position. But neither of these blemishes detract too much from Jungle Rumble's distinct combination of rhythm and strategy genres, which manages to produce a pleasing groove.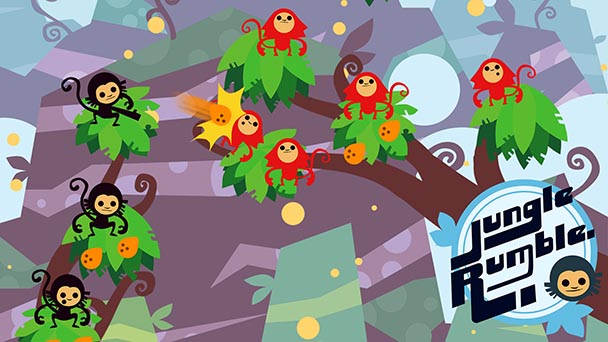 Jungle Rumble was played on the PS Vita with review code provided by the publisher.
Jungle Rumble: Freedom, Happiness, and Bananas
Platform: PS Vita, also on iOS
Developer: Disco Pixel
Publisher: Disco Pixel
Release date: February 10th, 2015
Price: $4.99 via PSN
Review Overview
Summary : While not an essential title, Jungle Rumble: Freedom, Happiness, and Bananas is an inventive, rhythmic recreation that's worthy of its five dollar purchase price.