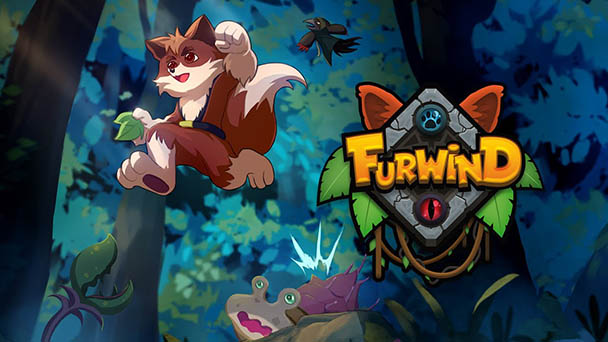 Several generations ago, nearly every gaming platform had multiple two-dimensional, character-driven platformers. Showcasing vibrant, eye-catching colors, and as many sprites as yesteryear's CPUs could handle, they became a dominant genre. But when polygons became the popular rendering method, the platformer pivoted to the third dimension.
Recent efforts in the Mario, Sonic, and Rayman franchises demonstrate that side-scrollers haven't disappeared, but the field of competitors has notably narrowed. As such, indie developers have responded, offering their own attempts at accessible, side-scrolling adventures.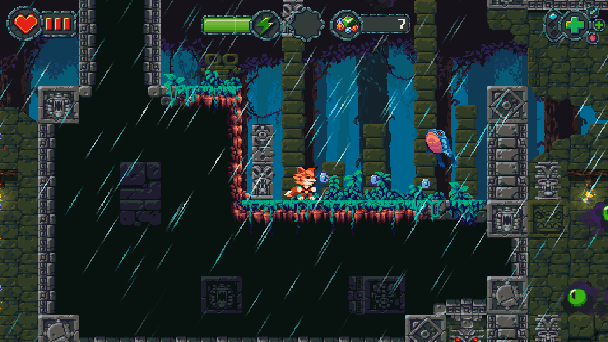 Nineties-era Platforming Revisited
Undoubtedly, Furwind could have been born during the 16-bit era. The game's eponymous mascot is a likable fox drawn in a super-deformed style, his head the same size as his body. While Furwind doesn't display an abundance of movement animation, there's the occasional delight, like the expression of blatant joy on his face during the descent from a leap. Furwind's moveset seems culled from classic platforming, with a double jump for navigation, a spin/tail slash and stomp that can eliminate enemies as well as additional unlockable abilities.
His offensive abilities need to be used carefully, though. The tail attack has a very limited reach, making it all too easy to accidentally come into contact with foes and take damage. Meanwhile, there's a few places where your stomp can damage the surface below, so you want to ensure you don't accidently activate it. In a nod to Metroidvania-style exploration, you also have a limited number of 'seedbombs' that can be thrown to destroy certain blocks, providing access to hidden areas.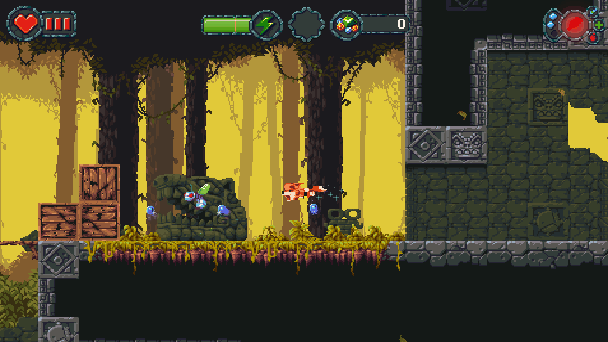 Interestingly, Furwind's abilities are regulated with attacks drawing from a meter, echoing Dark Souls' approach to stamina management. Most of the time, you won't have to worry about the mechanic with adversaries spread out, allowing the gauge to swiftly replenish.  But occasionally, the game's Prisoner and Challenge missions put you in a shrunken area filled with foes, making conservation a requite strategy.
Even Foxes Need Money
Furwind's default stages are more expansive, tasking players with searching to find two pieces of a talisman, before exiting through a portal. Typically, fragments are guarded by mini-bosses that require only a modicum of observation before discerning their attack patterns. Occasionally, the title mixes things up with a switch puzzle, which are also rather stress-free. Generally, challenge in Furwind only occurs when battling elevated foes, with the restrained reach of most attacks requiring finesse and mastery over the sense of protagonist's sense of inertia.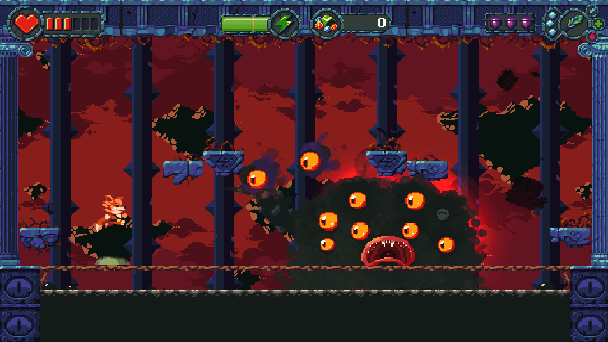 Crystals are scattered across Furwind's level, occasionally persuading players to leap over precarious areas. You'll definitely want to take the occasional risk, since these have multiple functions. At regular intervals, you can pay an exponential number of crystals to save your progress at a checkpoint. While Furwind offers infinite lives, periodically saving your progress can prevent having to revisit obstacle-filled areas. Alternatively, you can exchange crystals at Korvo's Mystic Shop to augment Furwind, elongating his health bar or strengthening his stamina.
Furwind Hasn't Forgotten the Vita
Extending a cross-buy proposition on the PlayStation 4 and Vita, Furwind retro ambitions means the modest title plays just as well on both platforms. Largely, the game's backdrops are the highlight, with both systems showcasing the attractively drawn bitmapped environments and even a bit of parallax scrolling. The game's music might not be memorable but it is charming, and there's even some voicework used for storytelling. Oddly, the narration doesn't always match the text and there are a few obvious typos.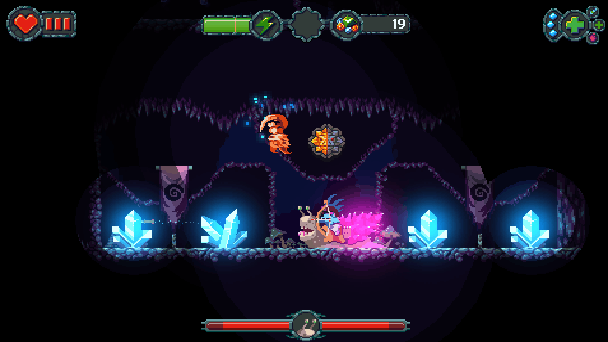 Although the inclusion of nuances like a stamina meter and different types of stages demonstrate developer Boomfire Games aiming to add innovation into the 2D character platformer, they have a muted effect on play. Fundamentally, Furwind plays like a traditional nineties-era hop and bop. For some, that's enough of an incentive to warrant a purchase. But for those who require precise controls and a plethora of polish, there might be other platformers to play first.
Foxwind was played on Vita and PlayStation 4
with review code provided by the publisher. 
Review Overview
Summary : While navigation is a little loose and attack ranges are restricted, Furwind succeeds at platforming's other fundamentals. There's a pleasing sense of exploration, attractive visuals, and engaging boss battles.