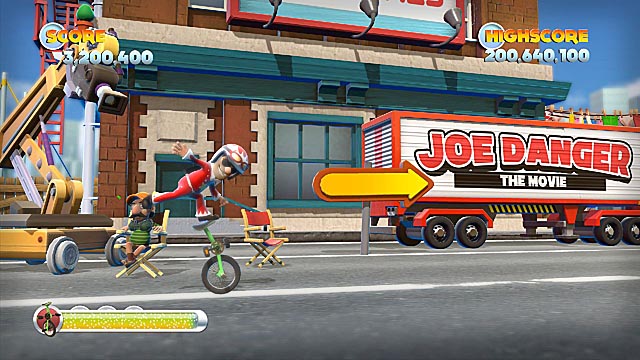 What is the concept? The impetus behind the original Joe Danger began on a serendipitous lark, as the team at Hello Games unearthed an antiquated Evel Knievel stunt cycle. Anyone who has ever seen the toy knows that the bike as two functions: to careen across improbable jumps and wipe out in stunning spectacle. Cleverly, the squad of four developers was able to translate these two aptitudes into one of the most sublimely addictive and meticulously polished experiences to hit digital download channels. Recent XBLA release Joe Danger 2: The Movie reopens Hello's toy box,provding a number of vehicular additions, cinematic references, and track components which wouldn't be out of place in any respectable Hot Wheels collection.
Joe Danger 2: The Movie's core campaign presents a procession of escalating challenges for players to confront, this time drawing inspiration from the silver screen. From Jurassic-era levels, Spielbergian dashes from rolling boulders, and chase sequences based on pulpy espionage flicks, our risk-revering hero is tasked with more than just racing to the finish line (although players are issued  a speed percentile based on the collective pace of their friend's list). Pleasingly, each stage is crammed with secondary objectives- from collecting stars, gathering the letters which spell out D-A-N-G-E-R, as well as disproving Darwinism by performing chains of precarious stunts. This time out, the intensity of adversity has been amplified, whether Joe must disarm violate warheads by pogoing on their nosecones, or avoiding the troublesome awnings, spikes, and bombs which threaten to harm our plucky hero, the specter of injury hoovers near.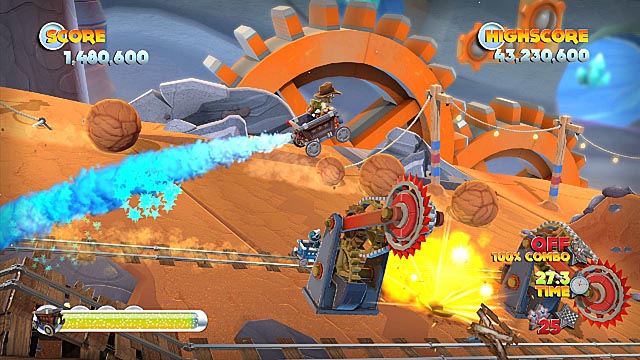 What are the game's strengths? As action film enthusiast knows, variety can be a woefully rare commodity in film sequels. Pleasingly, Joe Danger offers a valiant effort to mix things up for his follow-up. New transports such as mine carts, skis, snowmobiles, and unicycles handle differently, while still conforming to the game's core control scheme. The outlier of the bunch is the jetpack, a device whose soaring nature doesn't quite mesh with Joe's ground-based landscape of ramps and loops.
Complementing the game's assembly of conveyances are a number of engaging supplemental activities. The title's "Deleted Scenes" offer a multitude of monstrously challenging stages capable of mollifying Trials HD's most masochistic devotees. The game's construction component (dubbed the "Movie Maker") makes a return, letting players imaginations run wild with an enlarged set of tools. Cunningly, the mode's separate tutorial doubles as a puzzler, requiring gamers to manipulate pre-set objects in order to traverse each stage. Even before Joe Danger 2's launch, the title offered some rousing stages to download. Ideally, a fervent community could extend interest in the game and contribute levels which trump the game's built-in tracks. The game's local co-op competitions have been beefed up to allow a quartet of participants, while ghosts from a player's friend list invite rousing asynchronous rivalries.
What are the game's weaknesses? Whereas Joe's inaugural outing was a jovial playground, The Movie demands an increased level of proficiency from players. Although clearing the stages which comprise the game's six settings isn't too strenuous, those hoping to earn a higher percentage of completion will have a struggle ahead of them. One example: securing a Pro Medal involves executing a perfect run where all the stages objectives are secured in a single, incredible swoop. Even the title's lesser accomplishments seem to encourage memorization over nimble reflexes and alert thinking.
Forgivable (and perhaps patchable) blemishes also mar Joe's performance. Load times are a bit longer that the game's precursor, although course restarts are instantaneous. The completion of each of the game's environments is punctuated by an unskippable replay reel, but unfortunately the game's selection of clips focuses on routine play rather than memorable moments.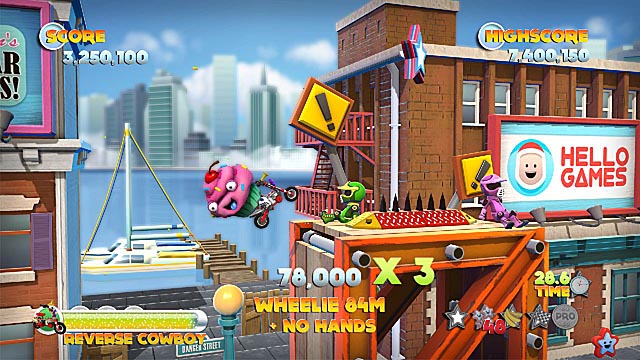 Is it worth the money? For those who though the original game was nothing but a vibrant-hued push-over, Joe Danger 2: The Movie will test your dexterity, memory, and sporadically- your patience. While the game's perpetually cheerful visuals haven't changed, the game's level of challenge certainly has, making the first Joe Danger an advised purchase for players who are new to the franchise. Vets are likely to find the follow-up to be unadulterated fan service, delivering the obligatory larger explosions, increasingly exotic locales, and familiarity of source material which are the tenants of any sequel.