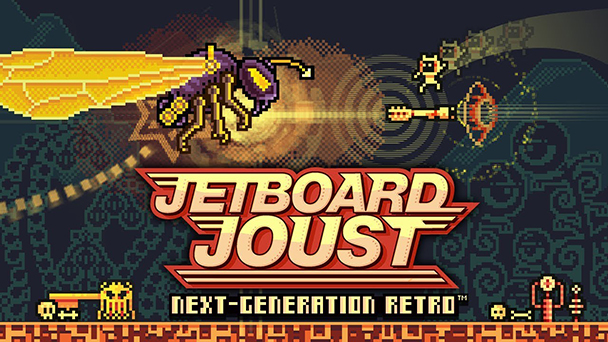 With an affordable price and play that supports numerous playthroughs, Jetboard Joust is a satisfying, arcade-style shooter with roguelike elements.
Jetboard Joust
Platform:
PC, coming to Switch in 2021
Developer:
BitBull
Publisher:
Freedom! Games
Release date:
October 15th, 2020
Price:
$9.99 via digital download, $7.99 launch discount until 10/30
Availability:
Steam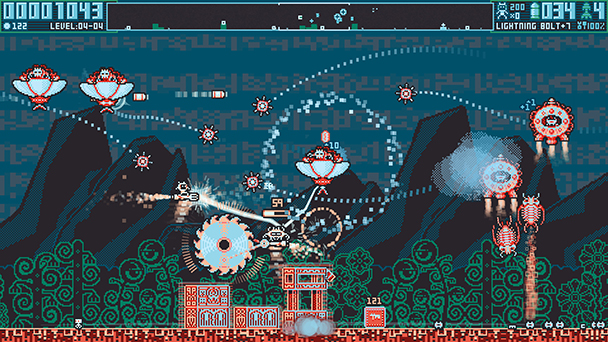 Don't make the mistake of assuming Jetboard Joust is spiritual successor to 1982 arcade smash, Joust. No, it's a refence to Skateboard Joust, a rather obscure 1988 ZX Spectrum title. Having never played the Williams Electronics coin-op, programmer James Closs didn't attempt to recreate the showdown between knights who ride atop of flying ostriches. Instead, he offered a surreal affair where a lone skater took on waves of flying Daleks.
Fortunately, Closs (who now codes under the nom de plume of BitBull) did play a lot of Williams' Defender. Boot up his latest release, Jetboard Joust and you'll find a captivating spiritual successor that take the basics of the humanoid-protecting shooter while adding a layer of modern nuance.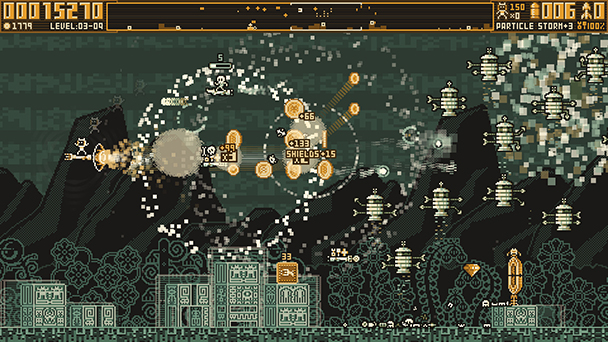 As the moniker implies, your character rides on a massive jet board, which flies across the each bi-directionally scrolling stage much like the ship in Defender. You'll face a similar objective as spawning enemies are kidnapping humans and dragging them skyward. If they get enough elevation, a monstrous transformation occurs and they'll grow in ferocity and resistance.
Smartly, a mini-map at the top of the screen helps keep track of any abductions, and there are even on-screen indicators that indicate the direction of a capture in progress. There's no worry about rescuing falling humans, but Jetboard has a navigational feat of its own, as you try to pick up power-up from fallen enemies before they bounce off the bottom of the screen.
Graciously, a shielding meter replaces the one-hit death deaths, and it's even possible to restore the integrity of your jetboard by picking up power-ups. There are no smart bombs, but offensive assault is found in a dash that can obliterate several enemies in front of you. At the end of a stage, you'll face off against a multitude of elevated foes or a boss. The reward for making it past this challenge is a key that opens a passageway. Venture inside and you'll discover currency as well as new weapons.
Although you might feel that a time-honored game like Defender doesn't need rogue-like elements, they integrate surprisingly well here. For one, they extend playtime past the pithy playtimes, offering the possibility of continuing in exchange for collected cash. You'll also pickup new weapons. While these have restrained supplies of ammunition, they're always more powerful than your basic cannon. Like Outrun, the game's campaign has branching paths, adding variety across multiple playthroughs.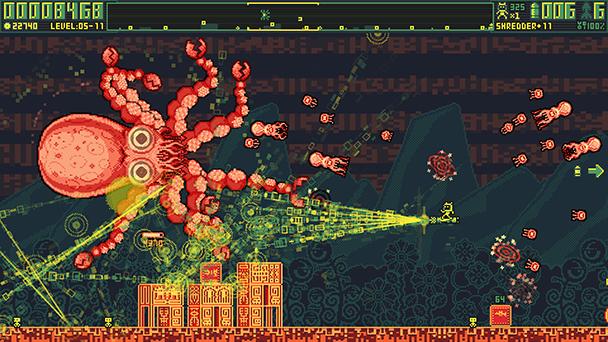 While detail displayed by the game's bosses and particle effects exceed the ZX Spectrum capacities, Jetboard Joust attempts to honor the early era of computer games. In execution, that means stages have a limited amount of color, which can make the identification of things whizzing by, a bit challenging at first. But eventually, you'll grow accustomed to the restrained color palette, soaring above the game's city scrapes as you decimate the invading menace.
Jetboard Joust was played on PC with review code provided by the publisher. 
Review Overview
Summary : Like Aqua Kitty - Milk Mine Defender and Graceful Explosion Machine, Jetboard Joust offers a creative reinterpretation of Defender. While many of the fundamentals remain, the title's deviations all add to, rather than diminish formula.