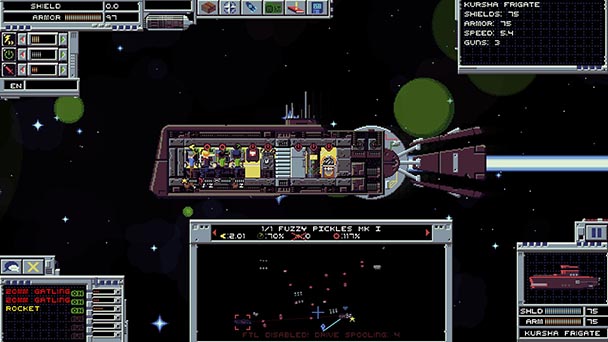 The dream of exploring outer space has always been one of gaming's oldest fantasies, dating as far back as the Atari's classic Asteroids. Over time, this sparked different sub-genres ranging from simulators and fast paced arcade titles to strategy-centric releases. Despite its popular inception, games featuring this popular theme underwent a lull, dissipating from the general audience's consciousness. Lately however there has been renewed interest in exploring the final frontier thanks to both past and upcoming releases like Star Citizen, Elite: Dangerous and FTL: Faster Than Light, the latter of which helped solidified the notion that not all space-themed releases require multi-million dollar budgets.
Interstellaria falls squarely on the indie side of the spectrum, offering a retro 2D viewpoint to a genre which has historically pushed 3D visuals. More importantly, its gameplay takes many features found in the highly regarded FTL: Faster Than Light while implementing several changes and additions turning into a completely different experience despite initial similarities.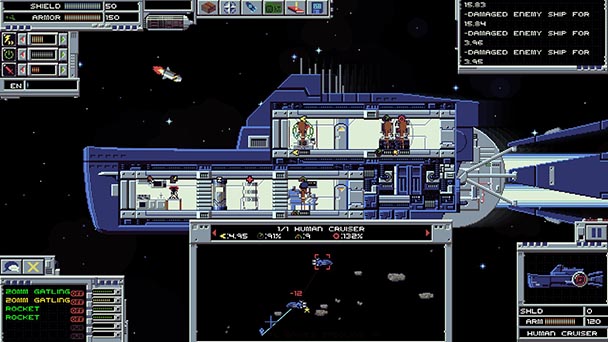 Discarding linearity for an open world RPG experience, players start out with an underpowered craft and are free to explore planets and locations as they open up. Vessels can be bought, sold and equipped with new gear ranging from improved weaponry to faster speeds or better repair rates. Of course, a ship is only as good as its crew so you'll be frequently bringing in new manpower, all of which can be assigned a station to work on, leveling up their skills in the process and increasing their stat output.
Crew members require food, sleep and entertainment regardless of their race, so stations dedicated to these amenities must be installed. Each idle character will automatically use one as the need surfaces, but should they be busy working they must be ordered to rest by their captain. Players aren't confined to controlling a single vessel, instead, they can build and simultaneously command a small flotilla with sizes ranging from small fighters to large, imposing cruisers. However, this soon sparks the frustration that comes with managing a workforce that refuses to eat or sleep unless ordered to, requiring players to manually shift between craft and order each individual unit to sleep, eat or watch TV.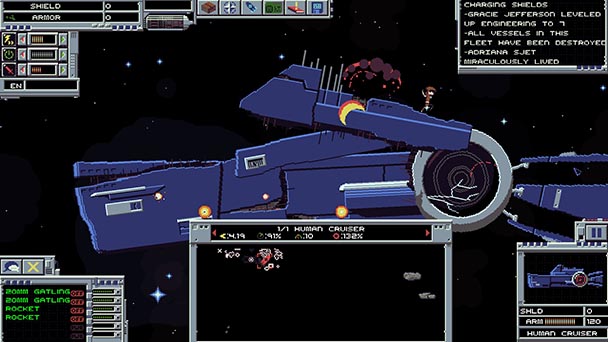 In fact, many of Interstellaria's issues stem from a poor UI rather questionable design decisions. Perhaps wanting to keep in tone with its Commodore-64 visuals, controls are surprisingly counter-intuitive. As an example, if items are to be used while in space, they must be taken from the away team, placed in your cargo hold, then a new fleet management window needs to be opened so that it can finally be equipped. It's a needlessly long and tedious process that could have been easily reduced to just one step. Opening the quest log window is just as obtuse, rather than providing a to-do list, it simply opens a new inventory where plot centric items must be viewed one by one with vague descriptions as to their function.
Traveling through space is reminiscent of such RPG classics like Star Control 2 and Starflight, players given a map and once a desired destination is clicked, auto-pilots sets in. While traveling to your destination, you may be approached by other captains who might either engage in dialog or combat. Conversations are made via a simple dialog tree adorned by an 8-bit illustration of whoever you're speaking to, often these feature references to both popular and lesser known sci-fi franchises including a Captain Kirk doppelganger and a race evocative of the Klackons from Master of Orion 2. Most conversations tend to be simple and only provide barebones information save for plot-important ones, even then, these generally only direct you from point A to point B. Random encounters may also occur, resulting in temporary locations to explore, new items or randomized effects to your ship and crew.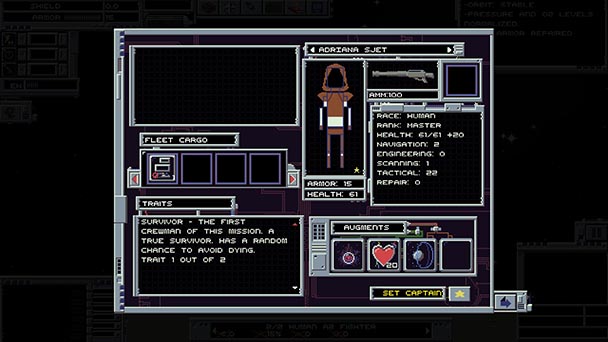 During space combat, a small window appears at the bottom indicating each fleet's current location. Players are tasked with controlling their vessels in an RTS-like fashion, moving them around the map in real-time either by clicking individually on each craft or dragging a box on a group. Weapons need to be charged forcing captains to manage their crews, flotillas, each ship's energy levels and of course, cross-fire. Needless to say, micromanagement reaches an all-time high during later bouts.
Engagements are deceptively simple generally consisting of little more than avoiding gunfire and waiting for your own to retort. Occasionally, a direct hit may spark a fire or punch a hole through a wall which must be patched mid-battle, but these are only nuisances during the early stages of Interstellaria. Natural elements like asteroids may be used as cover and debris can be collected as spoils, but soon enough, battles become predictable and formulaic, especially when considering how easy it is to build an overpowered fleet.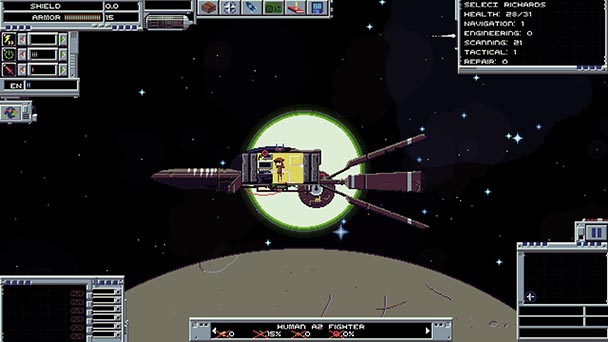 The universe in Interstellaria is unexpectedly small, taking only a few minutes to travel between opposite ends offering roughly thirty planets to discover. This issue is further compounded by how miniscule each land location is. Some planets can be fully explored in a matter of seconds, even the larger ones never take more than a handful of minutes. These places are visited by landing your craft and sending an away team. Once again, characters are controlled via an RTS control scheme, players need simple drag a box around their crew and click on where to go or what to do.
An away team may find friendly villages, hostile cities or planets populated by giant monsters, so personal weapons and armor are essential. In fact, there are no land-based skills to level up, gear and tactics define the winning strategy for each ground combat encounter. Sadly, this aspect seems uneven. Melee weapons are slow and tend to place your soldiers in danger, making them virtually useless and your foes suffer from simple A.I. patterns making them predictable.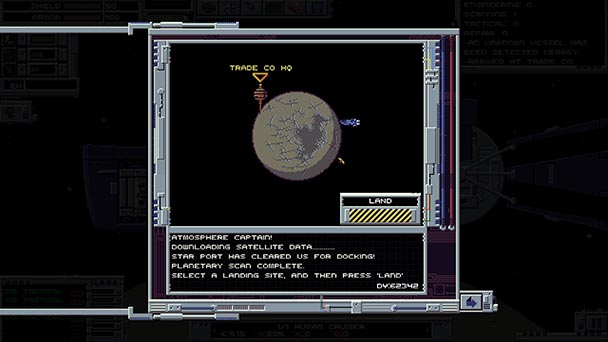 Caution is advisable as players will have to hire new help should a crew member expire while performing his duties. Regardless, collecting loot from downed enemies makes for a fun pastime as they yield money, armor, weapons and upgrades. Once a planet has been cleared from foes, you can order soldiers to automatically collect resources. Locations can be visited multiple times for farming purposes as all enemies and items respawn upon re-entry.
Rounding Interstellaria's presentation is a decidedly Commodore 64 graphical output, though this is done more as a stylistic choice rather than a self-imposed limitation. Any 8-bit computer fan will tell Interstellaria's transparency effects, smooth animations and multiple layers or parallax scrolling could never be pulled off by the real thing, at least, not in the ways it's presented. Perhaps one of the game's best offerings is its soundtrack by chiptune artist, Chipzel. While some tracks are high on energy, their bulk aims for a smooth, immersive offering.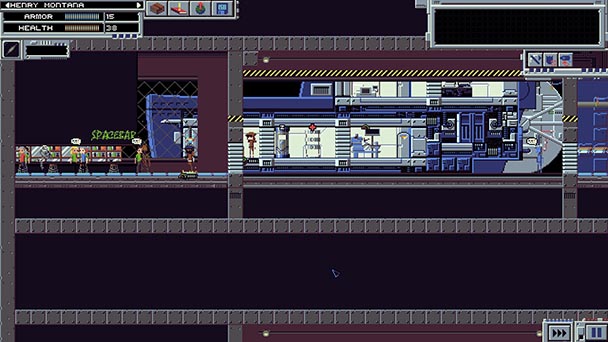 Sadly, the final release isn't entirely polished, as the odd bug or glitch still cropped up. Most noticeably, sometimes characters would become stuck below ground floor while disembarking. Other times it seemed text and item descriptions would cut off mid-sentence.
Interstellaria offers a unique Sims-like approach to space exploration RPGs. A small universe, questionable HUD and the occasional technical issue add to the repetitive nature that often plagues this genre. Interstellaria stands on a league of its own and delivers a fully realized 8-bit Star Trek experience. Perhaps in time, its universe may be expanded via an official expansion or mod support.
Interstellaria was played on the PC with review code provided by the publisher.
Interstellaria
Platform:
 PC
Developer:
 Coldrice Games
Publisher:
Chucklefish
Release date:
 July 17th, 2015
Price:
$9.99 via
Steam
Review Overview
Summary : A unique, Sims-like approach to the space exploration genre makes Interstellaria a compelling entry among its peers. Expect an excess of micromanagement though.