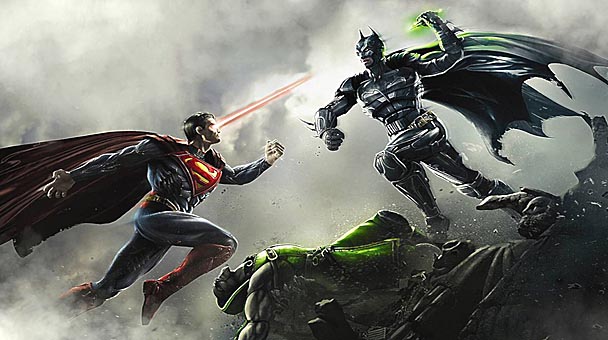 Stan Lee's squad of superheroes have been prolifically pugnacious, progressing across a procession of successful fighters published by Capcom (as well as flailing through Electronic Art's odd misstep- 2005's Marvel Nemesis: Rise of the Imperfects). Conversely, DC Comics' collection of characters hasn't been issued the same evolutionary opportunities. Save for 1995's middling Justice League Task Force and 2008's Mortal Kombat vs. DC Universe, the Caped Crusader and the Man of Steel have lacked an outlet to hone their fisticuffs.
The recent release of Injustice: Gods Among Us for the Xbox 360, PlayStation 3, and Wii U demonstrates NetherRealm Studios' ambition to level the playfield between rival licenses. Providing a twenty-four character deep roster which extends the essential heroes and villains, the title delivers enough innovation, polish, and balance to ensure an engrossing fighting experience. Coupled with the developer's typical abundance of game modes, unlockables, and variations- in some ways, Injustice even outshines the competition.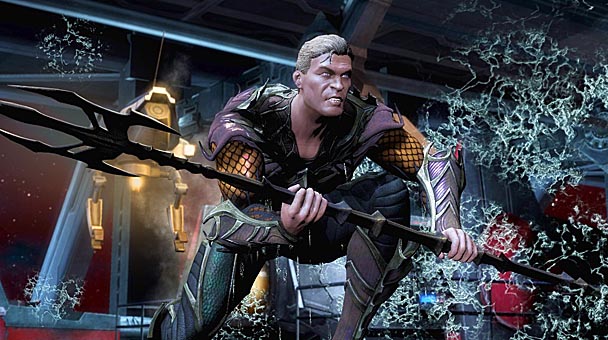 Whereas Capcom's fighters often supply a skeletal storyline, Injustice: Gods Among Us uses a similar stimulus as 2011's Mortal Kombat, by providing a plotline which seamlessly blends cinematics and combat. Yet, where MK's storyline often slunk into camp, Injustice is soaked in somberness. The game's premise revolves around Joker's detonation of a nuke in Metropolis, killing Lois Lane, her unborn child- as well as the city's populace. Devastated by the tragedy, Superman abandons his role as protector, using his god-like capabilities to rule over humankind. Considering that NetherRealm needed a premise to explain why Harley Quinn could stand toe-to-toe with the Son of Jor-El and exactly what caused these gallant guardians to turn against each other, Injustice's narrative is surprisingly effective, sustaining interest through its five hour duration.
Although Gods Among Us mercifully adjusts the difficulty of matches in campaign mode so players don't encounter an impasse, training can also help acclimate to the title's combat mechanics. It's here that the game reveals its divergences from contemporaries. Evading the characteristic two round match, bouts in Injustice are based on a two-part health bar, with a knockdown only briefly pausing the action. While the jolting cadence of clashes and the brutal strikes initially bring to mind Mortal Kombat's fundamentals, closer inspection divulges key differences.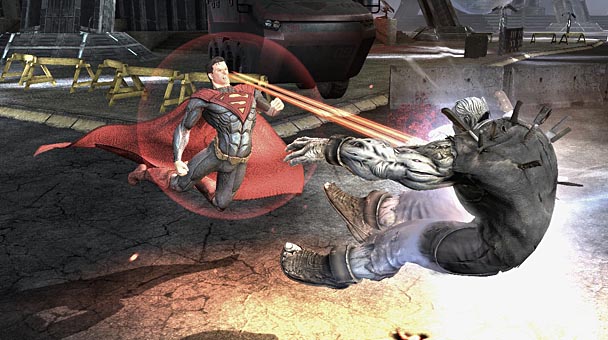 Three main attack buttons are used to initiate each character's arsenal of light, medium, and heavy attacks. Meanwhile, a fourth button is reserved for character-specific special traits, allowing Batman to summon mechanical bats or Lex Luthor to activate a defensive shield. While Injustice's advanced assaults oblige a bit of direction-pad tapping, players comfortable with the Street Fighter series' quarter- and half-circles inputs may select an 'alternate method' in the game's control menu to issue up advanced attacks. Either way, Injustice's timing is rather finicky. Coupled with the requirement to extend combos with a trigger button, it's recommended that players play with a dedicated fighting stick.
One of the game's more remarkable advancements are Clashes. When activated these confrontations pause the fight, asking each combatant to wager a section of their super meter. Out-wagering the competition can impart damage to your opponent and/or regain health, but coming up short can prove to be detrimental. Shrewdly, Clashes can tilt the momentum of a match without becoming overwhelmingly deterministic. To temper the power of this tool, gamers may only use it once per fight. Embedded in each of the game's fifteen arenas are an assortment of interactive items, whose application is character dependent. So Batman might be able to trigger a missile guidance system in the background, while Superman uses brute force to launch objects at rivals.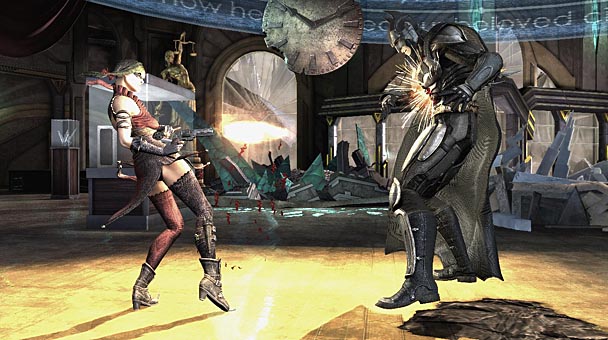 Lastly, Super Moves are Injustice's show stoppers- cinematic combos that deliver devastating attacks when they connect with an opponent. Regretfully, each fighter only has one of these assaults, so within a few hours of play, gamers will have likely seen all of the game's superlative spectacles. On the subject of criticism, Gods Among Us' load times are a bit too lengthy, which can ebb away at the energy during marathon battles. Even with an optional installation on the Xbox 360, we found ourselves staring at the pre-fight screen a bit too long.
Rounding out the game's activities are components to absorb solitary gamers and well as group of gamers. Injustice's S.T.A.R. Labs recalls the MK's Challenge Towers, bestowing hundreds of trials to compete. Gamers are goaded along by each challenge having three different, increasingly difficult objectives to complete. Before long, even fighting game fanatics will be issuing up curses at the JLA. Battle provides the classic ladders for players to climb, with each rung offering interesting new modifiers, as players battle their way to character specific endings. Heading online, Injustice offers King of the Hill- a round-robin tournament which allows players to scrutinize other opponents and place experience wagers as they wait for their turn. Survivor plays similarly, albeit without character changes and a persistent lifebar which refills based on a player's performance. Disappointingly, tag-team battles are absent from the game; their inclusion could have catapuled Injustice to greatness.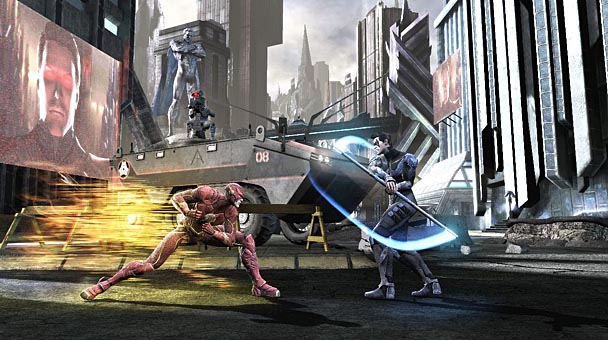 Injustice: Gods Among Us' most conspicuous crime is the obvious omissions. From multiple entrances and Super Moves for each character to the option for tag matches, conceptualizing the sequel's design doc is a no-brainer. That's said, these minor omissions won't prohibit players have having a great time with Injustice. Exhibiting a generous supply of polish and playability, the title is poised to captivate both fighting fans and superhero stalwarts.
Review Overview
Summary : Save for a few omissions, Injustice: Gods Among Us is a proficient fighter, elevated by the inclusion of DC Comic favorites.