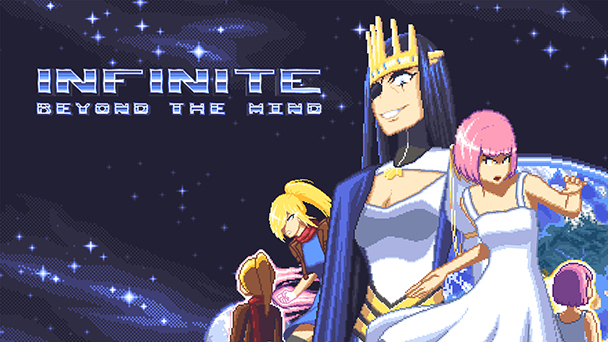 Infinite – Beyond the Mind looks and plays like a forgotten hack-and-slash from the 16-bit era. While there's not a lot of variety across the sixteen-stage jaunt, the basics are remarkably solid.
Infinite – Beyond the Mind
Platform:
Switch, PlayStation 4, Xbox One, PC
Developer:
Emilie Coyo
Publisher:
Blowfish Studios
Release date:
May 7th, 2020
Price:
$7.99-$9.99 via digital download
Availability:
eShop
,
PlayStation Store
,
Microsoft Store
,
Steam
If you're familiar with action-platforming franchises like Contra, Ninja Gaiden, or Shinobi, you'll might think that contemporary efforts to imitate these classics often come up short. Sure, most of the fundamentals might be there, but there's often some minor nuance that's just not quite right. Perhaps the game tries to shoehorn in modern sophistications, like a complex plot. Or the title overlooks the demanding but persistently fair difficulty of yesteryear.
But Occitanie, France-based Emilie Coyo gets many of the rudiments right. Like the previously mentioned titles, Infinite – Beyond the Mind allows you to feel like a superhuman bad-ass. Whether you opt to play as pink-haired Olga or the blonde-coifed Tanya, you'll be far more nimble and speedier than the legion of soldiers you'll face. Both girls can double-jump over the heads of stupefied enemies. They're armed with the same slash attack that can take almost all foes down with a few button taps.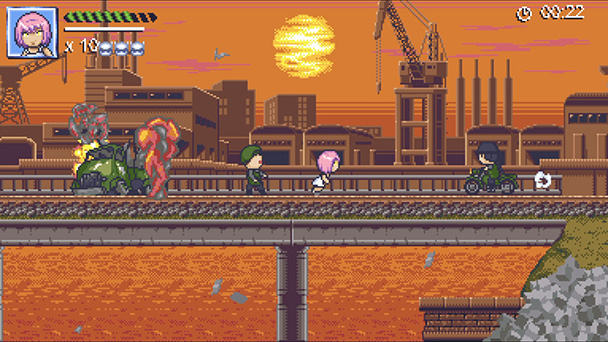 Although the dash maneuver is tied to a cool down meter, there's usually enough energy in the tank to scoot away multiple times. Then, there's full screen attack, activated by standing still while pressing the "A" button. Although limited in use, this maneuver is especially useful against bosses. While you can tackle the campaign cooperatively, local partners might wish that the protagonists didn't play identically. Potentially, this would have added a bit of longevity.
A Battalion of Troop Types 
Each of the game's sixteen stages offers a horizontally-scrolling incursion, with a few elevators and teleporting stairwells across the mix of urban, industrial, and rural environments. A bit of variation is also found in the shoot-'em-stages, which lacks the finesse of the platforming levels. Olga and Tanya don't augment their abilities, but instead through progression of the campaign. To help offset tedium, levels add new enemy types, each with their own distinctive behaviors. At first, you'll be slicing through low-level foot soldiers who sluggishly fire a single shot at a time. But gradually, machine gunners, shotgun toting elites, and even snipers will be trying to stop you. The latter are especially interesting, with olive drab ghillie suits that tend to make them blend in with the environment.
There are other dangers, too. Troop transports and motorcycles will come careening from the sides, doing damage if you don't step out of the path. Like many of the games of old, success comes from recognizing threat patterns. Likely, the first time you encounter the tell-tale wobble of unstable flooring, you won't have time to prevent a lethal fall.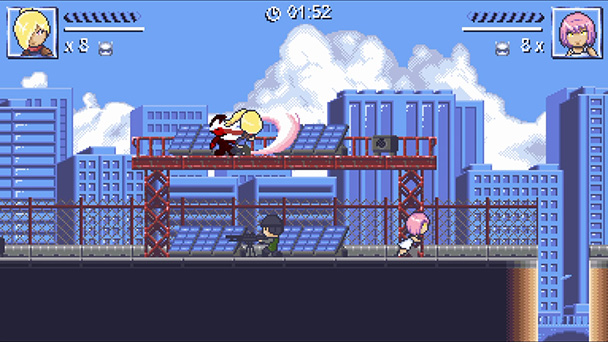 A Villain Who Resembles Satsuki Kiryūin?!?
Almost every enemy has a different reaction time, and you'll quickly learn to take out trigger-happy gunners before moving in to eliminate the more sluggish grenadiers. In keeping with tradition, Infinite's subordinates are just a warm-up for the challenging boss battles. Although it's fairly easy to make it though the bulk of a level unscratched (or at least healed with a medical pack hidden in an alcove), these showdowns will probably confiscate some of your health.
Regretfully, there are a few executional blemishes. Ladders can be deathtraps, turning the otherwise lethal lasses into sitting ducks for enemies. Keeping with tradition, you'll occasionally find turrets you can hop into and let loose with devastating vengeance, albeit with slothfully spinning cannon. But when these fixed guns take a single hit, you'll be unable to fire for few seconds, allowing for additional adversaries to arrive. Soon your turret will be overrun and you'll be faced with disarming a screen full of opponents. Another old standby, explosive red barrels seem like a missed opportunity. Although they denotate when hit, the blast rarely takes out any adjacent enemies. After the midpoint of the game, the level of chaos escalates. Here it can be tough identifying what environmental elements the players can traverse, leading to a few annoying hits.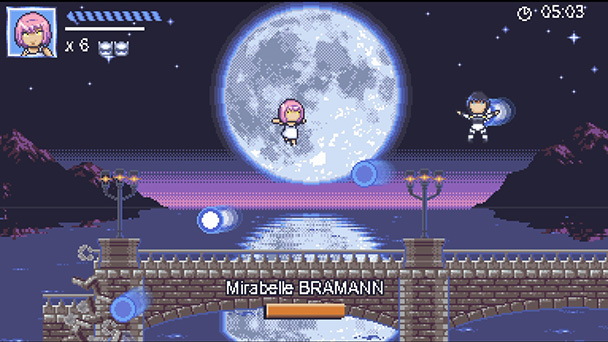 Attack of the Ear Worms
These issues aside, Infinite – Beyond the Mind undoubtedly delivers enjoyment. These type of action platformers are often let players live out power fantasies. And here, you'll feel godlike, soaring over static soldiers and effortlessly carving them up, like a Hong Kong action film. Part of this feeling is cultivated because you can come in contact with foes with incident. The other part is a fairly lenient health bar that insures you won't perish from one-hit deaths. Another high point is the game's soaring, chiptune soundtrack. Sure, the melodies draw on those kind of mounting swells that are pervasive in anime and games. But Beyond the Mind's song are often quite hummable, and when the cheery, end-of-level victory banner is completement by pixel-art depicting your destruction, the game soars.
For better or worse, Infinite doesn't squander much time on exposition. There's a single-screen of text that sets up the story, with the nefarious Queen Evangelyn Bramann, ruler of The Beljantaur Kingdom, set on domination. But the game doesn't do much with the set-up until you head toward the conclusion. Here, Beyond the Mind want players to reflect on their actions, but since there's so little autonomy in your journey, the message feels misplaced.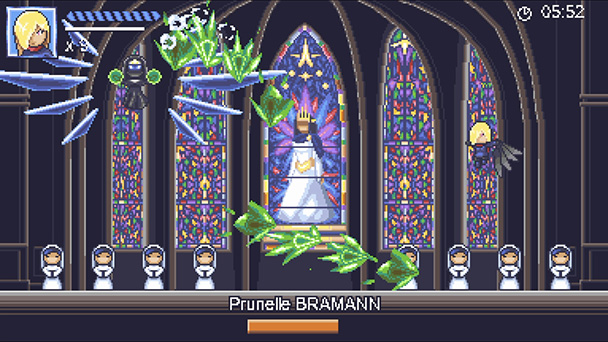 Conclusion
Infinite – Beyond the Mind undoubtedly draws from the classics. It's clear developer Emilie Coyo studied the pantheon of action-platforming and pursued the exhilarate of a being a powerful protagonist who is capable to annihilating complete armies. There are enough issues that prevent the game from joining this elite tier of genre greats. But none of these blemishes are bad enough to bypass the title.
Review Overview
Summary : Infinite - Beyond the Mind is like a carb-heavy desert. While the first few bites are delightful, finishing the entire thing can feel driven by obligation rather than desire. That said, if you're a fan of the genre, this is a dish you'll probably want to try.