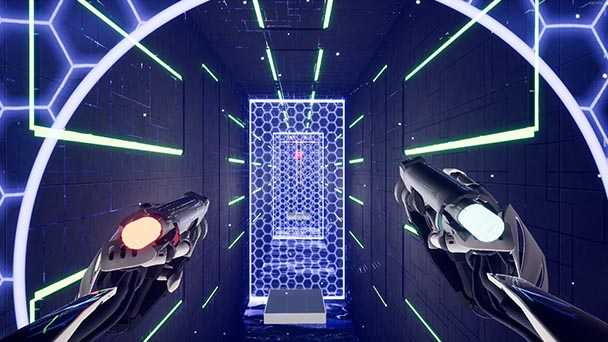 Incorporating first-person, physics-based action puzzling and the occasional sarcastic narration, Impulsion will inevitably draw comparison with Portal. But that's not necessarily a negative thing. After all, genres in gaming having traditionally progressed through relaxed evolution rather than wholesale revolution. In the process, there's frequently enough ingenuity in each new advancement to make the experience worthwhile.
Undoubtedly, that's the case with the recent release of Impulsion for PC. Intended to test both your intellectual mettle as well as your proficiency with a mouse and keyboard combo, the game gradually escalates the level of challenge across it's twenty-five stage campaign. And while that might sound like a limited number of levels, know that Impulsion demands precision. You can expect to attempt most of the challenges multiple times until you discover a successful technique.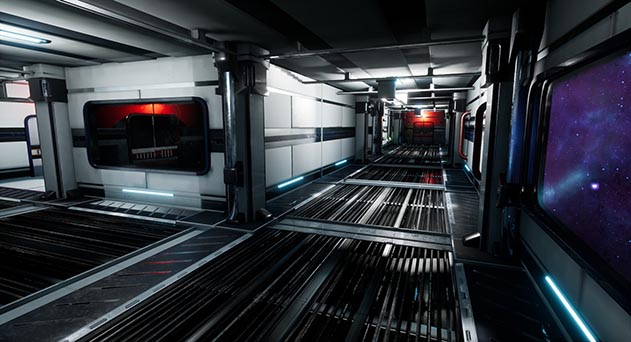 The game's introduction establishes a futuristic context as you awaken in an empty laboratory. You're told to head to the testing facility by Archie, an AI caretaker who lacks a physical body and has a voice that sounds a lot like Michael Caine. Unlike the typical silent protagonist of most game, you periodically converse with Archie, asking questions about the nature of the examination and your role in all of it. Expectedly, Archie answers are strategically ambiguous.
While his responses are slightly vexing, several other elements are assured to provoke. Insulting comments after you fail a challenge are designed to inject a bit of humor into the proceedings. But Archie's put-downs repeat without change, undermining any comic relief. Another issue is the voice actor used by your character, which is one of the few indicators that Impulsion started as a student project.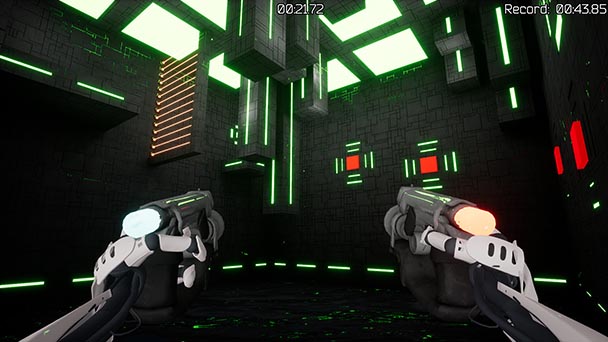 But the game's tough trials might have you overlooking the script and acting. In play, Impulsion provides two abilities. The first, mapped to the left mouse button places a giant, translucent, blue forcefield in the environment. Inside the sphere, matter moves at an accelerated speed, and jumping when you're within the bubble can send you flying through the air. Alternatively, the right button can summon a red globe wherever there are similarly colored parts in the level. These slow down things, making it possible to move past things like wall traps that shoot out a constant string of projectiles. When you are in a red forcefield, you gradually sink, but you're able to leap out of them with a surprising amount of agility.
Impulsion's first five stages serve as a tutorial, imparting the basics of each sphere before hinting at how the abilities can piggy-back off one another. As you head into subsequent levels, you'll encounter rational puzzles that gradually give away to reflex-based combinations. And as you enter the last third of the game, you'll be summoning successions of blue and red sphere, maintain a momentum that slings you through stages with breakneck velocity.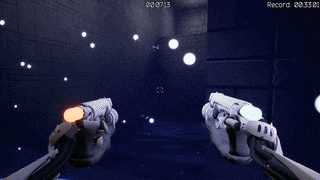 Had Impulsion opted for more checkpointing, you probably could complete the game in a single ninety-minute session. But instead, the developers want to achieve a level of mastery where you can navigate through a multitude hazards without error. Yes, the decision can be frustrating. Progression through the game is linear, so you're stuck until you can pass a stage. But the sense of gratification is correlated to the level of difficulty, and you'll probably tell off Archie when you eventually complete a challenge.
Running on Unreal Engine 4, Impulsion opts to keep the look of the game clean. A minimal amount of objects in the enjoinment helps keep the framerate high on lower-end GPUs, but also helps prohibit any visual distraction as your careening through levels. The game offers the requisite options for PC owners, allowing for adjustments in graphical quality, resolution, and the toggling of v-sync, but don't expect features like support for ultrawide monitors or borderless windowed mode. While Impulsion's soundtrack is also low-key, it's melodic riffs complement the speed of forcefield navigation.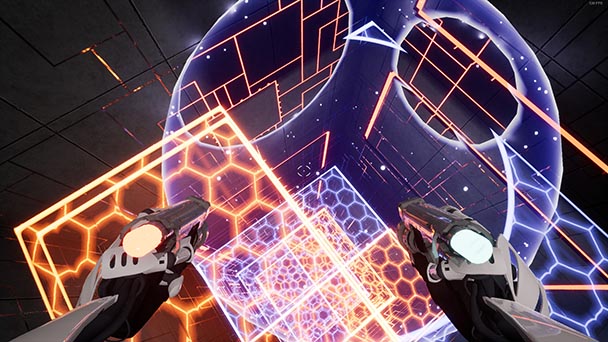 Even with the limited checkpointing, Impulsion's journey is rather quick, and will probably be completed by most players in about three hours. While you can opt to improve your end-of level grade on each stage or speedrun to shave seconds from your completion time, I found neither were compelling enough to make me repeat the game's challenges. If you really appreciate first-person parkour-like challenges, you might feel a bit different and should give Impulsion a look.
Impulsion was played on PC with review code provided by the publisher. 
Review Overview
Summary : Ever wish Portal 2's puzzles required the dexterity of a demigod? Impulsion answers your pleas, with challenges that will refine your reflexes.